'As it happens in any society, when progress happens, hate also comes out.'
'There is always a bit of a risk and possibility of rejection, particularly by an orthodox section of society.'
"I was born criminal because I was born gay," says Mumbai-based Ankit Bhuptani, who was a little over 18 years when he first revealed his sexual identity to the world.
He has been fighting for the inclusion and acceptance of all LGBTQIA+ individuals in India since 2010.
Things changed for the 31-year-old TEDx speaker and founder of Queer Hindu Alliance, and lakhs of Indians, when the Supreme Court decriminalised same sex relations between consenting adults in 2018.
Ankit, who has been in a steady relationship with his partner for over eight years, believes the October 17, 2023, Supreme Court verdict offers hope for people like him.
"We have literally seen everything — from being criminalised to being decriminalised, from hate and rejection to awareness and acceptance and now legal recognition of queer relationships.
"I feel so happy that in my lifetime we are having conversations around marriage equality."
The October 17, 2023 verdict may not have been completely favourable, but Ankit explains how it still uploads the Constitutional values of equality and dignity.
"I can now have a joint bank account, insurance, housing loan and seamlessly transfer bills to my same gender partner."
While India has come a long way in terms of digital literacy and acceptance of the other gender, Ankit explains how homophobia in India is real and very different from homophobia in the West.
"In the West, it is more about hate. In India, homophobia or transphobia is largely to do with ignorance," he says.
"I have realised that if you communicate to people in a language that they understand — the language of family values and tradition — they do understand. They may not accept you immediately but at least they won't reject you."
Talking about his dating experience before and after the 2018 verdict, Ankit says that "physical touch (with same gender partner) has never got us any eyeballs.
"What has changed post the verdict is the scale of acceptance in society.
"We have this support group called Sweekar for parents of queer children. I see how parents are now supporting their children, which is a welcome change we are seeing since the 2018 verdict."
Ankit, who has served as a delegate, speaker and LGBT Rights Advocate at the United Nations in 2019, explains how India has progressed in terms of awareness and acceptance of same sex relationships.
"Ten years ago, when we conducted pride walks in the country, we would distribute face masks to participants to encourage people to join the movement. Back then not everyone was comfortable being clicked or being identified in public. The masks were an effort to protect them and make them feel safe when they joined the pride walk.
"However, in the last five years, the demand for masks has significantly dropped.
"Also, the diversity of people supporting the movement — like doctors and lawyers — is both inspiring and heart-warming.
"The acceptance of the LGBTQIA+ movement in India after the 2018 verdict is like the Vande Bharat Express," Ankit says while explaining how well India is progressing.
At the same time, he warns, "As it happens in any society, when progress happens, hate also comes out. There is always a bit of a risk and possibility of rejection, particularly by an orthodox section of society.
"Earlier, rejection by society was subtle; now, it's more vocal. We need to be mindful of that. We need to be cautious."
Among the large collective of people Ankit would like to thank, Chief Justice of India dR Dhananjaya Y Chandrachud tops the list.
"Justice Chandrachud has been more open and liberal; he understands the nuances of the law. He is one of the finest judges India has produced."
Ankit also lauds the long and arduous fight that has led to the issue being discussed in court today and affirms his faith in the law, even as he continues his efforts to talk about inclusion and acceptance of LGBTQIA+ individuals in all walks of life.
"People who struggle for freedom value it the most. I never got to fight for India's Independence, but I am lucky I could contribute to the conversation and struggle towards queer liberation."
Ankit hopes that "together, we can build an inclusive Bharat that celebrates all kinds of people and holds space for their dreams".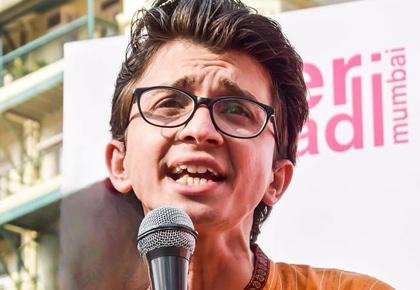 Source: Read Full Article