During the Diwali week (November 10-16), airfares on major routes across the country have surged by up to 44 per cent.
Airfares and hotel tariffs are shooting through the roof as the festival season kicks off.
During the Diwali week (November 10 to 16), airfares on major routes across the country have surged by up to 44 per cent from the previous Diwali week.
Robust demand and limited capacity, aided by Go First's insolvency and SpiceJet's financial stress, seem to be driving the extraordinary rise in fares.
The average one-way airfare for the Mumbai-Delhi route during the Diwali week is Rs 8,788, up 27.8 per cent compared to the Diwali week of the previous year (October 21 to 27, 2022).
These figures are based on data provided by travel website Ixigo and reflect fares for tickets booked 30 to 35 days before the travel date.
Last Diwali, approximately 668 weekly flights operated on the route. However, despite the increase in demand, this Diwali will see just a 1.2 per cent increase in the number of flights on this route.
The absence of Go First, which was operating 80 weekly flights on this route last October, explains the mismatch.
On the Benglauru-Kolkata route, the average one-way airfare for the Diwali week has increased 40.6 per cent to Rs 10,195, as per Ixigo data.
"Compared to 2022, advance bookings for Diwali this year, made 35 days in advance, have surged by 12 per cent. The demand for leisure travel is at an all-time high, with a 67 per cent month-on-month increase in searches for Diwali travel," Aloke Bajpai, co-founder & group CEO, Ixigo, told Business Standard.
The top domestic destinations include New Delhi, Mumbai, Goa, Jaipur, and Varanasi.
"Higher airfares this year have not discouraged travellers from flying to their favoured destinations. There is a strong demand for both domestic and international vacations," Bajpai added.
Winds of change
Travel companies have also seen a shift in the Visiting Friends and Relatives (VFR) trend, which is typical of the festival season.
"While VFR was the key driver, festivities are also becoming a great occasion for a short break," Dhruv Shringi, whole-time director and chief executive officer at Yatra Online said.
"More and more people want to move out of large metro cities during the festival season. Crowded cities have higher pollution, especially if you look at cities in northern India," he said.
"There's also the World Cup coinciding with the festivities, which is giving a good fillip to travel at the moment," Shringi added.
Hotel tariffs surge
According to Yatra, hotel bookings in cities like Cochin, Tirupati, Hyderabad, New Delhi, and Mysore have surged as people look for unique experiences.
"These cities have seen a significant 15 per cent increase in Average Room Rates (ARR) compared to other times.
"It's interesting to see lots of last-minute bookings, typically within 0 to 10 days of the check-in date.
"With Diwali a month away, we anticipate further increased demand," said Bharatt Malik, senior vice-president-flights and hotel business, Yatra Online.
As per Booking.com search data, Indian travellers are also looking at short-haul international destinations to celebrate the festival season with friends and family such as Dubai, Singapore, Makkah, Bangkok, alongside London..
"Besides hotels, travellers are exploring various alternative accommodations with unique experiences such as homestays, villas and heritage properties for their stay," said Santosh Kumar, country manager for India, Sri Lanka, Maldives and Indonesia at Booking.com.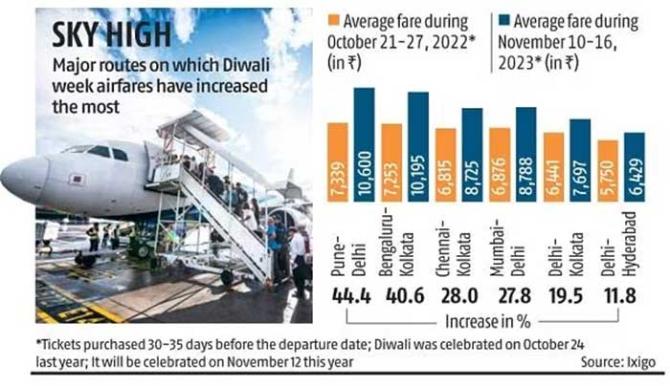 Feature Presentation: Ashish Narsale/Rediff.com
Source: Read Full Article