Best friends Ben Affleck and Matt Damon have always seen Good Will Hunting as a bit of a blessing. Although the two actors had bit parts in movies, it was Good Will Hunting that propelled them both to superstardom.
Neither has looked back since. But for a while, Good Will Hunting affected the perception of the two writers. Ben Affleck, in particular, was seen as the lesser creative of the team, which annoyed the actor considerably.
'Good Will Hunting' changed Ben Affleck's and Matt Damon's lives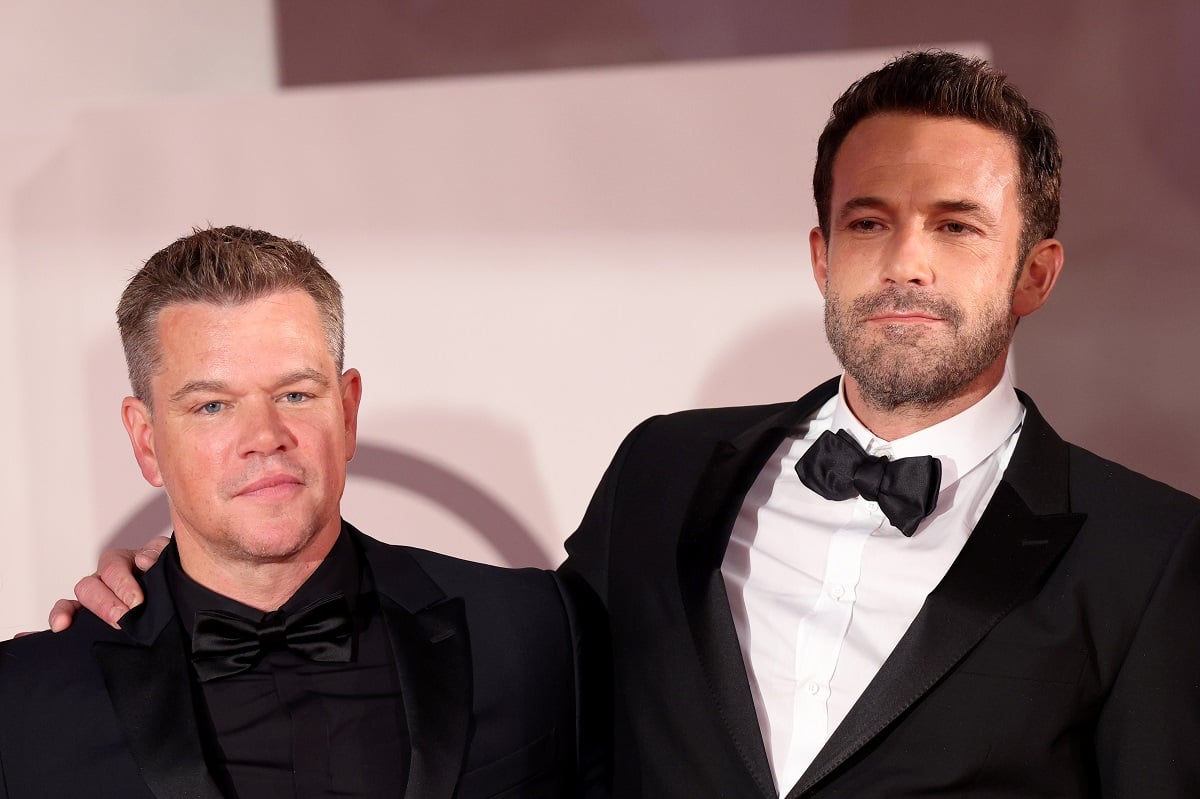 Good Will Hunting had a lot of impact on the lives of Ben Affleck and Matt Damon. The two have always been open about how the script shaped their lives for the better. Before the script, the two best friends were living in an apartment Damon and a high school friend of theirs just leased.
Affleck, who'd just gotten out of a relationship, had nowhere to go. There was barely any room for the 6 feet, 4 inches star in their new home. But Affleck made sure to make room.
"So, he moved in with all his stuff," Damon said in an interview with Access. "And he slept on this couch. And the couch wasn't a full sized couch, and he's 6'4, so I'd walk out every morning and see his legs dangling on the side."
But those living conditions motivated Damon and Affleck to get serious about the Good Will Hunting script.
Their hard work paid off with interest. The two were able to sell the script for $300,000, which they had to split.
The script made Affleck and Damon the superstars they are today. However, Affleck revealed that there were some drawbacks that came with his newfound success.
"I mean, I was 24 years old," Affleck said on The Graham Norton Show. "I barely knew anything at all. And I think it was, in some ways, trouble to get that much attention that young, and I really didn't have any perspective on it at all."
However, there was another drawback to the role that Affleck didn't see coming.
Ben Affleck was considered Matt's dim-witted friend because of 'Good Will Hunting'
In the same interview with Graham Norton, Affleck revealed the moment he realized that some people believed he wasn't too bright. And it was because of who he played in Good Will Hunting.
"I think people thought that Matt was the math genius and I was his sort of dim-witted friend he dragged along from home," Affleck said. "That stayed with me for a while."
In an old GQ interview, Affleck recalled the exact moment where he realized this was a dynamic that people actually bought into.
"I didn't even realize it for a long time, because it was such a positive experience," Affleck said. "It was only two years later I had a conversation with a girl in the business, she said something along the lines of, 'I thought you were the dim-witted friend – you're pretty bright.' I was shocked. I had this moment of profound reflection: 'Does everybody think this about me?'"
Matt Damon also referenced this perceived dynamic between him and his best friend.
"That was actually a thing," Damon told Dax Shepard on Shephard's Armchair Expert podcast. "In fact, it was actually kind of painful."
Damon credits him being the lead of the movie as the reason for what was once a persistent myth in Hollywood.
"So, people were like, 'Oh, you must've done everything,"
Robin Williams' character didn't exist in the movie's earliest draft
On the Armchair Expert, Damon revealed that Affleck and Damon only wrote the part of the therapist in the movie to help the film's production chances.
"What ended up being one scene survived in the 40 pages I brought to Ben, like six pages survived," Damon said. "What we really would've done if we could have was just write a movie about the young guys. But we needed to get it made. So, we needed to have a part that attracted a movie star, and that's how we ended up with the therapist."
Source: Read Full Article