As soon the captaincy tasks starts, all hell breaks loose and the contestants were seen rushing to make Red Hearts and Black Hearts. Jasmin Bhasin was the first one to get riled up and causes a whole lot of mayhem in both Red and Black Heart camps. As the King, Rahul Vaidya was also seen destroying materials needed to make hearts, to which Rubina Dilaik objected, as both King and Queen cannot participate actively in the task.
To ensure that Rahul becomes a captain, Aly Goni and Jasmin put their friendship with Rubina and Abhinav Shukla at stake. They were hell-bent on making Rahul the captain instead of Rubina, and this didn't really bode well for them. At the end, both Rubina and Rahul failed to establish mutual consent to determine the winner of the captaincy task.
As a result, Bigg Boss announced that since there was no material left to make either Red or Black Hearts, the captaincy task stands cancelled and everyone was out of the captaincy race. However, the viewers seems to have chosen Rubina as the BB14 Queen over Rahul as the King Of Hearts.
While the captaincy task was being played inside the Bigg Boss 14 house, a social media battle between Rubina and Rahul fans had also caught enough fire on the virtual space. While Rubina fans started trending "BB14 Queen Rubina" to support her, Rahul fans also showed their strength with a hashtag called "King Of Hearts Rahul."
And going by the number of tweets received by each Bigg Boss 14 contestant, Rubina Dilaik has beaten Rahul Vaidya with a huge margin in the social media race. While "BB14 Queen Rubina" garnered 131K tweets, "King Of Hearts Rahul" received 86.8K tweets by the time this article was published.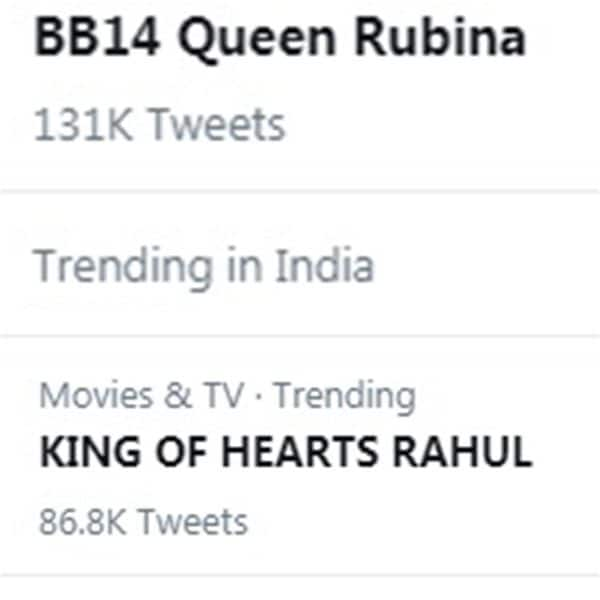 Keep watching this space for latest updates on Bigg Boss 14.
Source: Read Full Article