Bigg Boss 14 began recently. The show has been going on well and fans are excited about this new and different season. In the first week, we did not see very great performances but post the weekend ka vaar we saw some changes in the contestants. From, the premiere night itself, one name that has been in the news every day is Nikki Tamboli. Yes, the gorgeous South actress has been nailing it since day one. She has a unique style and has been rocking it in the house. On the very first day, she had a fight with Shehzad Deol and we saw how she always made all the contestants agree with her decision. Hina Khan had asked the 11 contestants to decide on the 7 things they need from BB mall. Few contestants had to sacrifice each day but Nikki Tamboli was the one who always took what she wants. She stood for herself and played every task well. Hence, the seniors made her the first confirmed housemate. She received all the rights like the seniors had does not fear to keep her opinions.
She is also entertaining fans with her cute talks and her fashion choices. As the game progresses, we are seeing a lot of Nikki Tamboli in the house. She knows how to create drama. We saw how she had created a huge drama about her ex-boyfriend's boxers. Nikki Tamboli has been trending almost daily on social media. The lady has clarified that she is not on the show to make friends. Nikki knows how to take a stand for herself. Clearly, the lady is focusing on going ahead on the show. People are already seeing her as one of the finalists of the show. We had earlier asked fans if they feel that Nikki Tamboli is emerging as a strong player and 66% of people feel she is. 28% of people feel she is not emerging as a strong contestant while 6% feel it is too early to decide. Take a look: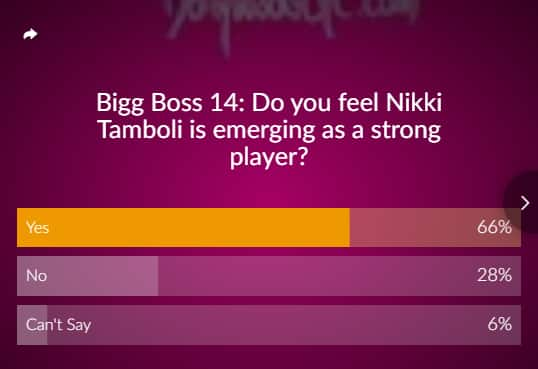 Well, it seems Nikki Tamboli is going to win hearts this season.
Source: Read Full Article