According to the revised safe deposit locker agreement, a locker can be used for limited purposes only.
If you plan to keep cash in your bank locker, think again.
A woman residing in Moradabad, Uttar Pradesh, had kept Rs 18 lakh for her daughter's wedding in a bank locker. She discovered termites had eaten up the cash.
Are banks liable to offer compensation in the case of such a loss?
According to the revised safe deposit locker agreement, a locker can be used for limited purposes only.
The State Bank of India's agreement, for instance, says the locker can be used 'only for legitimate purposes such as the storage of valuables like jewellery and documents, but not for storing any cash or currency'.
Limited liability
The Reserve Bank of India's circular titled 'Safety Deposit Locker/Safe Custody Article Facility' of August 2021 describes a bank's liability.
Says Ankur Mahindro, managing partner at law firm Kred Jure: "It is only in cases of natural calamity, acts of god, or acts attributable to the customer that the bank can claim exemption from liability."
Banks are expected to exercise appropriate care to protect their locker systems from calamities.
"The presence of termites can only be said to be attributable to the bank, for which the bank will be liable," says Mahindro.
If a customer can prove that the loss or damage occurred due to the bank's negligence, she can claim compensation.
In the past, consumer courts have come to the customer's rescue when the latter proved negligence on the part of the bank.
In July 2007, the National Consumer Disputes Redressal Commission awarded compensation to a customer after termites ate into currency notes and important papers kept in the bank locker.
However, the amount involved then was only Rs 11,000.
According to the revised bank agreement, in case of events such as fire, theft, burglary, building collapse, or any incident attributable to the bank or its employees, the bank is liable.
Says Shashank Agarwal, advocate, Delhi high court: "The bank shall be liable to the extent of 100 times the value of the locker's prevailing annual rent."
If your annual locker rent is Rs 5,000, you will be protected against losses of up to Rs 5 lakh, due to incidents like fire, theft, burglary, robbery, dacoity, building collapse on the bank's premises due to negligence or shortcomings on the bank's part.
Says Mahindro: "It remains to be seen whether the courts will in future award damages more than the bank's liability of 100 times the yearly locker rent."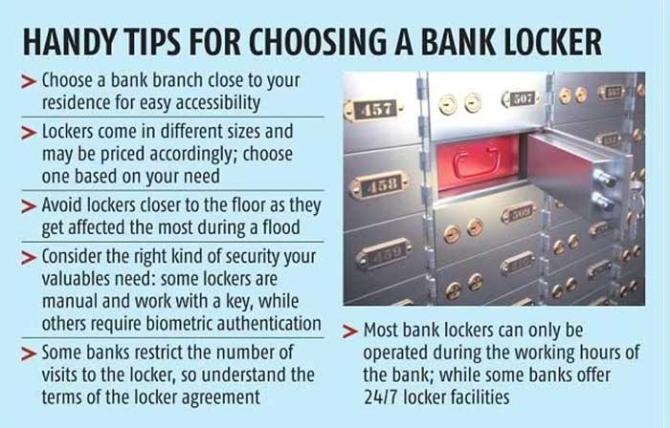 Buy insurance, home locker
A bank cannot offer to insure a locker's contents. Moreover, a bank's maximum liability is low and may not necessarily cover the value of the contents stored in the locker.
Says Adhil Shetty, CEO, Bankbazaar: "If you have expensive jewellery, you should insure it as an added protection."
Jewellery kept in a bank locker can be insured as part of a household cover.
Says Kapil Mehta, co-founder, SecureNow: "This cover costs very little because cases of lockers being burgled are rare."
Belongings kept in a locker can also be insured through a bank locker policy (like the one offered by Iffco Tokio General Insurance).
"These policies usually cover valuables such as jewellery, documents, certificates, and passports, among others. The coverage is usually for burglary, theft, and accidents leading to the loss of belongings," says Naval Goel, CEO and founder, PolicyX.com.
Most banks use safes from the same companies that make safes for homes. You could acquire one for around Rs 10,000 to Rs 15,000.
Pack contents carefully
Access your locker at least once a year. Check the size of the locker before you sign up.
Says Shetty: "If you plan to use the locker to keep your documents secure, make sure it can accommodate them comfortably.
"Also, use air-tight zip-lock bags to store the documents and place desiccants like silica gel to protect the documents from humidity."
Keep a couple of copies of the list of documents and valuables stored in the locker, so you can keep track of what you have stored.
QUESTIONS ABOUT MONEY? ASK rediffGURUS!
Feature Presentation: Ashish Narsale/Rediff.com
Source: Read Full Article