Prince Harry and Meghan Markle may have quit the royal family in 2020, but their departure is still making global headlines. While many have speculated about the reason they left, and Harry and Meghan themselves confirmed some of the rumors in the Oprah Winfrey interview, it seems as if royal watchers are still uncovering the story behind the story. 
Last week, Harry and Prince William unveiled a statue in honor of their mother, Princess Diana. They briefly united on what would have been the Princess of Wales' 60th birthday to commemorate her memory with a bronze statue. They released a joint statement and were seen walking and laughing together. It seemed as if the tide had turned and that the brothers had resolved their differences. Unfortunately, nobody ever forgets where they buried the hatchet.
According to some royal experts, the rift between Harry and William runs deep. William felt blindsided by #Megxit, per the Mirror, and couldn't believe how Harry had trashed the royals in various interviews. Harry, meanwhile, felt that the royal family didn't support his wife and her mental health and made some racist remarks about his unborn son. Now it seems as if Harry and Meghan may even have a bone to pick with Queen Elizabeth II and Prince Charles. Here's the situation.
Prince Harry and Meghan Markle allegedly wanted to be on 'equal footing' with Prince William and Kate Middleton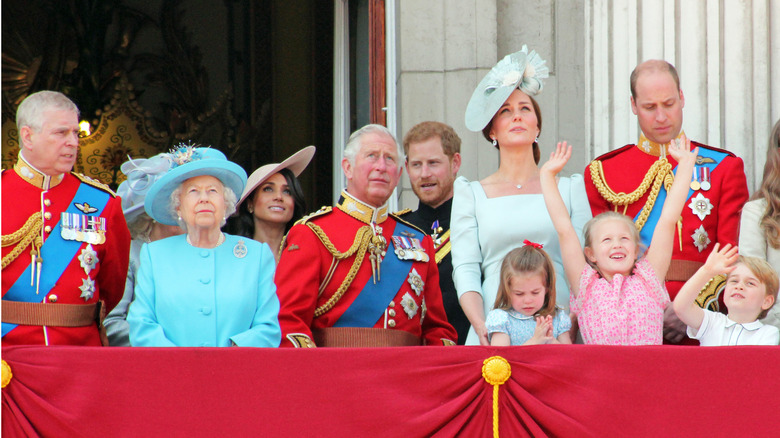 When Prince Harry and Meghan Markle initially announced that they were quitting The Firm, per NBC News, they said that they wanted to "work to become financially independent." Now, according to royal expert Camilla Tominey, it seems as if there was more behind the statement than meets the eye. 
A quick snapshot from Town and Country reveals that the Sussexes and Cambridges divided their households in March 2019. For the first time, Prince William and Harry would no longer be working out of the same office. In her book "Harry and William: What Went Wrong," Tominey alleged (via Express), "Harry and Meghan want their own office like the Cambridges have, their own office to run out of Windsor, out of Frogmore Cottage where they were living at the time." 
"Rather than have their own press office established, the Duke and Duchess of Sussex were told that they would be incorporated into Buckingham Palace," the expert continued. "It's at that point that the Queen and Prince Charles sweep in and say no, we will manage your affairs." It seems as if Harry and Meghan were expecting to have control of their household but those hopes were soon dashed. "And in a way, that's the final straw," Tominey claimed, "because once again the Sussexes are saying 'why can't we have what the Cambridges are having? We should be on equal footing.'"
Source: Read Full Article