Around 59 per cent of BMW buyers (in the luxury class) are aged between 31 and 45 years.
Luxury car owners in India are getting younger, and, more and more professionals are buying them. This is opposed to the earlier norm of only wealthy families owning luxury vehicles.
Vikram Pawah, president, BMW Group India, said that the customer base of luxury cars has evolved tremendously in the last decade.
"Apart from wealthy families, a new group of achievers has emerged in India. They have a global outlook, are well-travelled, and have an eye for luxury products. Young entrepreneurs and leaders are actively shaping demand in the luxury car market," says Pawah.
"With the rise in disposable income, they are not hesitant to spend on luxury products and services," Pawah adds.
He explains that since the pandemic, there is a greater realisation among people that they would like to live life to the fullest and enjoy the best things. Moreover, personal mobility is on the rise.
Around 59 per cent of BMW buyers (in the luxury class) are aged between 31 and 45 years, and 35 per cent of its buyers are existing customers.
In the premium segment, around 62 per cent are aged between 31 and 45 years, and around 80 per cent of customers are those upgrading from the near-premium or non-premium segment.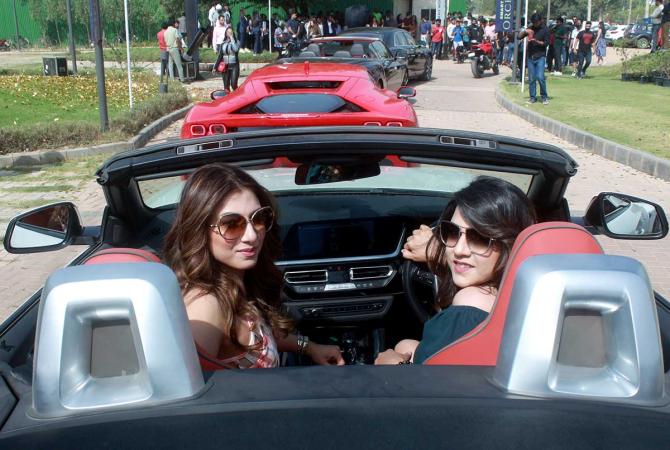 Santosh Iyer, MD and CEO, Mercedes Benz India, says the average age of a Mercedes buyer has come down from 42 years to around 38 years. Of this, many are much younger customers aged around 30 years.
"From Bollywood to startups, there are many now whose first car is a super luxury car. These are second-generation buyers who are as young as 30 years," Iyer says.
Women buyers constitute around 15 per cent of Mercedes customers. The share of salaried buyers is on the rise too — from just 8 to 9 per cent earlier, it has now increased to 14 to 15 per cent.
The trend is similar across brands, say industry insiders.
"The luxury car segment in India is evolving quickly. More younger people, especially in the category of startup owners and professionals, are eager to experience luxury at an early age," says Balbir Singh Dhillon, head of Audi India.
"They have both the desire and the means for it, owing to the rise in disposable income. We have also seen a rise in first and second-generation buyers over the last two to three years," says Dhillon.
"The pandemic has pushed people to live life to the fullest and adopt a luxury lifestyle This has fuelled growth in the category of salaried individuals buying our cars," Dhillon adds.
Startup founders are the other segment that is fast emerging as buyers of luxury products.
According to Iyer, startup founders buy luxury cars once a good amount of funding comes in.
"Several entrepreneurs in the digital and IT space are buying luxury cars," he says.
Audi's Dhillon, too, says gthey have seen a strong growth of buyers among small and medium enterprise owners and startup founders.
"With rising aspirations, there is also an increase in the demand for luxury pre-owned cars. Our pre-owned luxury car retail business, Audi Approved: Plus, has grown by 63 per cent between January and September this year," says Dhillon.
Across luxury car brands, the customer profile ranges from sectors like manufacturing, financial services, real estate, infrastructure, pharmaceutical-healthcare, and information technology.
"What we are seeing now is that the average age of buyers of Mercedes cars is going down in the luxury segment, points out Aryaman Thakker, executive director, Landmark Cars, a leading automotive dealer, adding, So 41 per cent of our customers are actually younger than 45 years old. And out of that, almost 30 per cent are under the age of 35."
Around 13 per cent of their customers for luxury vehicles come from finance-insurance backgrounds; around 20 per cent are from real estate businesses; and around 8-9 per cent are from medical and pharma backgrounds, Thakker adds.
"Hence, about 40 per cent of the demand is coming from these three segments at Landmark," he says.
Landmark Cars, which retails Mercedes cars, is also witnessing strong inquiry trends from cities like Indore, Bhopal, and Rajkot.
According to industry estimates, around 70 per cent of luxury cars are bought by entrepreneurs and SME business owners and these are often bought in the company's name so that they can claim depreciation.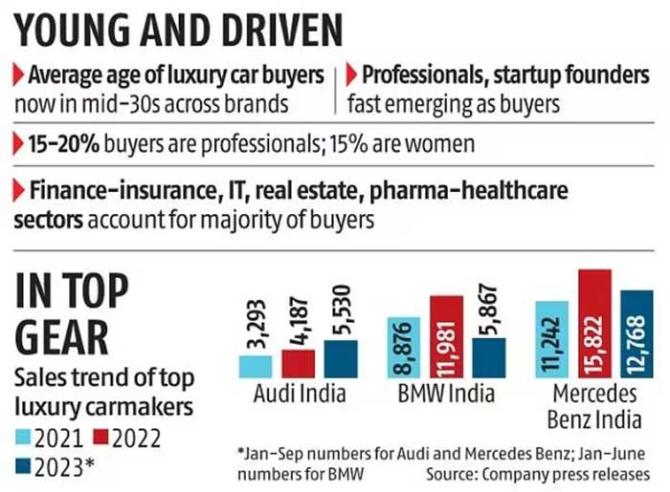 Feature Presentation: Ashish Narsale/Rediff.com
Source: Read Full Article