Katy Perry got real about breakups, therapy, and motherhood on a recent episode of Chelsea Handler's podcast, Life Will Be the Death of Me. The songstress credited a speciality therapy retreat called "the Hoffman Process" for helping mend her relationship with Orlando Bloom after a brief breakup when a viewer asked about how to argue less with their partner.
"Your partners usually see your best and a lot of your worst sides because they're there to be your mirrors," Katy said in response to the question. "Orlando and I do couple's therapy, and we love it because it keeps us in tune, and the resentment can get really strong when you're both working hard. And God bless successful people in the spotlight, and so when you want to come back to being normal in a domesticated world where you have a child and stuff like that, you have to really learn how to be kind of different out there in the big and in the small. And so we've had a lot of success with that couple's therapy."
Chelsea added, "But she [the viewer] asked if there was a treatment or something like that," to which the singer said, "I went to this place—I'm sure you've heard of it—called the Hoffman Process. And I went there—Orlando went before me."
The Lord of the Rings actor reportedly came back after the retreat and "wasn't leaning into all of my bullshit and so it was boring. It became boring, and I was like, 'We're breaking up then!' And then I had the worst year of my life—not just because of relationships but a lot of different things were changing and shifting for me in which I really truly believe was an opportunity for me to evolve and grow. It was like, here we are at the fork in the road. Are you going to take the L or are you going to take the R?"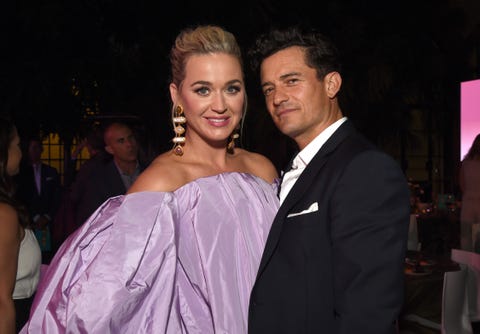 Once Katy reached the juncture, the singer decided to try the Hoffman Process herself. "You have no cell phone and you just go kind of deep through exercises with other people actually, which is great because they trigger you the whole time and then you work through those triggers. But basically, it's a place you get to go to where you re-wire the neuro-pathways in your mind and you get to discover. There's so much awareness. You get to discover why you have these patterns and habits and where they're coming from and all it's really coming from mom or it's coming from dad. So if you're yelling, who yelled at you? It's a learned thing. It profoundly changed my life. It's the #1 thing I recommend when someone is ready for that next level in life."
This interview comes on the heels of many eagle-eyed people noticing that Katy hasn't been sporting her engagement ring (Orlando proposed on Valentine's Day 2019 after the couple dated on and off since 2017) out in public aka at the Met Gala, her Las Vegas residency shows, and on a number of American Idol episodes.
However, this probably! means! nothing! After all, Orlando posted a sweet tribute to his fiancée on Mother's Day just last week with a video that showed Katy smiling and dancing while wearing full-on fairy lights, captioned "magical mamma❤️‍🔥." Katy also took a sec on the podcast to talk about how her daughter Daisy has shifted her mindset entirely: "Her happiness really gives me that joy. But a lot of BS just falls away. Stuff that you thought was important really was never important. You don't have time for any sort of energetic drama that's not important in your family. Your family really starts to become first."
Katy and Orlando: 1 Unimportant stuff: 0.
Source: Read Full Article