Kim Kardashian just shared the first full picture of her new baby, Psalm West, and he looks so much like her daughter Chicago that it's legitimately insane.
Previously, Kim had only shared one picture of Psalm, and it was pretty far away and you couldn't see the baby's face. But this picture is a full-face shot, and this kid is so identical to his older sister that you'll be absolutely shook. He's adorable, naturally.
Here's the picture she posted:
Psalm Ye
A post shared by Kim Kardashian West (@kimkardashian) on
For reference, here's a pic of bb Chicago:
My cutie Chi
A post shared by Kim Kardashian West (@kimkardashian) on
They are…basically the same human? It's kinda freaky, right?
Someone tweeted a picture of Psalm next to Saint, too, and the comparison there is also pretty wild.
Psalm and Saint. They look just alike. pic.twitter.com/0WgK2OHwZc
So it's kind of confusing because Kim's caption for the photo is "Psalm Ye." For all her kids, Kim intentionally didn't pick a middle name. Obviously, this baby's name is Psalm West, not Psalm Ye. But is this her revealing that "Ye" is the middle name? It's definitely not on his birth certificate, according to TMZ, so, like…what is the deal here? A nickname? We need the truth, Kim!
Either way, that kid is really fricken' adorable.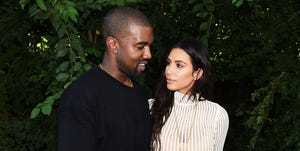 Source: Read Full Article