When we were little, my sister and I would move into my parents' bedroom on a particular night a year (apart from incursions during illnesses, ghost hauntings or just being loved up kids).
We would be tucked into bed under the mosquito net. My parents would get to bed a transistor radio in tow. The alarm clock on the bedside table would be set for 3:55 am.
My dad would press the bell on top of the clock when it rang and turn on the radio. At 4 am, the deep, soaring baritone of Birendra Krishna Bhadra would ring out as he began the poetic narration of Ma Durga's victory over Mahishashur.
It is an invocation or invitation to Durga to descend on earth — 'Jago Tumi Jago', 'Arise mother, arise'.
This narration — Mahalaya — is interspersed with devotional songs (including by Pankaj Mullick) and shlokas from the Chandi.
For 92 years since it was first broadcast by Akashvani, Calcutta, on All India Radio, Mahalaya marked the beginning of the peculiar excitement that is synonymous with Durga Puja.
My dad was agnostic; my mother, back then, was religiously indifferent.
No blowing of conches, ringing of puja bells for morning/evening aarti, no rituals. Did we have the pantheon of gods and goddesses, a puja area, that grace most Hindu homes? I don't remember.
So Mahalaya, though essentially about the goddess, wasn't religious for us. And it isn't for most Bengalis.
Mahalaya is an emotion. It's gooseflesh for a memory. A welling up of happy tears. A celebration of what is to come. It is the sound of the dhaki.
It's the wait for the pujo barshikis (special magazine editions for pujo by the Ananda Bazar Patrika group and most other publication houses in Bengal).
The frenzied calls to the tailor for the blouse that was yet not ready for new taant saris that Ma would wear for pujo. Or my dad's shirts from Shah Tailors. Or our as yet untouched cloth that needed to be made into frocks for pujo. (There were no 'readymade' clothes back then, everything was tailored).
It's the fragrance of the fish fry, the adda at the pandal, the pandal hopping, getting blisters from new footwear.
It is standing before the gorgeous goddess in all her magnificence and seeking her blessings.
It's the closing of kitchens in Bengali homes. And then, of course, it is the endorphin-rush of Durga pujo khichuri bhog.
For a year, Bengalis wait for the khichuri bhog at the pandal with as much yearning as they do for the festival itself.
Is there any religious festival in India that is so much about food?
"You don't fast during Durga Puja? You eat non-veg!?" I have been asked reprovingly by non-Bengalis (Bengalis have a word for the 'others' — the rest of India — 'obangali' (pronounced awbangali, who they regard with anything, but awe).
To understand Durga Puja, understand that Durga isn't just a goddess. She's a young woman who wants some me-time at her parent's place with her kids, away from her husband. She wants to be pampered. She wants her mom to cook up a feast for her. She wants to be primped at the parlour while her parents look after her four kids. (Remember the ad that had Durga at a salon with her children that the party at the centre took umbrage to).
There are roughly 3,000 Durga Pujo pandals in West Bengal and it wouldn't be an exaggeration to say that almost every single Durga looks different, as does the pandal. Bengalis have humanised her and we are personifying her sentiment of 'living it up' by revelry and not religiosity.
We dress to kill. We eat like it's our last meal.
The morning visit to the pandal is for adda (especially conversation on new medicines discovered for better bowel movement), food stall recces (handicrafts, sari stalls are a very distant second) and pushpanjali (the morning aarti before bhog begins).
The evening visit is pandal hopping and feasting (this why the recce is important — which pandal has the best mutton kathi roll or kosha mangsho and luchi or mocha chop — so you know just where to go.
Outside Bengal, the pandals and the Durga murti with her children, while good, is a distant shadow of the creativity and thought and spectacle, that it is in the goddess's home state.
At 1 pm or generally around that time — there is the announcement that we have been waiting for — 'Bhog has begun'.
Bhog is essentially food offered to the goddess for lunch. Bhog at Durga Puja or even Kali Puja or Saraswati Puja is khichuri, labra (mixed vegetables), or khichuri with labra, fritters of brinjal (beguni), potato (alu) and pumpkin (kumro), chatni of tomato and khejur (sweet not savoury), payesh and rosogolla. This is generally the menu for the goddess.
For the mortals, it could be the same menu or less, depending on how rich the pandal is.
All pandals do not make tasty khichuri or labra. Sometimes labra and khichuri is mixed (my favourite).
But dear God, if done well, it's a satiation you've waited for 365 days for.
The real horror is when pandals forego the khichuri and serve pulau with Mattar Paneer (tasty, but it's like eating mutton biryani without the mutton. Pointless and for me, gag worthy).
The queues for the bhog are like the demonetisation lines at banks, but they move quickly.
Obangali, rich-poor, Hindu or otherwise — all you need to do is queue up and get served. Gratis.
Bhog is made in several lots of several kilos and it rarely if ever falls short even though hundreds eat at a pandal every day. Pujo pandals therefore depend not so much on chanda (donations by the flock) but on sponsorships.
Bhog is generally not served on the last day of pujo, Dashami.
That's when the Sindoor Khela happens and women get up close and personal with the goddess, feed her mishti (a little unaesthethic as it is plastered to her lips) and put sindoor on her forehead. As they do to each other. Sindoor Khela has now opened up to all women — not just married ones — and wonderfully, even to eunuchs.
Sindoor Khela is not Holi, the sentiment is different and it's nothing like the grotesque display in Karan Johar's parody that passed off for a movie — Rocky Aur Rani Kii Prem Kahaani.
I remember we would tear up when it was time for Durga to leave (visarjan). It was farewell to family not a goddess.
So, as Ma always said — however carefully, lovingly, you make the khichuri at home, it's the 'poriman' or quantity made at the pujo pandal and the magic of the festival — that makes a difference.
This recipe is as close to Durga Pujo Khichuri Bhog as I know it and is a combination of khichuri and labra.
Eat it hot.
Eat it in company.
Eat it with that emotion.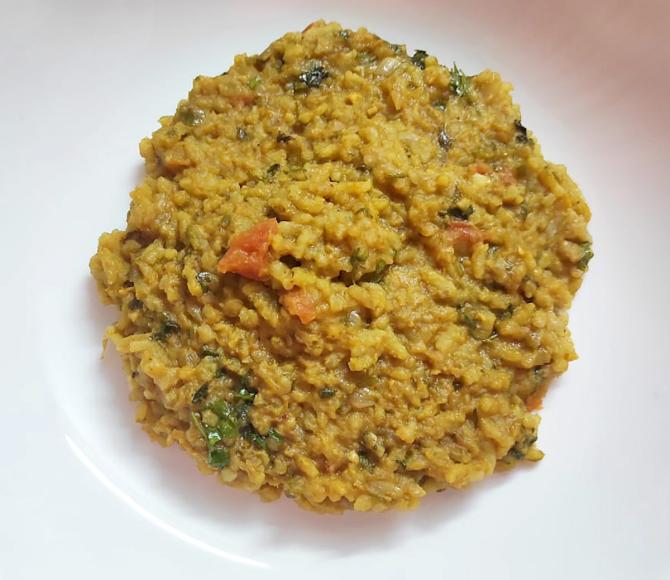 Khichuri Bhog
Serves: 4
Ingredients
1 cup rice (please see the note below)
½ cup mung dal, use the small grain mung dal for more flavour
1 large or 2 medium-sized potatoes, peeled, cut into large pieces, lengthwise and then twice breadthwise if large, or once if medium
4-5 large cauliflower florets
1 large carrots, peeled, cut into chunks
2 handfuls green mattar or peas
250 gm pumpkin, don't peel the skin, chop into large chunks, ensure they are large otherwise it'll be glop in the khichuri
5-6 cabbage leaves, cut into large-ish pieces
5-6 broad beans, chopped in half
3 baingan or brinjals or eggplant, use the small ones not the bharta baingans, remove the head and chop into half lengthwise
1 large tomato, chopped into small pieces
2 tej pattas or bay leaves
1 tsp jeera or cumin seeds
3-4 lavang or cloves
2-inch piece dalcheeni or cinnamon
3-4 green elaichi or cardamom
3 dried red chillies
1 tbsp ginger paste + 1 tbsp reserved or extra
1 tsp jeera or cumin powder
2 tsp dhania or coriander powder
1½ tsp red chilly powder
1 tsp haldi or turmeric powder
4-5 tbsp mustard oil
2 tbsp ghee
2 tbsp jaggery
Salt to taste, around 2 tsp
Water
Method
Wash the rice and soak it.
In a heavy-bottomed wok or kadhai or large saucepan that has a lid, dry roast the mung dal over low heat.
Mung dal burns very quickly so keep stirring till it changes colour and turns a light brown and fragrant.
Take off heat and keep stirring as the dal will continue cooking and could burn.
Once cool, soak in water.
Warning: If you soak the hot dal in water, it lets off steam that can burn you.
The rice and dal should soak in water for at least 30 minutes.
In a large saucepan, heat the mustard oil till it smokes.
Take off heat and when the smoke has dissipated, add the bay leaves, dried red chillies, whole jeera seeds.
It's easier to control the cooking this way.
Place the saucepan to heat again but keep the heat low.
Add the whole spices and once they start spluttering and you are enveloped in the aroma, add the rice and the dal after draining the water.
Increase the heat to medium and keep stirring.
The rice and dal change colour and become speckled.
It should not become brown.
Meanwhile in another saucepan heat about 500-750 ml of water and bring it to a boil.
It will be required later.
In the saucepan in which you are making the khichdi, add the chopped vegetables, the tougher-to-cook ones first.
Add the potatoes.
Stir.
Add the carrots and the cauliflower florets.
Stir.
Lower the heat if the rice and dal start sticking to the bottom of the saucepan.
Add all the spice powders and the ginger paste.
Keep the heat on low.
Add a sprinkling of water to prevent the spices from burning.
Then add the chopped pumpkin, the green peas, brinjal, broad beans and the tomato.
Stir.
Add the hot water.
Be careful when you do this because the khichuri will start spluttering.
There should be enough water to cover the pot.
Increase the heat to high and bring to a boil.
Lower the heat, cover and let it cook, stirring every 15 minutes or so.
Stir carefully so you don't smash the vegetables.
When you see the rice and dal losing form and beginning to cook add the cabbage.
Stir in (or fold in, much like you would when you are making a cake) the cabbage carefully.
The khichuri should cook in another 25 minutes.
It should not be watery, but not totally dry as the mung dal absorbs water when it cools down and it will get even drier.
You know the khichuri is done when the rice and dal are one homogenous mass, but not a mash and the vegetables are cooked.
When you get to this stage, add the jaggery and the reserved ginger paste, ghee, stir in and cook for a minute or so with the lid on.
Take off heat and keep covered.
Let the khichuri rest for at least an hour so that spices and vegetables go into a deep embrace with the rice and dal.
Khichuri stays hot for hours after it's cooked.
Serve hot with beguni (not begun bhaja) or any of the other fritters.
Swarupa's Note: For the rice, the best pick is gobindo bhog. But if that's difficult to find, any short-grain fragrant rice like indrayani or ambe mohar should do. Do not use basmati.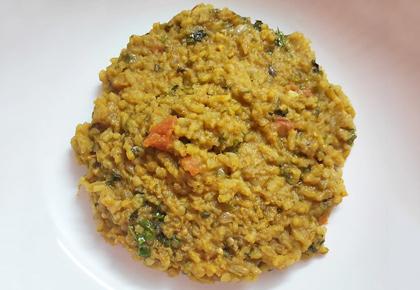 Source: Read Full Article