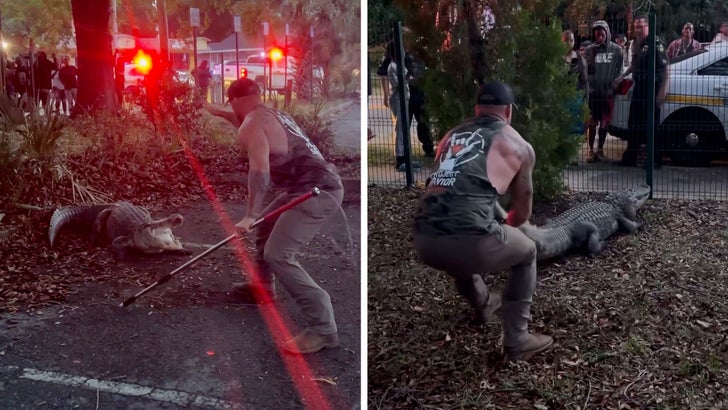 MMA fighter Mike Dragich is used to squaring up against proverbial beasts inside of a cage, but last month, he got to go up against a literal one — wrestling a 10-foot alligator away from onlookers … and the wild scene was all captured on video!!!
The crazy matchup happened outside of an elementary school in Jacksonville … when Dragich — a 33-year-old amateur fighter and licensed gator trapper — was summoned to help Florida fire and rescue officials wrangle a giant reptile away from a campus full of students.
You can see in footage that Dragich posted to his social media page, he didn't look nervous about the upcoming fight at all … strolling up to the gator in a cut-sleeve shirt and tight pants.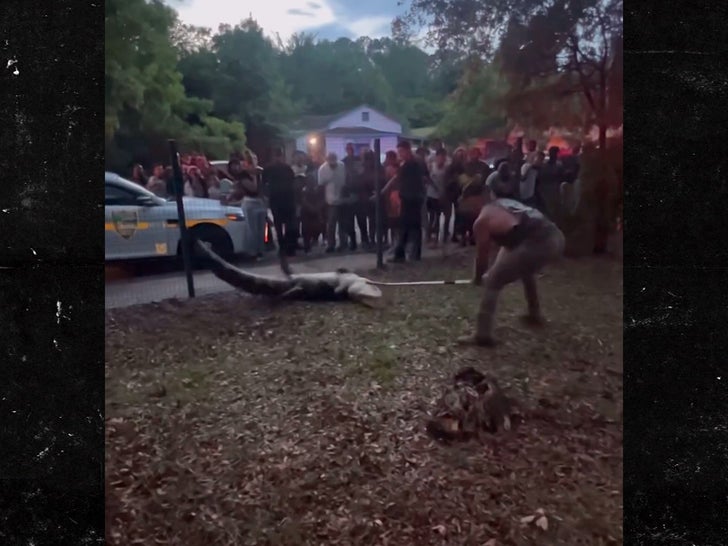 Video shows Dragich tried to grab the alligator by its tail multiple times … but the animal wasn't budging.
Finally, Dragich was able to hook its head with a catch pole … but the alligator didn't go down easily, causing a group of spectators nearby to scream with fear.
It rolled multiple times in an effort to break free from Dragich … though, eventually, the man was able to corral it with the help of JFRD responders.
After the battle, the gator wrangler told Fox 35 Orlando, "I felt like Batman, for real."
"A lot of fighters will understand that uh, when you go to the cage, you're nervous but once that cage door closes, you gotta be focused and honestly that's what I remembered from that night," Dragich said.
Waiting for your permission to load the Instagram Media.
The mixed martial artist is no stranger to these kinds of situations, in addition to taking multiple fights in his career … he's also taken down a bunch of gators over the years too, showcasing many of his conquests in videos on his IG page.
Of course, he's far from the first notable figure to get in brawls with scary creatures — UFC legend Khabib Nurmagomedov gained fame for wrestling bears regularly. And, who could forget Chuck Norris' own tilt with a bear?!?
Begs the question, what's crazier … fighting a gator, or a bear???
What's The Dumber Fight?
Source: Read Full Article