'If you take music away from me, there's nothing else I can do.'
It would have been one of those earth-shattering moments for a 21 year old anywhere on the globe.
So too it was for Nidhi Wagle.
She was presented with a once-in-a-lifetime opportunity to open for runaway favourite American rapper Post Malone at the Zomato Feeding India concert on December 10, 2022 in Mumbai, which also featured performances by Ananya Birla, Jonita Gandhi, Anuv Jain among others.
Nidhi, recalling the experience: "I had heard many of his songs growing up and always thought his style was something unique. To be honest I wouldn't have said I was a FAN, but I definitely enjoyed his music. After watching him live at the concert, it's safe to say I'm definitely a fan now.
"Watching him from so close, performing his heart out left me in awe. It was an honour to open for an international artist like him. I'm still in disbelief that I got this opportunity."
Her journey to the stage in December has been one of single-minded devotion.
"Music is everything for me," says Nidhi, who lived in Dubai for 16 years, moved to Mumbai in 2019, after two years spent in Bengaluru, to follow her dream. At the Whistling Woods International Institute of Film, Communication & Creative Arts she earned a BA in music production and composition in June 2022.
Nidhi released her first song Picture Frame during the lockdown in August 2020. She completed work on a new English language song, which she says willl release soon.
She spoke to Hitesh Harisinghani/Rediff.com about her art and how she earned a spot on the stage of an international concert.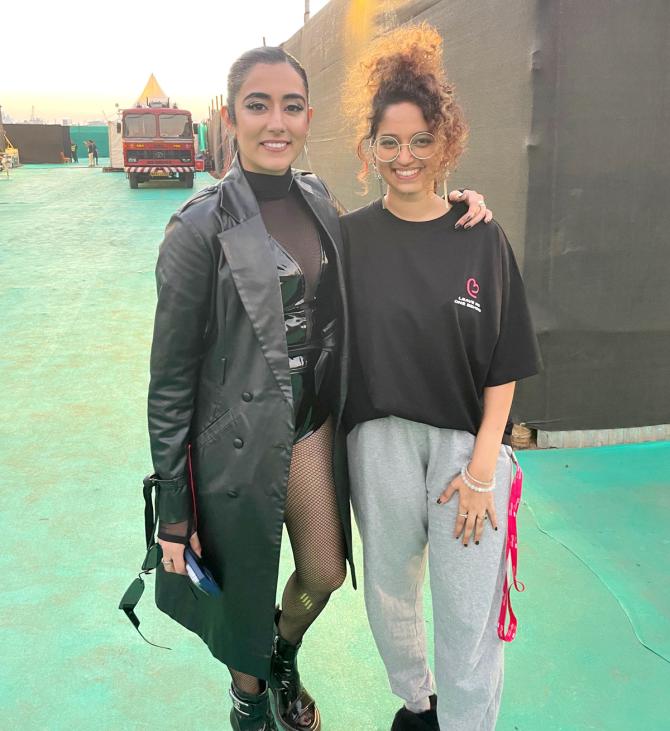 When did you decide you were headed for a career in music?
I think it was in high school. I was always into extracurricular activities in school and was a part of my school's dance team. I also played the drums for my school's band.
That's when I realised I really love music and I always wanted to get into music, but I wasn't confident enough to get into a music college. I wanted to do hotel management. My parents pushed me to pursue music.
Your father and mother encouraged your dreams?
My parents are extremely supportive. My mom was the one who found the (music) college for me.
My dad's very cute. Any achievement of mine, he will take a screenshot of and post it on all of his social media handles and family groups.
Music for you is…
(It) is everything to me.
I know that's a cliche, but there is nothing else in my life that gives me so much happiness. My whole life revolves around music. I grew up learning piano, drums. And I taught myself the guitar.
Honestly, if you take music away from me, there is nothing much else that I can do.
Who inspires your music?
When it comes to music, Adele is one of my biggest inspiration. I like how she's grown and her style of singing and also her songs are some my favourite songs to perform live.
When it comes to life in general, I'm inspired by my family and friends. All my friends are musicians — we are struggling and growing together. It's very inspiring to be around people who have the same ambition as you.
And your favourite singers?
Adele for sure. Sam Smith. Olivia Rodrigo because she's young and she's made a name for herself. Billie Eilish.
I enjoy listening to a lot of Indie music.
Many of my favourite musicians are also my friends; so it's nice.
What motivates you?
I really really want to make it in the industry and make a name for myself.
What drives me is the rush that other artists get when they perform onstage — I want that for myself.
The rush that I got while performing at the Zomato Feeding India concert — I want it back. I want it again and again. I want to do it for the rest of my life.
Which do you like more — recording in a studio or performing for a live audience?
I prefer performing on stage. Just the rush of being on stage and seeing people listening and vibing with you is something I love. I love interacting with the audience.
When it comes to recording, I love to release my own music. I love writing, composing and the whole process of sitting with a producer, going through ideas, going to the studio, recording a harmony. It's another rush.
You can't compare both. But if I had to choose one, it would be to perform onstage.
Who are the music directors you would like to work with?
I really look up to Shankar Ehsaan Loy. I have had the opportunity to interact with Ehsaan Sir during the lockdown, when we did live sessions. I joined in for those a couple of times. He also followed me back on Instagram after listening to Blinded as he really liked it.
I also had the chance to sit and jam with him in his room through my common friends. He's so humble and a great person and if I wanted to work with someone it would definitely be them.
How was the lockdown for you?
Painful! Can you imagine learning music on Zoom? Imagine learning to play drums on a drum pad.
But the lockdown, in a way, also built my career because that's when I starting making and posting music.
What future projects are you working on?
Two of my songs are ready for release and they should be out soon.
I'm getting a lot of gigs to perform at and I'm really enjoying the way things are going for me now. I plan to make the most of it.
Feature Presentation: Ashish Narsale/Rediff.com
Source: Read Full Article