Karan Johar flew off to New York to ring in his 47th birthday in a quiet manner. Reports suggested that his good friend and long-time collaborator on projects, Manish Malhotra also accompanied him. The filmmaker made news when fashion designer Prabal Gurung posted a picture where Karan Johar and he were posing on the stars. He captioned it as, "Pyaar Kiya To Darna Kya.
Happy birthday KJo." The media and Internet went into a tizzy wondering if the two were dating. This was despite Karan Johar's reply, "Control yourself Bhaiya." Some also commented on Instagram that Prabal Gurung was in a steady relationship with someone for a few years now. Karan Johar celebrated his birthday at the iconic Boom Boom Room in the city. The place is known for its stunning views and dramatic interiors.
What's cooking between Karan Johar and ace designer Prabal Gurung? Find out
Well, the Nepalese-American designer took to Instagram and confirmed that he is not dating Karan Johar. Period. He wrote that he is in a happy relationship with someone else since five years now.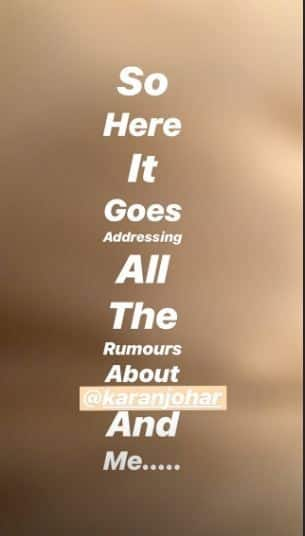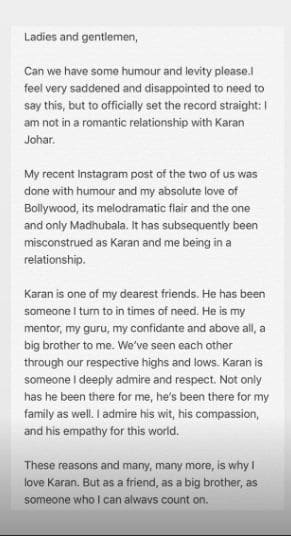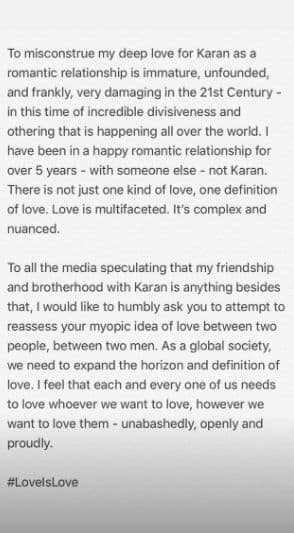 A few also wrote that Prabal is in a relationship with a certain 'Paul'. Gurung, as we know, is openly gay and a supporter of LGBTQ rights. He has often spoken openly on the matter. The designer has been described as the most 'woke man in fashion' by the Washington Post. He was also the face of Nepal after the 2015 earthquake that killed 9,000 people. His name became known after Deepika Padukone wore a red outfit designed by him to the Met Gala 2017. Even Priyanka Chopra and Isha Ambani wear his clothes.
In 2018, Manish Malhotra had posted a picture of Karan Johar with a caption, "Happy happy birthday my dearest bestest friend @karanjohar have a wonderful year ahead! 25 years of friendship and working together..and many more years to come and may you keep making the most wonderful films and keep being the spirited person that you are #karanjohar #friendship #friendslikefamily #Bff @mmalhotraworld." To that, Karan replied saying, "Manish!!! Love you so much!!!! Too many decades of us." This was not all. Further on Manish said, "@karanjohar happy happy birthday and yes to many years to come…enjoy NYC and miss me there." This made everyone speculate if this was Manish's way of confirming that they were a couple. Stay tuned to BollywoodLife for more scoops and updates!
Source: Read Full Article