Cauliflower is a great substitute for rice as it is low on carbs, low on calories and high in fibre.
Bethica Das's Cauliflower Rice is diabetic friendly, and you can add any steamed, chopped vegetables of your choice. Throw in some paneer cubes to up the protein content.
Or replace the vegetables with boiled, shredded chicken, scrambled eggs or lightly sauteed prawns.
Have this rice for breakfast, brunch or as a tea-time snack. It also makes for a great tiffin for your kids.
If you are planning to serve it as lunch or dinner, don't forget to offer a raita and papads with it.
Bethica's kitchen must be an exciting place where Eastern cuisine flirts with Western tastes and fiery Southern curries meet Northern masalas and Bong accents, so diverse are her kitchen skills.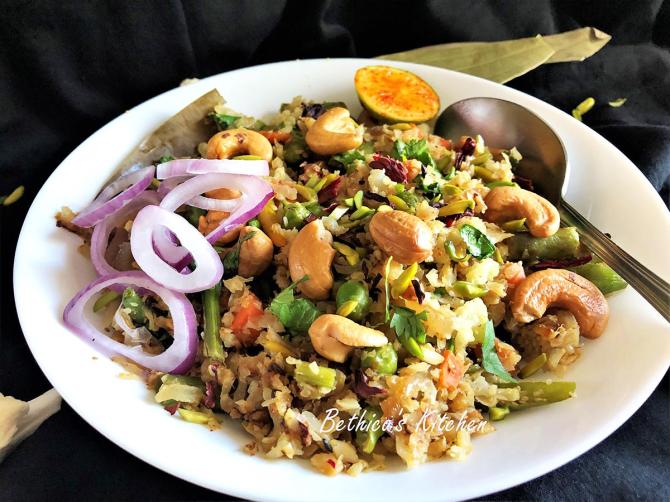 Serves: 3-4
Ingredients
2-3 cups grated cauliflower
2 dried red chillies
2 tej patta or bay leaves
1 tsp jeera or cumin seeds
1 onion, chopped
1 tsp chopped/grated ginger
1 tsp chopped garlic
1 cup chopped mixed vegetables, like carrots, French beans and green peas, lightly steamed
2 green chillies, slit lengthwise
1 tsp dhania or coriander powder
1 tsp garam masala powder
Handful roasted whole cashews
1 tbsp chopped pistachios
1 tsp crushed dry rose petals, optional
2 tbsp chopped green dhania or coriander or cilantro leaves
1 tbsp oil
1 tbsp ghee
Salt to taste, around 1 tbsp
Sliced lemon, to serve
Onion rings, to serve
Method
Heat the oil and the ghee in a large saucepan or kadhai over high heat.
Add the tej patta, cumin seeds and the red chillies.
Saute for a few seconds.
Add the chopped onions, garlic, ginger.
Saute till the onions turn translucent.
Add the vegetables and the slit green chillies.
Cook, covered for 2-3 minutes.
Add the grated cauliflower, salt.
Add the coriander powder and the garam masala powder.
Mix well and cook, covered, over low heat for 4-5 minutes till it is done.
Take off heat.
Garnish with the chopped coriander leaves, roasted cashews, chopped pistachios and the crushed dry rose petals.
Serve with slices of lemon, onion rings and a raita.
Editor's Note: Serve with your choice of raita. Either Arpana Anand's Bihari-style Lauki Raita or Bethica's Burhani Raita. Else with Chef Varun Inamdar's Pineapple Raita.
For a Jain version of this recipe, omit the onions and the garlic and replace the ginger with 1 tsp saunth or dried ginger.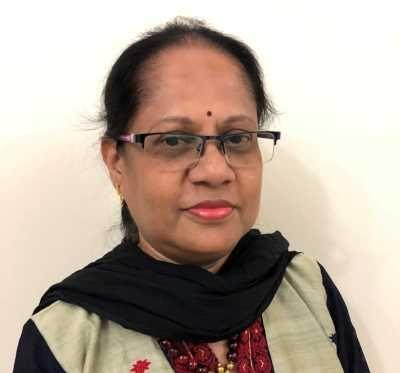 Bethica Das is a Sharjah-based food blogger.
Please do check out her recipes HERE.
Source: Read Full Article