Chef Manoj Sharma's crunchy, bite-sized Chimichurri Mushrooms, with a delicious filling of cheese, deserve a special place on your party menu.
Chimichurri is a kind of South American sauce made from fresh parsley, garlic, spices and olive oil that can be either a green or red versions — chimichurri verde or chimichurri rojo. Parsley and chilly are the backbone of the sauce.
It has its origins perhaps from the Spanish chirriburri sauce.
This sauce drizzled on mushrooms is a great starter to go with your drinks and cocktails.
Serve it along with Sunita Harisinghani's Chicken Cutlets.
Chef Sharma has been 20 years in the hospitality business and worked on a cruise line.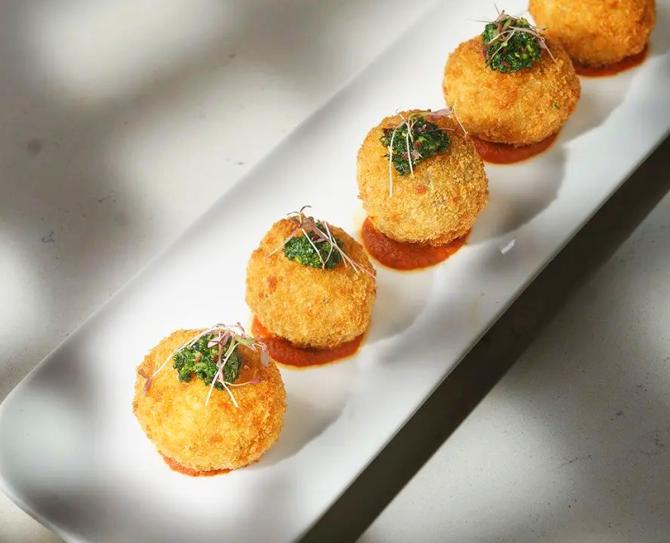 Chimichurri Mushrooms
Serves: 2-3
Ingredients
250 gm button mushroom, opt for the bigger ones as they will need to be stuffed
100 gm grated cheese or vegan cheese
20 gm palak or spinach, washed, blanched and tossed
½ tsp black pepper powder
½ tsp oregano flakes
½ tsp chilly flakes
Pinch salt
Breadcrumbs
Oil
For the batter
½ tsp maida or refined flour
10 gm garlic powder
5 gm white pepper
Pinch salt
Water
For the chimichurri sauce
Small bunch, around 30 gm, fresh parsley leaves
3-4 garlic pods
2 tsp fresh or dried oregano
20 ml extra virgin olive oil
20 ml white wine vinegar
5 gm freshly crushed peppercorns
Dash red chilly flakes
Pinch salt
To serve
Mayonnaise
Ketchup
Microgreens, for garnish
Dip of your choice
Method
For the chimichurri
Finely chop the parsley, oregano, garlic.
In a bowl combine the chopped parsley, oregano, garlic, olive oil, vinegar, salt, pepper, red chilly flakes.
Keep aside.
For the stuffed mushrooms
Wash the mushrooms under running water.
Remove the stems.
In a bowl, combine the cheese, blanched spinach, chilly flakes, oregano flakes, salt, pepper.
Mix well to get a coarse mixture.
Stuff the mushrooms with 1 tsp mixture and place them in the fridge to set for 5-10 minutes.
Spread the breadcrumbs on a flat plate.
Combine the flour, garlic powder, white pepper, salt in a bowl.
Add water and mix to get a smooth batter.
Dip the stuffed mushrooms in the batter.
Coat the stuffed mushrooms with the breadcrumbs.
Remove any excess crumbs.
Heat oil in a kadhai till fairly hot.
Deep fry the mushrooms, in batches, till golden brown.
Don't fry them for too long or the cheese will melt.
Drain the mushrooms onto a tissue or paper towel-lined plate.
To serve, add dollops of mayonnaise, tomato ketchup or any dip of your choice on on a long platter.
Place the fried stuffed mushrooms on each dollop (please see pic above) and drizzle chimichurri sauce on top of each.
Garnish with microgreens.
Serve warm.
Editor's Note: For those who don't eat garlic, skipping the garlic will be no serious loss.
Chimichurri sauce can also be drizzled on roasted or mashed potatoes, roast chicken, grilled plain paneer, sauteed vegetables, grilled prawns or fish, steak, eggs or even added inside a sandwich.
Chef Manoj Sharma is the executive chef at RCB Bar and Cafe, a pub owned by Diageo India, Bengaluru.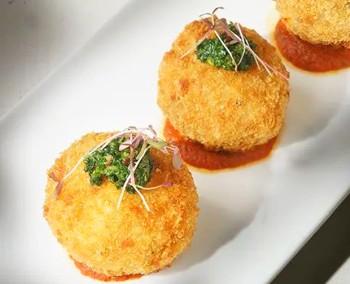 Source: Read Full Article