Kadhi Chawal is a popular north Indian comfort food.
But Dahi Kadhi Rice, a South Indian special on the menu of the Udupi restaurant we ordered from, regularly, when we worked at The Sunday Observer in Nariman Point, south Mumbai, was equally soothing on the tummy and the soul.
Basically, it was a pulau made with kadhi in it and served up with rice papad.
But it was a South Indian kadhi made like a Moru Curry with lots of curry pattas and without the besan (chickpea flour).
This is how I recreate it at home:
Dahi Kadhi Rice
Serves: 1-2
For the kadhi
400 gm dahi or yoghurt, store-bought dahi like Nestle, iD is fine
2 cups filtered/boiled water
2 tsp oil
10-12 curry pattas + little extra while cooking the rice
½ tsp methi or fenugreek seeds
1½ tsp rai or mustard seeds
½ tsp hing or asafoetida
1 inch piece ginger, grated
Pinch haldi or turmeric
Salt to taste, about 1 tsp
2 green chillies, slit lengthwise
4-5 boriya or round red chillies, whole
Pinch sugar, optional
For the pulau
2½ cups kadhi
1 cup fragrant short grain rice, like ambe mohur or sona masuri
For serving
1 tbsp ghee
2 fried appalams
Method
Whip the dahi together with the water, haldi, sugar, ginger, salt.
Keep aside.
Heat the oil in a thick-bottomed kadhai or saucepan.
Add the methi.
After a minute add the mustard seeds and hing and allow it to crackle.
Then add the curry leaves and red chillies.
Fry for a minute or two and add in the dahi mixture and the green chillies.
Bring to a slow boil on low heat and take off heat immediately after it boils or the dahi will split.
In a large saucepan bring 2½ cups of the dahi curry to boil with the rice with a few extra curry leaves.
When the rice is cooked serve drizzled with ghee and appalams on the side.
Zelda's Note: For a Jain version, replace the fresh ginger with 1 tsp saunth or dried ginger and for a vegan version use vegan yoghurt.
Serve the rice by itself or with Nadiya Sarguroh's Spicy Green Coriander Chicken Curry or Bethica Das's Tilapia Fish Fry.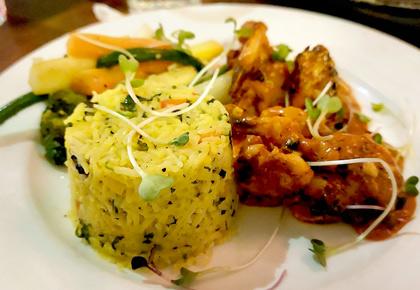 Source: Read Full Article