Jayanti Soni's tasty, spicy, budget-friendly Besan Mirchi is the perfect side for a fancy meal.
Or serve up this dish with hot rotis, parathas or chappatis. You can easily double the recipe if you have a big frying pan and enough people to feed.
Jayanti's wonderful Rajasthani recipes are subtly flavoured and traditional. Jayanti is also a trained singer and probably sings as she cooks.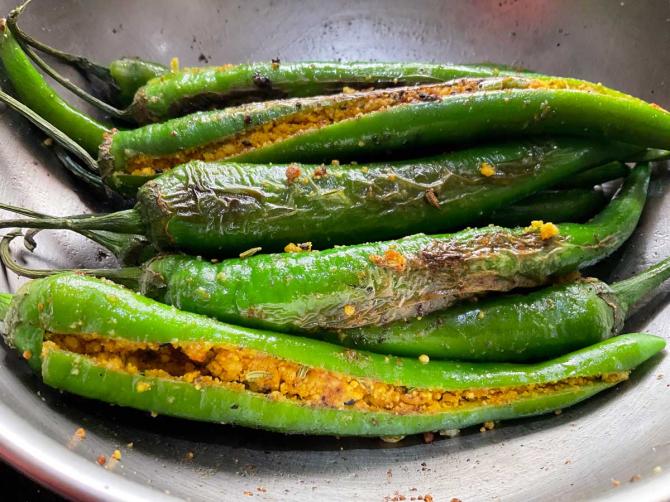 Besan Mirchi
Serves: 3-4
Ingredients
12-15 large green chillies, the long, light green, less spicy variety that can be stuffed
2-3 green chillies, the smaller, darker, spicier variety, finely chopped, add/reduce quantity as per your spice tolerance
1½ cup besan or chickpea flour
Juice of ½ a lime
½ tsp red chilly powder
¼ tsp haldi or turmeric
½ tsp kalonji or nigella seeds
½ tsp saunf or fennel seeds
¼ tsp hing or asafoetida
1½ tbsp oil
¼ tsp salt, or to taste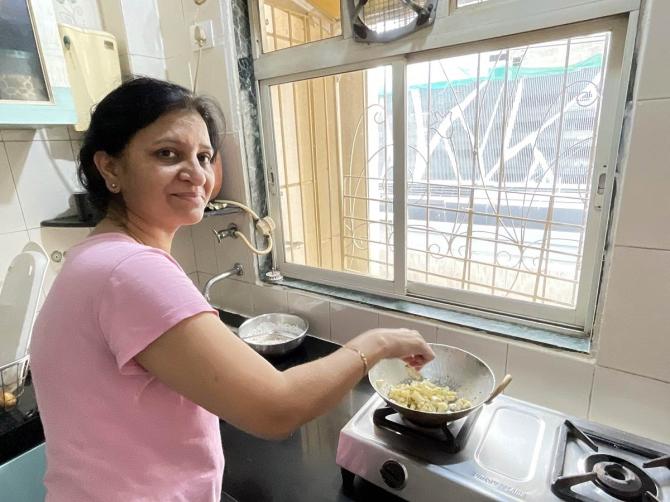 Method
Roast the besan over low heat.
Keep stirring so it doesn't burn.
Add a few tsp of oil at a time.
Stir until well-combined.
Add some more oil (keep 1 tsp in reserve for frying the chillies later) and keep stirring.
Keep mixing until the besan turns golden.
Using a flat ladle, break all lumps.
Take off heat and allow the besan to cool down.
Keep aside.
Make long slits in the green chillies and deseed them.
Once the besan mixture cools down, add the saunf, kalonji.
Add the hing, turmeric powder.
Add the red chilly powder, salt, chopped spicier green chilly.
Add the lime juice and mix well.
Fill this masala inside the slit chillies. Set aside.
Heat 1 tsp oil in a pan over low heat.
Once the oil becomes hot, add the stuffed chillies with the stuffed side on top so that the stuffing doesn't spill.
Slowly turn the chillies so that it fries evenly.
Keep stirring.
Cover the pan and occasionally stir carefully so that the stuffing doesn't spill over, and once the chillies have fried well, they will wrinkle and mildly change colour, take off heat.
Serve hot with plain paratha or chappati.
WATCH: How to make Jayanti's Besan Mirchi from scratch.
Photographs and video: Kind courtesy Dhairya Soni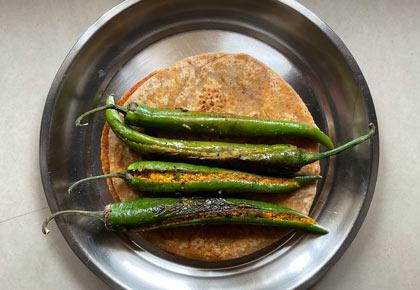 Source: Read Full Article