Often the most valuable recipes are those quickly do-able when we are facing a time crunch, are very busy and can't think of what we'd like to make for lunch/dinner.
At the same time, you don't want to stuff your face with a calorie-laden meal.
Try this speedy Grilled Salmon preparation that's low-fat, low-carb and diet-friendly and will not let you down, because it's hard to mess up a good salmon or rawas fillet.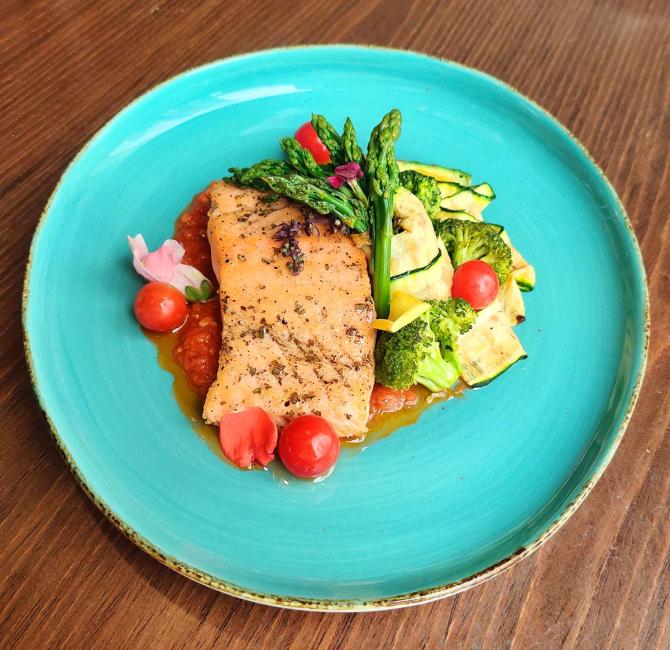 Grilled Salmon
Recipe courtesy: Four Points by Sheraton, Navi Mumbai
Serves: 4
Ingredients
500 gm rawas or salmon fillet, cut into 4 portions
1 medium zucchini, cut into long thin strips lengthwise (please see the pic above)
2 red or yellow Shimla mirchis or bell peppers, cored, de-seeded and cut into strips
Few florets broccoli
4-5 cherry tomatoes
1-2 stalks asparagus, discard lower stalks, optional
1 medium red onion, cut into 1-inch wedges
1 tbsp extra virgin olive oil
½ tsp salt, ¼ tsp for salting the vegetables and ¼ tsp for salting the salmon
½ tsp freshly ground black pepper
¼ cup ribboned fresh basil
1 neebu or lemon, cut into 4 wedges
Method
Preheat the grill to medium-high or use the grill setting of your microwave.
Brush the cut zucchini, bell peppers, broccoli, asparagus, cherry tomatoes and the onion wedges with olive oil.
Sprinkle ¼ tsp salt.
Let the vegetables sit for 10-15 minutes.
Sprinkle the pepper and ¼ tsp salt on the salmon.
Let it sit for 10-15 minutes.
Place the vegetables and the salmon pieces, skin-side down, on the grill.
Cook the vegetables, turning once or twice, until just tender and grill marks appear, for approximately 4 to 6 minutes per side.
Cook the salmon, without turning, until it flakes when tested with a fork, for approximately 8 to 10 minutes.
Take the salmon and the vegetables off the grill and place on a cooling rack.
When cool enough to handle, toss together the vegetables in a large bowl, after halving the cherry tomatoes.
Remove the skin from the salmon fillets, if desired, and serve alongside the vegetables.
Garnish each serving with 1 tbsp thinly sliced basil leaves and serve with a lemon wedge.
Editor's Note: A 100-gm slab of paneer or tofu, prepared just as the salmon was, can replace each fillet for non-fish eaters.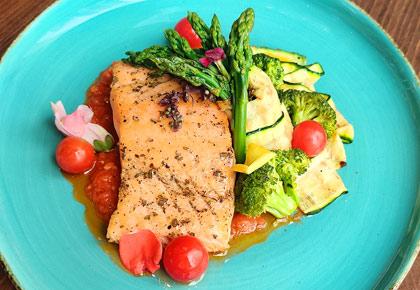 Source: Read Full Article