Mid-week meals can be a breeze with Pratibha Karan's delicious and unusual Sri Lankan Parippu Hodi.
The dal goes well with a bowl of steamed rice and chapatis.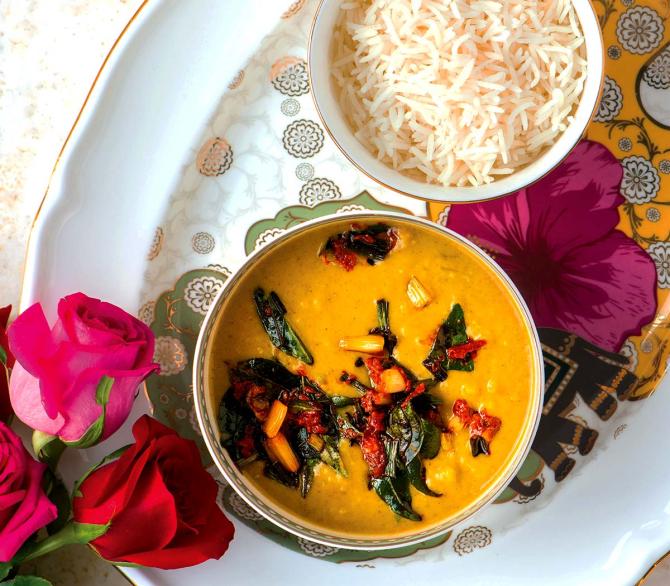 Sri Lankan Parippu Hodi
Serves: 8
Sri Lanka is known for its spices — cloves, cinnamon, pepper, cardamom, nutmeg and mace — that are grown aplenty.
It is, therefore, natural that Sri Lankans use them a lot in their cuisine, making it delicious and aromatic.
Spices, coconut, shallots and red chillies are combined in this dish to give it a wonderful flavour.
Ingredients
250 gm masoor dal or red lentils
¼ tsp haldi or turmeric powder
½ tsp red chilly powder
1 heaped tsp Sri Lankan curry powder (please see the note below)
1-inch cinnamon stick
1 small onion, sliced
4-5 pods garlic, crushed
1 cup fresh coconut milk
8 cups water
Salt to taste, about 1½ tsp
For the baghar or tadka
3 tbsp vegetable oil
2 tbsp sliced shallots
3-4 pods garlic, crushed
3-4 dry red chillies, coarsely ground with a little water
10-15 curry leaves
Method
Wash and soak the masoor dal in 3-4 cups water for 30 minutes.
Drain before cooking.
Put the dal in a pressure cooker along with the turmeric powder, red chilly powder, Sri Lankan curry powder, cinnamon, sliced onion, crushed garlic pods, coconut milk, 3 cups water, salt.
Pressure cook for 1 whistle, and then reduce the heat to low.
Cook for another 2-3 minutes.
Open the cooker when the pressure subsides.
The lentils at this stage should be tender.
If not, cook a little more, without the lid on, till the lentils are tender.
Mash lightly.
Add the coconut milk and mix.
Bring the lentils to a boil again and then take off heat.
Separately heat the oil in a small saucepan.
Add the shallots.
When the shallots turn pink, add the crushed garlic.
When the shallots and garlic turn golden brown, add the red chillies, followed after a few seconds by thecurry leaves.
After about 5-10 seconds, pour the baghar over the lentils and mix.
Serve hot with plain rice or/and Indian bread.
Pratibha's Note: For Sri Lankan Curry Powder use the following ingredients:
15-20 sprigs curry leaves, 50 gm dhania or coriander seeds, 30 gm jeera or cumin seeds, 1 tbsp sonf or fennel seeds, 1 tbsp methi or fenugreek seeds, 1 dalcheeni or cinnamon stick, about 3-inches long, 1 tsp lavang or cloves, 1 tsp green elaichi or cardamom seeds.
Wash and shake dry the curry leaves. Remove the leaves from the stems. Heat a heavy-bottomed saucepan and lightly dry roast the curry leaves over medium heat till completely dry. Do not allow to brown. Remove and keep aside. Next, dry roast the coriander seeds, cumin seeds, fennel, fenugreek seeds, cinnamon, cloves, cardamom for just a minute or 3 till it emits a nice aroma. Do not allow to brown. Remove and allow to cool. Now grind together all the above ingredients to a fine powder. Store in an air-tight jar. Will remain good for use for long.
Excerpted from The Book Of Dals by Pratibha Karan with the kind permission of the publishers Penguin Random House India.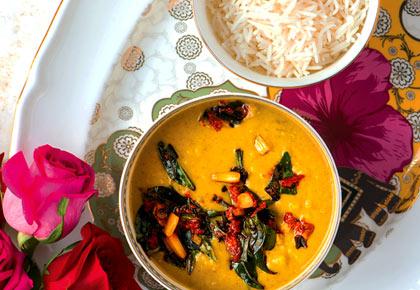 Source: Read Full Article