Moumita Panday has a light meal offering.
Her Mushroom and Olive Sandwich and Pesto Potato Salad is right for lunch or brunch. Or save it for an afternoon tea-time binge.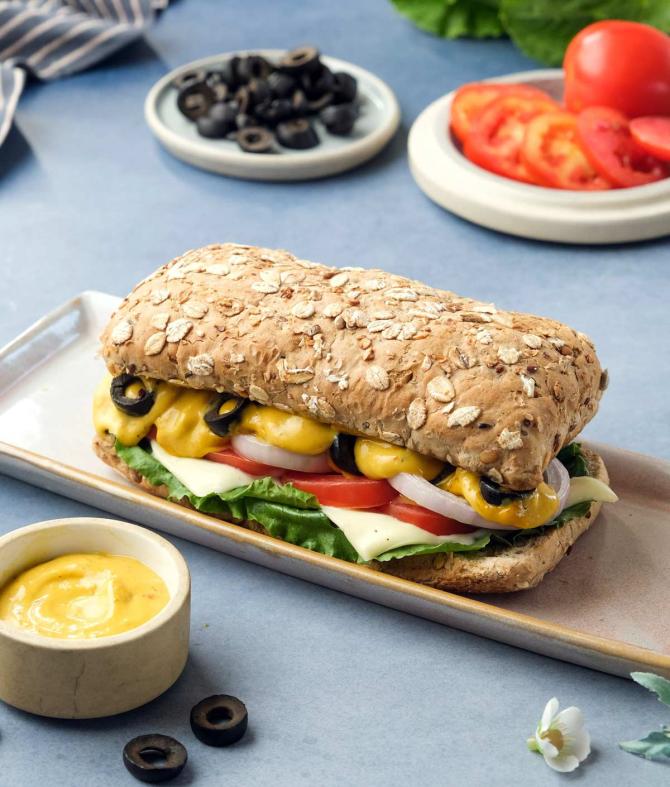 Mushroom and Olive Sandwich
Serves: 1
Ingredients
16-18 button mushrooms, cleaned, stems removed and sliced
1 onion, cut in rings, optional
2 lettuce leaves, washed and dried
1 tomato, cut into thin slices
2 tbsp mayonnaise + extra to garnish (preferably choose a spicy, tangy variety, maybe spiked with mustard for added taste)
1 tbsp halved black olives, seeds removed
1 tbsp extra virgin olive oil + 1 tbsp extra
1 hot dog or oblong ciabatta roll or submarine roll, cut in half lengthwise
1-2 slices cheese or vegan cheese
Salt to taste, about ½ tsp for seasoning the mushrooms + dash while assembling the sandwich
Dash or 2 black pepper powder
Method
Heat the olive oil in a frying pan for less than a minute; it should not smoke.
Add the sliced mushrooms and saute over high heat until lightly cooked.
Add the salt, pepper.
Fry a minute more.
Take off heat and add the mayonnaise.
Mix until well coated.
Toast the roll slices in a frying pan with the remaining 1 tbsp olive oil.
Transfer to a plate and start building the sandwich.
Top one half of the bread roll slice with the lettuce leaves.
Add the cheese slice/s.
Add the sliced tomatoes and the onion rings.
Sprinkle a dash of salt and dash of pepper.
Add the stir-fried mushrooms-mayonnaise mix.
Top it with a little more mayonnaise.
Add the black olives.
Place the second slice of the bread on top to close the sandwich.
Serve immediately or the bread will become soggy.
Editor's Note: Opt for vegan or eggless mayonnaise if on a vegan or Jain diet.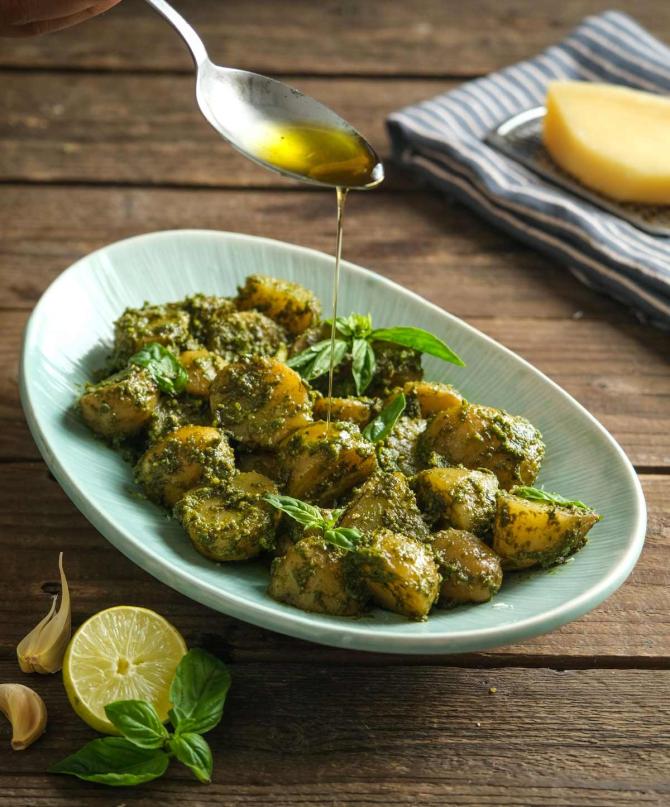 Pesto Potato Salad
Serves: 1
Ingredients
1 kg small potatoes, unpeeled, ideally baby potatoes
1 cup fresh basil + extra chopped to garnish
1/3 cup almonds
3 tbsp fresh Parmesan cheese or vegan cheese
2 garlic pods
Juice of half a lime
¼ cup extra virgin olive oil
2 heaped tbsp eggless mayonnaise
3 tbsp toasted almonds, for garnish
Water
Salt
Method
Cut the potatoes in half if the baby variety, or in fours if larger potatoes.
Ideally, the pieces should be roughly the same size.
Boil water in a large saucepan with a dash of salt over high heat.
When the water comes to a boil, add the chopped potatoes.
Let it cook for 20-25 minutes until soft through, but not mushy.
To make the pesto, add the basil, almonds, Parmesan, lime juice, garlic and salt in a food processor.
Blend until the almonds are broken down and the basil is finely ground.
Keep blending and slowly pour in the olive oil until it turns into smooth pesto paste.
Once the potatoes are cooked, take off heat, drain in a colander and run under cold water to cool.
You can peel the potatoes or choose not to.
Place the boiled potatoes in a large bowl and add the pesto and the mayonnaise.
Using a large spatula, mix and gently coat the potatoes in the sauce or toss to combine.
Top with the toasted almonds and the extra basil.
Serve warm or refrigerate in an airtight container.
It will last for 3-4 days.
Editor's Note: For those who don't like or don't eat potatoes, substitute potatoes with 1 kg steamed chopped cauliflower. and skip the garlic, if it is not part of your diet. Sweet potatoes make an interesting variation to potatoes too. So would kandh or purple yam.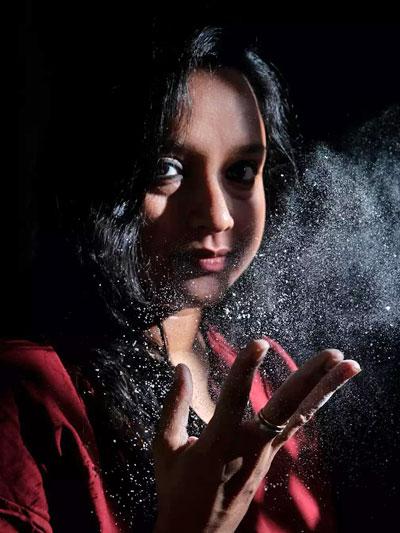 An avid cook on a personal and impulsive culinary journey, Moumita Panday is a food photographer and food stylist.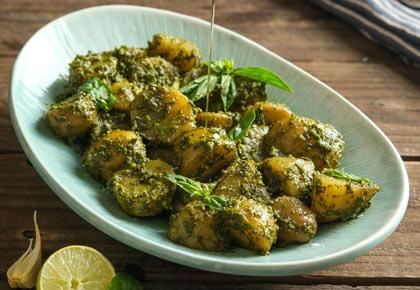 Source: Read Full Article