The 'Grown Ups' star reminds everyone that 'there must be no exceptions' to diversity as he has been voicing his reservations about the vaccine on social media.
AceShowbiz –Rob Schneider isn't going to back down despite backlash over his stance on COVID-19 vaccine. The actor/comedian has defended his controversial opinion under the right to free speech after voicing his reservations about the vaccine on social media.
Taking to Twitter on Monday, July 12, the 57-year-old posted a quote that read, "The right to free speech is more important that the content of the speech." Along with it, he reminded everyone that "there must be no exceptions" to diversity.
"When you hear people say they want diversity…," he wrote in the caption. "Remember there must be no exceptions. Their diversity must include; Diversity of thought, diversity of ideas & especially a diversity of opinion." He went on noting, "Otherwise the defining principle of their 'diversity' is intolerance."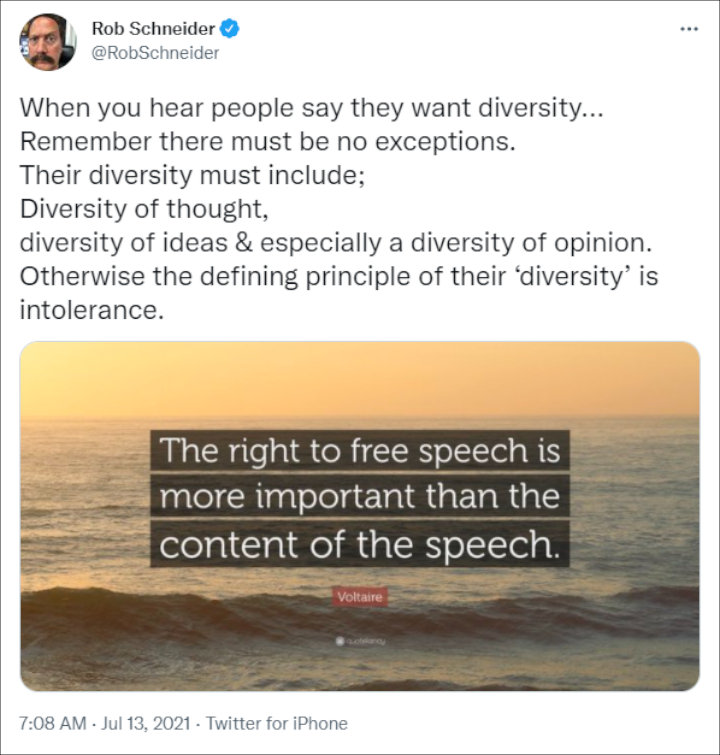 Rob Schneider defended his anti-vaccine stance.
Rob's latest tweet arrives after he has been using the blue-bird app to voice his stance on the COVID-19 vaccine. "Just say no… And keep saying no… Over Half of the US population is continuing to say no to this unapproved experimental gene therapy!" so he posted on Friday, July 9. Adding, " 'My body, my choice!' #2ndAmendmentIsForThis."
Rob, who previously compared California public schools' in-person coronavirus safety measures to a "new kind of child abuse," added in a series of tweets that "our Government has told us they plan on going to OUR FRONT DOOR with this. They have lied, had a 2 year fear campaign and lockdown, destroyed middle class household incomes, bankrupted untold thousands of businesses and are now putting children's lives at risk."
He went on claiming, "We should never abandon our liberal principles and international stance on body autonomy, free informed choice and human rights, and support unprecedented coercion of professional health workers, patients and people to have experimental treatments with limited safety data."
"This and the policies that go with it are more of a danger to our society than anything we have faced during this last year," he argued.
Responding to Rob's vaccine take, one person tweeted, "Is comedic actor Rob Schneider suggesting Americans shoot COVID-19 with guns rather than simply get the safe and effective vaccines developed to help protect themselves and their communities."
Another spoke against Rob and his stance, "Just went through his Twitter and it's ridiculous. He retweets other anti-vaxxers to prove his point but none of them are doctors, scientists… No real evidence. Such is the anti-vaxx narrative."
Actress Selma Blair has also weighed in on it. Met by TMZ while grabbing coffee on Saturday in Los Angeles, the "Cruel Intentions" star said she respects Rob's opinion, but she still supports COVID vaccine.
"I'm fine – I'm fine with whatever people say," said Selma, who still undergoes chemotherapy for her MS, had undergone a bone marrow transplant, and has an immune system problem. "We appropriate everything, so I'm not great with the cancel culture mentality…I have respect for everything."
The 47-year-old mom of one added, "I don't mind what he says at all, but at the same time it's hard when everyone is hurting from something that's so oppressive…these shutdowns and businesses." She noted, "…But I never went anti-vax – not that I mind – i totally understand, but I think we're in a really tricky spot in the world. Those that can have a responsibility, but I have nothing bad to say about what anyone's saying."
Source: Read Full Article