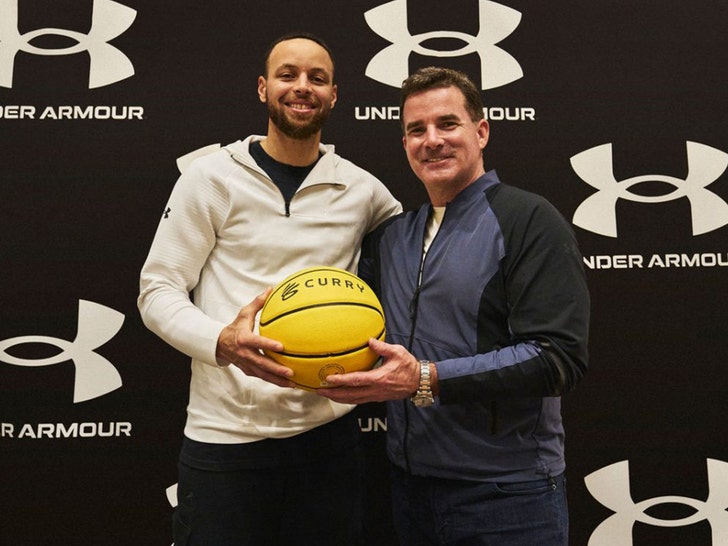 Steph Curry and Under Armour have just entered into a new agreement … one that could keep the NBA superstar locked in with the apparel company for the rest of his life!!
Curry and UA announced the massive extension on Thursday … and while dollar figures of the new pact have yet to be released, the deal could reportedly end up being worth more than what he's made in his entire NBA career — which, to this date, is over $300 MILLION.
As part of the extension, UA named the 35-year-old Warriors point guard the "President of Curry Brand" — a title that will give Curry a say in how the company produces products related to basketball, golf, women, youth, and "sportstyle."
"What we want to do, is win every single day," UA founder Kevin Plank said of the new contract. "If we do that, this will be a lifetime deal."
Octagon founder Phil de Picciotto, whose agency helped negotiate the new agreement, added, "Done right, this partnership is forever."
"Curry Brand is now cemented into the Under Armour universe," de Picciotto said. "He's not just an ambassador. He's not just an endorser. This isn't just a deal. He will be leading a business."
The deal appears to be similar to the lifetime one that Curry's pal, LeBron James, inked with Nike in 2015.
Curry, who first signed with UA in 2013, said Thursday he was pumped for it all.
"Belief is a big part of who I am on and off the court," Curry said. "I believe in Curry Brand and Under Amour, the team now in place, and what we're doing together."
"We share a vision for a big future ahead."
Source: Read Full Article