Rajesh Karkera journeys in monsoon rains and through verdant countryside to the little-explored pristine Lonar lake in eastern Maharashtra.
When I first heard of the place named Lonar, I actually thought the person was trying to say Lonavla, which is a hill station in Maharashtra.
I was then corrected and told it was a crater.
Right here in Maharashtra?! No one — in all my years of schooling or college — had mentioned to me the existence, not too far from my doorstep, of something as intriguing as a crater.
'Did the crater come to be formed after I was born?' I wondered. It was not in my history books! Nor have I ever read about it elsewhere, like in the news.
Until now.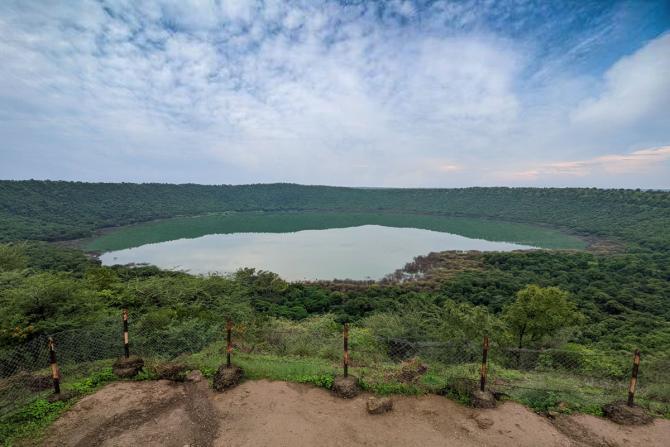 On July 27 I heard a huge sum of money, a whopping Rs 370 crores *Rs 3,7 billion) was approved for the conservation of Lonar lake, also known as Lonar Sarovar.
While digging up more info on Lonar, I read how the lake turned pink in 2020 during the lockdown.
All this was plenty reasons enough for me to plan, with mounting thrills, a 500 km-plus road trip to test the New Tata Safari. Along with my driving buddies from Pune, Anchal Mundkur, Priya Wilson and Rohinton Taraporewala.
I spent a few weeks working on an itinerary.
The plan was simple: Depart Mumbai in the early hours of the morning. Catch up with my friends, after the first 357 km, who were coming from Pune.
After lunch, carry on in a convoy of three SUVs, finishing up the balance 150 km-odd journey to the MTDC Resort, Lonar, in the Buldana district of Maharashtra, where we planned to stay.
6.30 am
The moment I get into the Tata Safari, the first thing I see on the vehicle's MID cluster (middle instrument cluster — the dials behind the steering wheel) is that one of the tyres is showing a low-pressure warning.
Just to be sure, I drive it to the nearby tyre service guy and luckily, before calamity strikes, and discover that a nail has pierced through the tough rubber.
'There goes my early start', I worried. But that was better than driving halfway and then looking for a repair shop.
After a quick fix of the puncture and change of the spare tyre, which didn't really take that much time, I finally started my journey at 7.30 am, having lost an hour.
My Pune pals already had a two-hour headstart, since Lonar is 373 km, due east, from their starting point. I am now three hours behind schedule.
The thought comes to me: Can I push this Blue Beast and make up for the time lost?
My playlist is ready… The car is ready… So am I… Till I see a cop, who is sorting the traffic moving out of Mumbai early morning, looking at me!
I decide instead to enjoy the ride and not speed… Well not too much at least :))
The beauty of a road trip is heightened during the monsoons. When you get an overcast moody sky, it just makes the drive so, so, so much better and dramatic.
Leaving Mumbai towards Buldana, my assumptions about the roads take a beating.
The roads are just the opposite of what I had imagined.
See the roads I drive on:
This is before I make my breakfast stop.
Yes, breakfast! I just can't go on a long drive without filling myself up too.
9.30 am
After passing many breakfast places, I decided to stop at a place ambitiously named Hotel Moti Mahal (a hat tip to Delhi's legendary Moti Mahal?) on the Padgha-Khaling road in Arjunali.
I stop here because from the faces of the people walking out it is evident that they are happy with what they ate.
I am not wrong at all!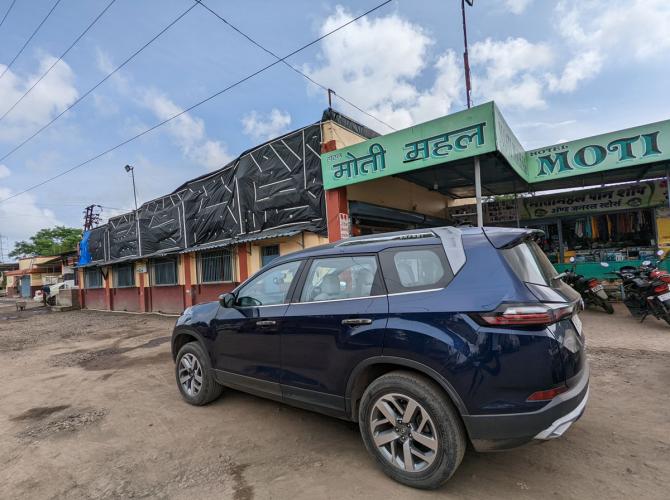 This place serves some of the best Kheema Pav I have eaten in a long time.
Plus the chai is brewed just right! — this is one thing I miss on outdoor trips. They either have too much sugar. Or too much milk. But the chai at Moti Mahal is perfect!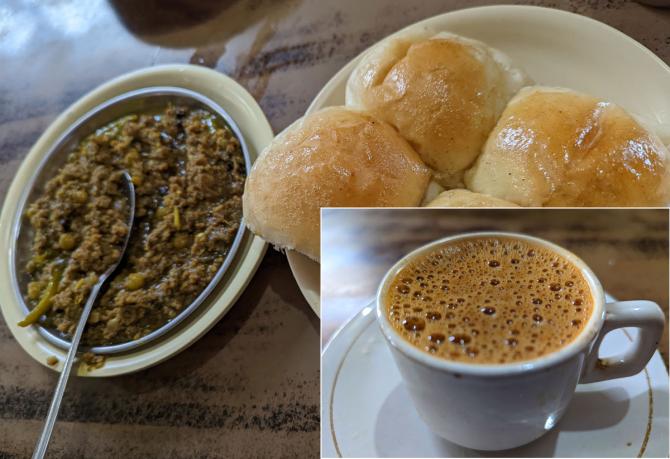 Content after my breakfast, listening to some recent favourites, like Kesariya from the movie Brahmastra repeatedly and Hawayein from Jab Harry Met Sejal on the excellent JBL sound system of the New Tata Safari, the drive is beginning to feel blissful.
Finally, 242 km after leaving home, I see the first signboard for Lonar. Whooppee!
Please remember, depending on Google maps is good, but do use common sense too. There are times when Gmaps will go crazy and take you on a wild goose chase where there are no roads. It's fun. But you might not always have the heart or stamina for it.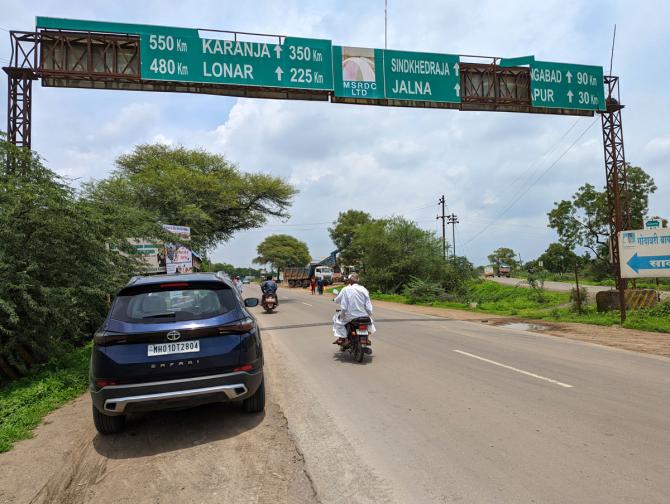 I am now halfway to Lonar and the remaining part of the drive didn't involve much traffic. There are patches of bad roads. That didn't affect the ride at all — the Tata Safari's suspension took it in its stride… It is actually fun!
It is 3.00 pm when I pass our meeting point. It was actually to be our lunch place.
But the heavy breakfast killed any lunch pangs. Oh, did I mention: I had a couple of apples and pears in the car, in case I needed them. I did.
3.20 pm
On long drives you often get quite a few chai urges. I stop at a tapri or tea stall in an exalted place by the name of Zalta, Maharashtra.
The chai is just sugar water! The stall owner is a nice man and says that the locals here demand it to be that sweet! He offers me some namkeen snacks to make up for that sugar rush. But I am now keen on getting back on the road.
No stopping now. My drive buddies are already reaching the MTDC hotel in Lonar.
The first bout of rain on this drive arrives as I am reaching Jalna.
Jalna is a place where industries abound, which is the reason for all the heavy vehicles on the roads, which results in no roads.
Perfect conditions for offroading I realise.
In these parts, it is the 14-tyre container truck, in front of me, who is the winner on the road. "Abhi ulta hua. Abhi ulta hua (It will overturn, It will overturn)," I think to myself. But the truck drivers manoeuvre their extra-large vehicles with so much ease. It amazes me.
I had heard that after Jalna till Lonar there are no proper roads. And that was exactly what I was looking forward to.
But what I get, after the 15 minutes of the off-roading spree in Jalna, is, to my astonishment, absolute smooth tarmac!
Fantastic empty, level roads with, on both sides, greenery made gaudy by the rain.
The road/highway is like this all the way to the MTDC resort, Lonar (as seen in the video above).
6.50 pm
As the daylight seeps away I enter the resort — the MTDC accommodation in Lonar has huge rooms! And it's kept very clean. The bathrooms too are spacious and tidy. No frills or fancy stuff but good, clean accommodation.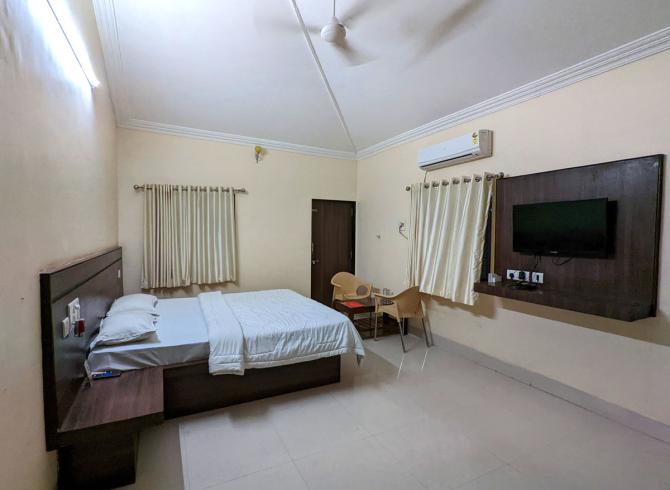 Clean crisp towels too are provided, albeit late, and, of course, the same old Medimix soaps :/ along with the towels. When will you change MTDC?
The property at MTDC Lonar is vast. It's very close to the crater and what impressed us was the excellent service.
8.00 pm is when we ask for dinner as we are all tired.
The meal served is excellent. It is better if you order what you need in advance so that the staff can get fresh produce from the market nearby.
Let me tell you the menu: For starters, there is homemade French fries, made from freshly-cut potatoes. Excellent! Coated in some local herbs, they blow our minds. And that is just the starter!
For the main course, we have Malvani Chicken, Fried Catla (a freshwater fish), dal, rice and chapatis. The table is wiped clean by the four of us!
We are early birds while on trips, so we turn in early to be up at 5.30 am to catch the pahile pahile rays of the sun of the new day.
Tomorrow: The Lonar Crater, at last!
Source: Read Full Article