'We want to send Indians on the moon and create history, but we don't want to accept the reality that is happening on earth.'
In September 2018, the Supreme Court quashed Section 377 which criminalised consensual homosexual sex, making India the 26th country in the world where homosexuality is legal.
It was one of the many legal rights individuals from the LGBTQIA community were fighting for. These include the right to marry the same-sex partner, to hold a joint bank account and to adopt.
Months earlier, in December 2017, when Hrishi Sathawane from Yavatmal, Maharashtra, and Vinh from Vietnam exchanged vows in the presence of Hrishi's parents and relatives, a large section of society celebrated the occasion and welcomed the couple. But their marriage isn't considered legal in India.
Meanwhile, Hyderabad-based couple Supriyo Chakraborty and Abhay Dang who held a 'promising ceremony' in December 2021, filed a petition seeking legal recognition of their marriage in the Supreme Court of India on November 14, 2022.
Supriyo and Abhay were among the 52 petitioners of 20 connected cases asking that same-gender minority individuals have the right to marry and establish a family in India.
Hrishi, Supriyo and Abhay joined other queer couples and co-parents in India, who had followed the hearings patiently for over a year and waited for the Supreme Court's verdict — announced on October 17, 2023 — about granting legal marriage rights to same sex couples.
Supriyo who had travelled from Hyderabad to Delhi a few days before the verdict, is disheartened, angry, tired and emotional.
"It was quite heart-breaking," he says, while talking about his fight to legalise his marriage to his partner. "Because it is not a one-day or one-week journey. It has taken us over a year, beginning with our marriage, then going to court, followed by so many hearings. But every time we walked in, we felt there was something for us to hope for.
"Right from the admission hearing on November 25, 2022, I have been to Delhi for all the hearings, even between April and May.
"Abhay and I had planned and reached Delhi early this time. So many people had joined us in the journey. We all met each other, we were happy and smiling in the morning. But when the proceedings began, we realised that things aren't so clear.
"It is heartbreaking because the wounds are still fresh. We are angry because they all failed us again. But mostly, we are tired of being treated as second-class minority citizens again," Supriyo says.
"We are not harming anybody. We are only asking for basic rights.
"I knew and I was told that it may not happen overnight. But when we entered the court, personally, I had some hope that at least they were going to hear us out. That they are not going to leave us empty-handed.
"They talked about forming a committee to look into it. Honestly, technically, I think they failed us. They left us empty-handed.
"Maybe I am just a bit more emotional right now and it's too early in the day to assume anything," Supriyo adds, while also admitting that he has his reservations about getting an immediate green signal from Parliament.
"I really doubt it's going to happen soon, but the fight is on and, in the near future, maybe it will happen."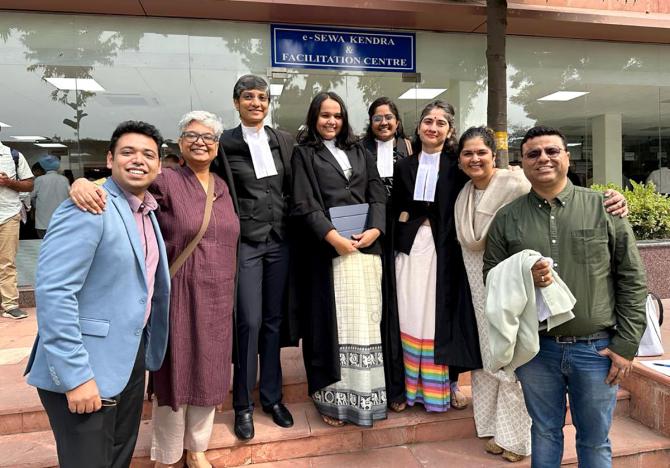 Supriyo wants to believe in building a better, more inclusive, country that is safe for all.
"If I look back at this journey, I won't say we failed. The silver lining is that we are all talking about it.
"The fight for LGBTQIA rights has always been a long journey. It took us so many years to strike down Section 377 and it wasn't easy. Now we are seeing that people are more open to talk, to listen and to be a part of the conversation.
"I remember when we stepped out after our wedding… See, I can't even say the word 'wedding' or 'marriage' because legally we are not a couple yet. So, in the initial days, we were quite shocked because people would recognise us and we were not used to being in the limelight. Eventually, we got used to it. We noticed that the majority of people are supportive, which also ignites our hopes and courage for a better India.
"But to look at it from a legal standpoint, although we are married, we are strangers to Law.
"We can't even nominate each other for a bank account.
"I don't have the right to call my partner 'husband' in India.
"Marriage is not just another event in your life; it's also about the dignity of living together as lawful citizens.
Nihaal Singh*, an advertising professional who came out as gay to his parents in 2019, took leave from work to spend time with his partner Naved* and follow the verdict.
Nihaal, whose partner has yet to discuss the relationship with his parents, hoped that the verdict would make things easier for their families.
"Naved's parents haven't come to terms with the fact that their eldest son is gay.
"We've been dating for over three years. Both of us plan to get married soon and become parents, but Naved's parents haven't fully accepted the fact that their son is homosexual," Nihaal explains.
"After the 2018 judgment, we were really hoping that the Supreme Court verdict would come out in our favour. Both of us are a bit disappointed with some of the statements made by the judges about adoption rights and the right to marry," shares Nihaal.
"The way I look at it, on the one hand, we want to send Indians on the moon and create history, but we don't want to accept the reality that is happening on earth.
"Some of us are happy defending the past, without even acknowledging the need for young adults to have the freedom to make important life choices. If 2018's judgment took us one step forward, this judgment has paused that journey for us."
Sharing his expectations and future plans Nihaal says, "It's my dream to have a grand Punjabi wedding where I invite all my friends, colleagues and relatives and perform all the rituals with my soulmate.
"I want to dance at my wedding, to go on a honeymoon. I don't mind having a nikaah ceremony too, if that is possible. We are happy to work it all out.
"There is nothing wrong with marrying someone you love. But now, I guess, both of us have to wait and stay strong together."
Naved who was reluctant to talk about his family's disapproval, agreed with Nihaal.
Expressing his thoughts on marriage, adoption and parenting, Nihaal points out: "We have seen surrogacy, single parents who have adopted, become pregnant through artificial insemination. But we don't want to accept same-sex parenting?
"Is it wrong to marry someone you love if the person belongs to the same gender? What are they fearing?
"Don't heterosexual couples face challenges? How are we any different? Why can't same sex couples adopt a child and become parents?"
Hrishi Sathawane, who currently lives in San Jose, California, also expressed his dismay at the verdict.
"I'm saddened by the Supreme Court's decision," says Hrishi while dismissing hopes that Parliament may work in their favour. "I have little hope from the Indian political system. But I'm still hopeful that younger people will bring the change somehow from the grassroots."
According to Hrishi, allowing two consenting adults to marry shouldn't be so challenging.
"Letting anyone live a loving life with the person they choose to live is such a simple no-brainer. Our ancestors understood better than the current generation."
*Names changed on request.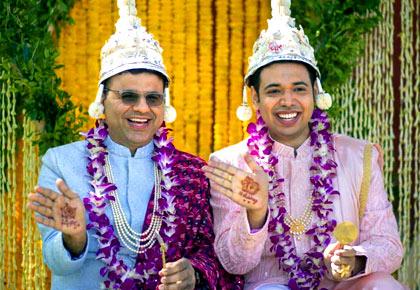 Source: Read Full Article