In this age of social media, celebrity relationships get a lot of attention. From Instagram shots to Twitter feeds, some celebrities are just as famous for their lifestyle and partners as they are for their work. Others prefer to keep the details of their personal lives out of the spotlight.
Actor and comedian Joel McHale likes to keep the drama on stage and screen rather than on the internet or in the news. As Hello! reported in 2021, he and his wife have managed to keep their 25-year marriage and family life relatively low profile.
Joel McHale married his college sweetheart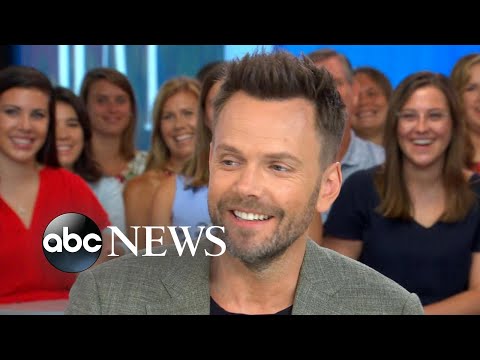 Seattle native Sarah Williams McHale was born on August 10, 1970. In 1995, she was pursuing a degree in psychology at UW when she first met her husband.
"I called my friend Kim and I was like, 'Hey, do you think you could put a good word in for me with Sarah Williams?'" McHale recalled on Wired. "And she was like, Good luck,' but Sarah took pity on me and, um, allowed me to take her out and uh, then I, I wore her down, and then she eventually agreed to marry me. Thank God. That was almost 24 years ago and she's regretted it ever since."
Growing up, Williams McHale suffered a life-changing tragedy. Heavy reports that she and her older brother, Richard, lost their father in a car accident when she was just 10 years old. She often mentions her love for her father and gratitude for her mother's strength and sense of humor on her Instagram account. "…Widowed at 42, you have lived with M.S. since you were 33 and now Alzheimer's," she wrote in 2019. "Through it all, you LIVE with joy, laughter, style, and faith. I am more in awe of you all the time. I love you!"
After college, Williams McHale worked as a community center youth worker in Belfast, Northern Ireland, for a clothing line, and as Creative Director for a greeting card company. She is currently a professional artist, having pursued her passion in Los Angeles at Barnsdall Art Park and the Art Center College of Design in Pasadena.
Joel McHale's wife is the mother to his two sons
Williams McHale's Instagram is packed with art projects, cute pets, and happy family photos. The McHale's two sons, Edward and Isaac, are teenagers now, but that wasn't always the case. Legit reports that Edward, who was born in 2005, required open-heart surgery as an infant. "He was born with two large holes in his heart. It was horrific; we couldn't believe it. But we just started dealing with it," McHale told WebMD in 2012.
Fortunately, Edward made a full recovery with his parents at his side. His brother, Isaac, was born in 2008, and McHale says, "Both are hams in their own way. They definitely can tell jokes. When I make a bad joke, Eddie says, 'Daddy, no more jokes for a year.'"
In January 2022 McHale appeared on The Kelly Clarkson Show and revealed a bit of what their family life is like. "I have two very sarcastic sons. Shocker, shocker. And I have a thirteen-year-old that whenever I get excited about something, he goes, 'Calm down. It's not your birthday.'"
McHale also revealed that the family has three dogs and one rabbit. Originally there were two rabbits, but when the one died, they worried that something might be wrong with the cage. "…So my wife put it in the shower and the rabbit rejuvenated. She's like Saint Francis, it was great," McHale said. "And now it just lives in the shower near the kitchen and so when people come over and they do their business, there's a bunny in the shower and so many of them come out and go, 'There's a rabbit in your shower.' And I'm like, 'You're kidding!' And then I run in there."
McHale does his stand-up act at different venues across the country and you can watch all six seasons of Community on Amazon Prime.
Joel McHale's career is rooted in comedy
On November 20, 1971, McHale was born in Rome, Italy to his Canadian mother Laurie Jackson McHale, and American father Jack McHale, who according to TheFamousPeople, was Dean of Students at the Loyola University Rome Center.
McHale grew up and attended school in Seattle, Washington. He graduated from the University of Washington and received his master's degree from the university's Actor Training Program. McHale has two brothers and is the middle child. "Their names are Chris and Steven," he told Wired on YouTube. "We look alike."
McHale's career began on a locally based television series called Almost Live! which ran from 1984 to 1999. According to IMDb, McHale moved to Los Angeles after college and was cast most notably on Will and Grace in 1998 and Spider-Man 2 in 2004. That same year, he began writing and producing the project that opened doors for him. E!'s The Soup featured him as the comedic host commenting on ridiculous celebrity antics and reality show moments.
"I have always survived with comedy, in that I grew up very dyslexic and did not get good grades," McHale told Collider. "I always thought I was dumb and there are many people out there who would agree."
In 2009, McHale landed the role of Jeff Winger on the popular series Community which ran for six seasons and received a Primetime Emmy nomination in 2014. Since then, he has made numerous television appearances and several films, most recently the animated action-adventure film, Mortal Kombat Legends: Battle of the Realms, and the crime/comedies Queenpin and Happily.
Source: Read Full Article