A US federal judge in Houston has declared illegal a federal policy that prevents the deportation of hundreds of thousands of undocumented immigrants, including hundreds of Indians, brought to the US as children, but noted that the government can continue to process renewals of its current recipients.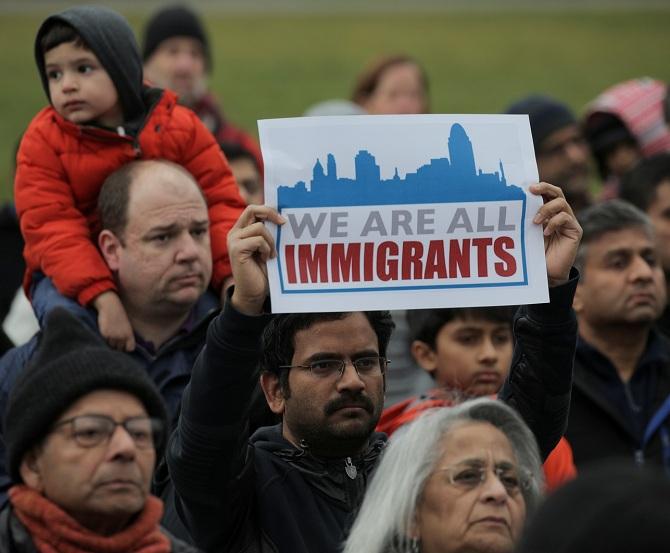 The major setback to the Obama-era Deferred Action for Childhood Arrivals programme or DACA came from a ruling from US district court judge Andrew Hanen on Wednesday.
"The Court, as it did before, hereby stays the effective date of the vacatur as to all DACA recipients who received their initial DACA status prior to July 16, 2021," the judge wrote.
"The defendants may continue to administer the programme as to those individuals, and that administration may include processing and granting DACA renewal applications for those individuals," Hanen ruled.
At the same time, judge Hanen refrained from ordering the termination of deportation protections and work permits of nearly 580,000 Dreamers.
According to a 2019 report by South Asian Americans Leading Together (SAALT), there are at least 630,000 Indians who are undocumented, a 72 per cent increase since 2010.
There are currently at least 4,300 active South Asian DACA recipients. As of August 2018, there are approximately 2,550 active Indian DACA recipients. Only 13 per cent of the overall 20,000 DACA-eligible Indians have applied for and received DACA, SAALT said.
Since 2012, DACA has allowed hundreds of thousands of immigrants who crossed the US southern border illegally or overstayed visas as children to live and work in the country without fear of deportation if they meet certain requirements.
The White House said it is disappointed with the court's ruling on Wednesday.
"We are deeply disappointed in today's DACA ruling from the district court in Southern Texas. On day one of his administration, President (Joe) Biden issued a memorandum directing the federal government to take all appropriate actions to "preserve and fortify" the DACA policy," White House press secretary Karine Jean-Pierre said in a late-night statement.
Consistent with that directive, the administration has defended the DACA policy from legal challenges and issued a final rule codifying this longstanding policy. During this administration, hundreds of thousands of DACA recipients have been able to live and work lawfully in our country without fear of deportation, she said.
"As we have long maintained, we disagree with the District Court's conclusion that DACA is unlawful, and will continue to defend this critical policy from legal challenges. While we do so, consistent with the court's order, DHS will continue to process renewals for current DACA recipients and DHS may continue to accept DACA applications," she said.
"We are committed to protecting all the Dreamers who have throughout their lives enriched our communities and our country, and we continue to call on Congress to provide permanent protection to the hundreds of thousands of Dreamers in the United States," Jean-Pierre said.
Secretary of homeland security Alejandro N Mayorkas, consistent with the ruling, the US Citizenship and Immigration Services (USCIS) will continue to process DACA renewals, and the department of homeland security will continue to advocate on behalf of DACA recipients every day, in the courts and through our actions.
Expressing disappointment by the ruling, Mayorkas said the ruling preserves the stay, which means current DACA recipients will not lose their protection from removal.
"But this ruling does undermine the security and stability of more than half a million Dreamers who have contributed to our communities. The United States is the only home they have ever known. Congress has failed to act, and now Dreamers face an uncertain future, waiting to receive the permanent protection they deserve," he said.
Senate Majority Whip Dick Durbin, chair of the Senate Judiciary Committee and lead author of the Dream Act, dreamers are protected from deportation for now, but due to lawsuits by extreme MAGA (Make America Great Again) Republicans, their fates continue to hang in the balance and an untold number of Dreamers have been unable to enrol in the program for years.
"It's time for Congress to step up and meet our responsibility to Dreamers once and for all. I hope we can meet our obligation as lawmakers to solve this problem and pass the Dream Act, not just for the hundreds of thousands of Dreamers out there, but for the future of our country," Durbin said.
Source: Read Full Article