Will a caste census make tens of millions desert Mr Modi?, asks Shekhar Gupta.
Narendra D Modi's challengers, whether divided, united, fortified, or turbocharged, cannot dream of defeating him next year unless they have that one big idea.
If the INDIA alliance thinks a nationwide Bihar-style caste census is the next big idea, I'd give it a reality check: What Bihar thinks today, Bihar used to think the day before yesterday.
The Bihar social justice movement had succeeded in placing political power at the feet of the subaltern classes by 1990.
It hasn't progressed since then, and never even endeavoured to take the next steps towards larger economic empowerment, widening opportunities, and improving the lives of its people.
This Bihar model would be a very sad and tired offering to India.
It worked in Bihar, and given that all subaltern forces are together against the Bharatiya Janata Party again, it may dent Mr Modi's prospects, but only in Bihar, where the BJP won only 17 seats by itself in 2019. How much further can you reduce that?
To be fair, to defeat Mr Modi with this strategy, you don't need to paint the entire country in the colours of Bihar.
You only need to do so in Uttar Pradesh, Madhya Pradesh, Rajasthan, Gujarat, Maharashtra, and maybe Haryana and Uttarakhand.
A close look at the caste breakup and traditional loyalties in any of these states will tell you that if this census is the revolution you were waiting for, it will not cross the borders of the state where it originated in 1967.
Why must you rely on my views, arguments or even biases if smart people are already calling it a revolution, and Rahul Gandhi has also endorsed the late Kanshi Ram's original idea: Jiski jitni sankhya bhaari, uski utni hissedaari — to each a share according to their population or, in short, proportionate representation.
Now, let's look at some facts from the 2019 elections and see where we go from there.
In 2019, the Modi-Shah BJP had secured more than 50 per cent of the vote in 224 Lok Sabha seats.
That leaves them just 49 shy of a clear majority. Irrespective of which side you are on, you'd see the degree of difficulty in turning that strong a tide.
A state-wise breakdown of these 224 will make the challenge look even tougher.
The BJP got more than 50 per cent of the vote in half of all the seats in Uttar Pradesh, the state whose caste breakup, opportunities and Muslim percentage are most similar to Bihar's. That's 40 seats out of 80.
In Rajasthan, Madhya Pradesh, Gujarat and Karnataka, the other major states Mr Modi relies on, this number was 23, 25, 26 and 22 seats, respectively.
This adds up to 136 seats out of 188 with more than 50 per cent. Is a caste census the idea that will make so many tens of millions desert Mr Modi?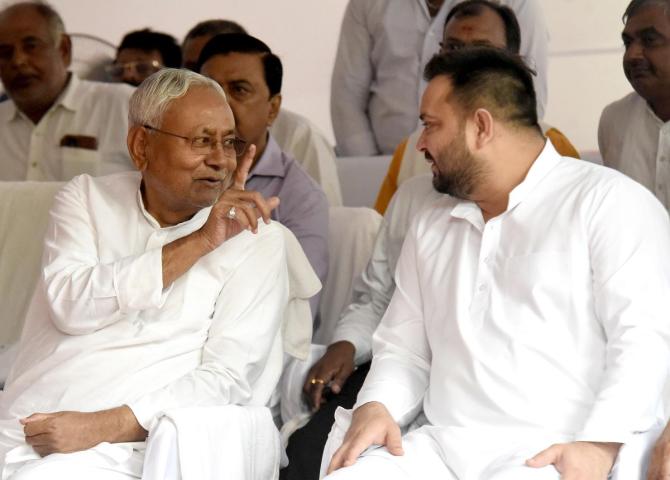 The degree of difficulty for Mr Modi's challengers lies in three key facts:
One, that he sweeps these states so comprehensively both in seats and percentage terms that it becomes nearly impossible to beat him.
It is almost like Steve Waugh's Australians in their prime, who scored so much in their first innings and so quickly that the match was over already.
Second, unlike the Congress post-1989, he is no innocent when it comes to playing the backward class/caste card, pitching himself in front as an OBC.
The third is that subaltern caste+Muslim politics works only as long as you can win an election with just over 30 per cent of the votes or thereabouts, as used to be the case in the Hindi heartland.
If the other side is beginning with 50 per cent plus now, it is a steep mountain to climb.
And you need better hauling power, hooks, footholds, and ropes than a caste census, a stirring but outdated Kanshi Ram war cry.
It is nobody's case that Kanshi Ram wasn't a genius or a political visionary.
It is just that he was a phenomenon for his time. The Backward and Scheduled Castes' and minorities' need for political empowerment was desperate.
It made an incredible and lasting impact. It transformed our politics, and we can say that some of the objectives have already been achieved.
India has an OBC Prime Minister and a tribal President, and three of the Congress's four chief ministers are OBCs.
You can't assess the prospects of a return to this wave without examining why so many of these "other castes" voters moved to Mr Modi's BJP.
It is widely believed — and I share that belief with so many exit polls confirming it with data — that the upper castes are the most secure vote bank in India at this point, and the BJP has it.
One good thing the Bihar "census" has done, however, is to demonstrate how small this vote bank is.
If you add all the Hindu upper castes counted in Bihar, the total comes to just about 12 per cent of the population.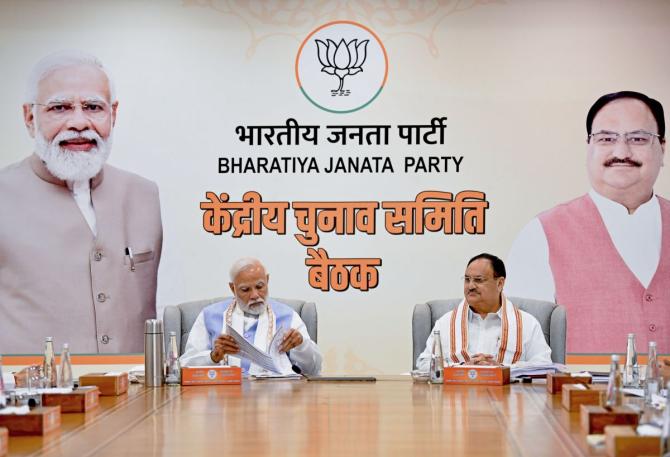 Let's take this argument further and say the upper castes make up 15 per cent. The BJP's total vote share in the 2019 election was a little over 37 per cent.
So where did the remaining 22 per cent come from? Or further, that 50-plus percentage in 224 seats?
Those numbers were achieved only because the middle- and lower-caste Hindus walked out of the Mandal-Kanshi Ram trenches and voted for Mr Modi.
Can the Opposition bring them back now with the promise of a caste census, and a proportionate share of the spoils?
And if so, which spoils? Since Bihar is the epicentre of the idea, what does that state have to offer its voters, whatever their caste
It has no jobs in the government, no spare cash to launch new schemes, no industry, no services sector, not even a growing state-funded education sector where jobs could be found.
Rashtriya Janata Dal leader Tejashwi Yadav is fond of promising reservations in the private sector.
A great idea. But where and what is the private sector in Bihar? Unless you are talking about bootlegging.
A caste census is an important, useful, and necessary idea, and one whose time has come.
My limited argument is that it isn't a killer political idea it is made out to be.
It doesn't have enough attraction to win back the voters that caste-based parties lost to the BJP.
And it would consolidate the BJP's upper-caste vote further.
It's been nearly four decades since Mandal and Kanshi Ram rose. India has changed phenomenally since then, mostly for the better.
The contribution of those ideas in enlarging India's talent base can be seen everywhere.
This success has also empowered the new generations of the same social classes to aspire to more than a mere peon or clerk's job.
A caste census can help the government design better, fairer policies.
But its oomph will be way weaker in this era of aspiration than it was in that epoch of grievance.
Does it mean the Opposition has no answer to Mr Modi? That most certainly isn't my case. It is just that you need something bigger, more distinctive, positive, and optimistic.
Or, in marketing terms, something that creates real brand/product distinction.
The ideas Rahul Gandhi propounded, Bharat Jodo and Mohabbat ki Dukaan, checked some of these boxes.
Why he is now jumping from that more virtuous boat to a tired old idea, is intriguing.
Why go from interesting new ideas that make you a clear ideological and political counter to the incumbent, and lapse back into what we might describe as the unbearable laziness of political ideas?
By special arrangement with The Print
Feature Presentation: Aslam Hunani/Rediff.com
Source: Read Full Article