India's third-largest pharmaceutical company by revenue, Cipla, is up for grabs in a three-way fight between Torrent Pharmaceuticals, Dr Reddy's Laboratories (DRL) and private equity (PE) giant Blackstone.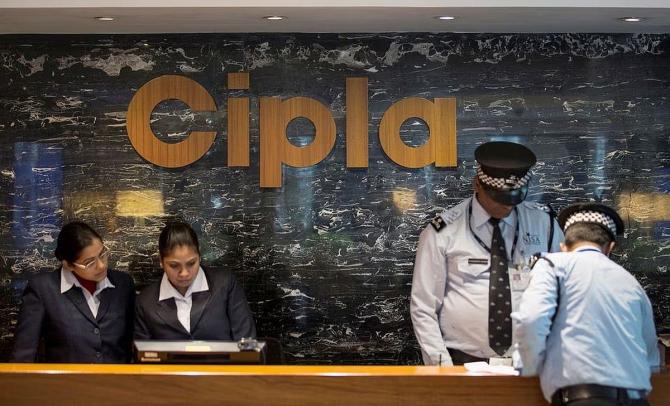 Analysts say it is more likely for a strategic investor like Torrent or DRL to acquire Cipla than a PE firm, which may not derive healthy returns at Cipla's current market price (CMP) after the recent gains.
Torrent vs DRL
The two pharma majors are reported to be eyeing the entire 33.47 per cent promoter stake in Cipla, held by the Hamied family.
A successful buyout will further trigger an open offer of 26 per cent.
At the CMP, the deal is pegged at $7 billion.
While both companies are in a position to pull off the deal via a combination of equity infusion (by promoters, PE funds) and debt accretion, analysts believe Torrent pips DRL, given its strong track record of past acquisitions and the complementary nature of its portfolio to that of Cipla.
According to IIFL Securities, Cipla, with a dominating market share of 7 per cent and 23 per cent in acute therapies like respiratory and anti-infectives, respectively, would strengthen Torrent's position in this portfolio, where it currently has a share of below 1 per cent.
Additionally, Torrent with a smaller US business will also have access to Cipla's diversified US pipeline of inhalation and complex injectables.
"On the exports side, Cipla offers a strong US portfolio in respiratory and injectable products, and a leading position in South Africa, while Torrent brings a strong Brazil presence to the table.
"In emerging markets, getting product registrations and establishing 'on the ground' presence is difficult but for the combined entity, cross-selling of products can lead to faster scale-up of operations," said Alok Dalal and Dhawal Khut of Jefferies, in a note.
While there will be overlap in cardiac, gastrointestinal, pain, anti-diabetic and derma therapies, which together make 28 per cent and 68 per cent of Cipla and Torrent's domestic sales, respectively, analysts do not foresee a significant hit to the combined entity's domestic sales.
Assuming a 30-40 per cent portfolio. overlap, Torrent might be required to divest 8-10 per cent of Cipla's India business (around Rs 800-1,000 crore of sales).
However, this would also help the merged entity to potentially raise Rs 4,000-5,000 crore cash and improve its net cash position from Rs 1200 crore to Rs 5000-6000 crore, estimates IIFL Securities.
On the other hand, DRL, with a sizeable presence in acute therapies, has a higher domestic and international overlap with Cipla.
Its overlap is higher in generics, particularly in the US, which is unlikely to yield meaningful synergies and overlaps in the US business could also attract scrutiny from the US FTC, analysts said.
What's in it for investors?
At the bourses, Torrent's share is down 6 per cent since reports claimed it is bidding for Cipla while the latter has surged 15 per cent.
DRL is up 2 per cent since its name appeared in reports on September 5.
Analysts advise caution and expect the stocks to continue this trend until more clarity emerges.
"Caution is needed given the large size of the deal and uncertainties along the regulatory, and manufacturing compliance side.
"In view of the government's push for doctors to prescribe trade generics over branded formulations, there remains uncertainty on the longevity of Cipla's branded formulation business", said Vishal Manchanda, senior vice-president Institutional Research, Systematix.
The other major concern on the Street remains the debt burden the acquirer will have to take for the deal.
Kotak Institutional Equities estimates a gross debt accretion of $4.3 billion by Torrent and $3.9 billion for DRL to complete the deal, which could result in a net debt to Ebitda (Earnings before interest, taxes, depreciation and amortisation) ratio of 3.5 times and 1.7 times for the two firms, respectively.
However, it believes that since the combined entity will generate considerable free cash flow, both companies will be able to handle the stretched balance sheet.
Assuming a full subscription to the open offer and a 5 per cent synergy-led Ebitda boost, it expects a 7 per cent and 4 per cent earnings per share dilution in FY25 for Torrent and DRL, respectively.
Disclaimer: This article is meant for information purposes only. This article and information do not constitute a distribution, an endorsement, an investment advice, an offer to buy or sell or the solicitation of an offer to buy or sell any securities/schemes or any other financial products/investment products mentioned in this article to influence the opinion or behaviour of the investors/recipients.
Any use of the information/any investment and investment related decisions of the investors/recipients are at their sole discretion and risk. Any advice herein is made on a general basis and does not take into account the specific investment objectives of the specific person or group of persons. Opinions expressed herein are subject to change without notice.
Source: Read Full Article