Coronavirus (Covid-19) India Lockdown News Live Updates: The Allahabad High Court on Tuesday observed that the "death of Covid patients just for non-supplying of oxygen is a criminal act and not less than a genocide".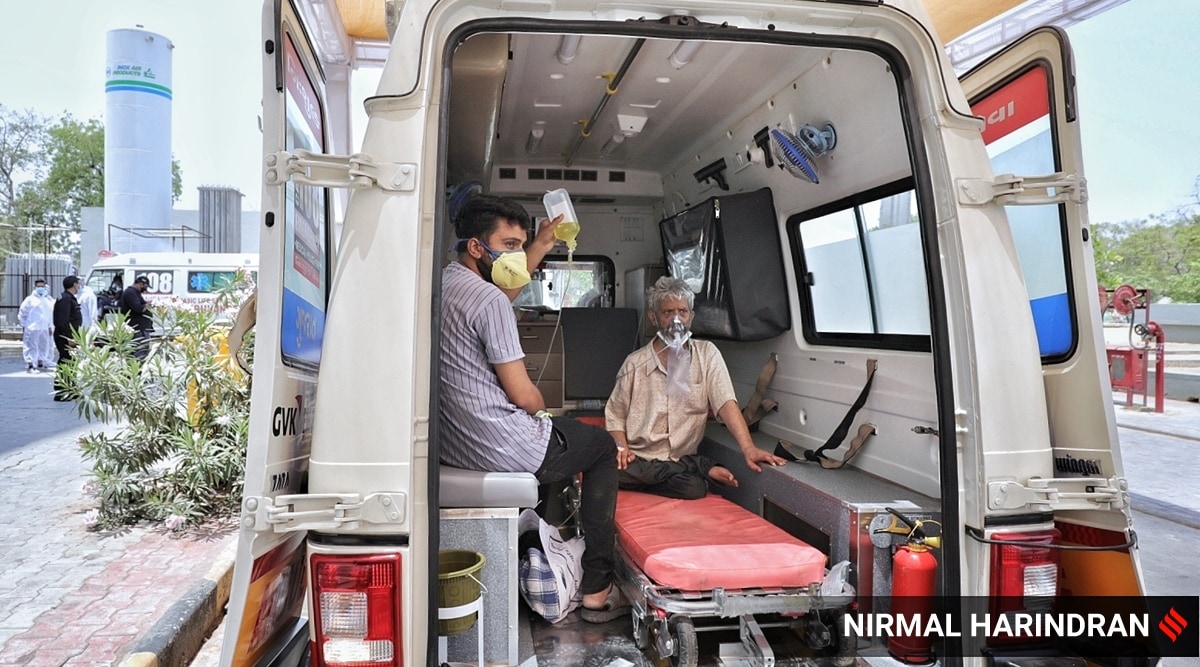 Coronavirus India Live Updates: As India continues to report over three lakh Covid-19 cases a day, several states are still flagging a shortage of oxygen supply. The Haryana government told the Punjab and Haryana High Court on Tuesday that several lives would be lost if it didn't receive timely supply of oxygen; the Maharashtra government and Mumbai's civic body BMC wrote separately to the Centre requesting enhanced allocation of oxygen; and 41 hospitals in New Delhi with 7,000 patients raised alarm bells on a single day on May 3.
The central government on Monday told the Gujarat High Court that not only was it augmenting supply within India, but also "importing oxygen from other countries using diplomatic channels… personal intervention of the political executive". It said it had allocated 8,410 MT of oxygen to 22 high-burden states against a demand of 8,462 MT.
The Allahabad High Court on Tuesday observed that the "death of Covid patients just for non-supplying of oxygen to the hospitals is a criminal act and not less than a genocide" by those responsible for ensuring the continuous procurement and supply.
Meanwhile, production has come to a halt in the country's largest oxygen cylinder manufacturing units as they were included in the ban on use of industrial oxygen. Despite a clarification from the Centre, the ban is yet to be lifted by the Gujarat government.
Coronavirus in India Live Updates: Several states flag oxygen shortage; Centre says 8,410 MT allocated to 22 high-burden states; Allahabad HC says deaths due to oxygen shortage 'not less than genocide'; IPL 2021 suspended; Covid-19 vaccination open, register via CoWin app. Read latest news and updates below
Proning a medically approved position — which is also being promoted by the Union Ministry of Health and Family Welfare — in which patients are made to lie on their abdomen to boost their oxygen levels. Proning as an exercise is being advised to Covid patients in hospitals, so that they may not require additional oxygen support. Raakhi Jagga explains the positions, how it improves oxygen levels
Good morning and welcome to our live blog on the Covid-19 situation in India. The Delhi High Court on Tuesday slammed the Centre for not complying with judicial orders on oxygen supply to the national capital, saying it might choose to "dig its head like an ostrich in the sand", but the court would not. Noting that people were dying, the HC asked the government: "Are you living in ivory towers?" Read Sofi Ahsan's report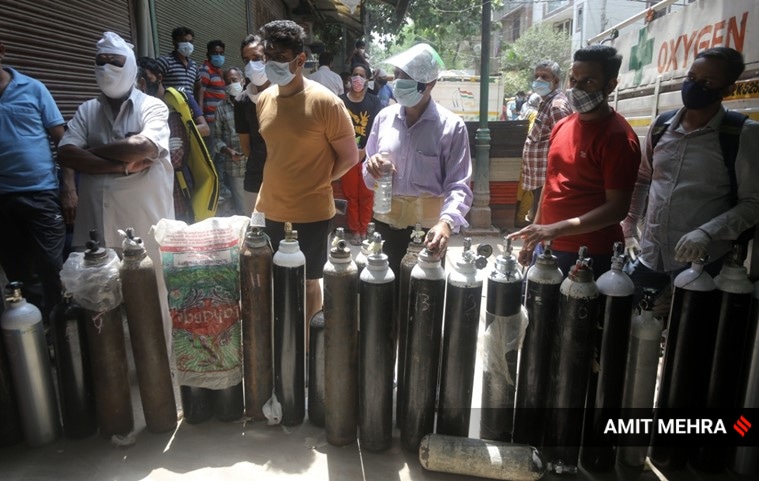 Family members of Covid-19 patients wait to fill their empty cylinders with medical oxygen outside an oxygen filling centre, at Bhogal, New Delhi. (Express Photo: Amit Mehra)
IPL 2021 suspended: 10-minute call decided league's fate
An online meeting of the Indian Premier League (IPL) Governing Council lasted just 10 minutes on Tuesday morning before it was decided to postpone the tournament indefinitely. BCCI secretary Jay Shah told attendees that it was untenable to carry on because of the breach in the IPL bio-bubble. The secretary told the GC members that the safety of the players was most important and the only option was to postpone the tournament.
The tournament which the BCCI was conducting in the midst of a raging pandemic in India had to be called off midway, with 29 games played and 31 left to be conducted.
Foreign aid sent to 38 institutes in 31 states, says Centre
With the global community responding to India's Covid crisis by sending aid in the form of medicines, oxygen concentrators and ventilators, the Centre has now begun distributing these, with the Union Ministry of Health and Family Welfare on Tuesday saying 40 lakh items have been sent to 38 institutions across 31 states.
"The global community has extended a helping hand in supporting efforts of Government of India in this collective fight against the global COVID-19 pandemic… The materials are being given by countries due to the immediate and urgent requirements in different parts of the country. This help is over and above what Govt of India is already providing, and is thus an additionality for the states and UTs," the Health Ministry said in a statement.
Railways admitted 146 in Covid coaches, treating 66
The Railways' isolation coaches have admitted 146 Covid-19 patients, discharged 80 and are currently treating 66, the Railway Ministry said Tuesday. The Railways has deployed nearly 4,000 Isolation coaches with almost 64,000 beds to serve as isolation units during the second wave of the pandemic.
"At some locations, the Railway authorities have also provided new logistical solutions like supported ramps on stair-cases for hassle-free transport of sick patients besides facilitative conveniences… for better isolation on railway platforms that serve as freeway for movement of medical personnel and supplies," it said.
The Indian Express website has been rated GREEN for its credibility and trustworthiness by Newsguard, a global service that rates news sources for their journalistic standards.
Source: Read Full Article