Coronavirus (Covid-19) India Lockdown and Cases News Live Updates: India reported 2.63 lakh cases of the novel coronavirus on Monday. At least 4,329 deaths were reported on the same day, the highest so far in a day.
Coronavirus India Live Updates: The government on Tuesday said that around 200 districts have been reporting a decline in cases for the last two weeks and, after consistently increasing for the past 13 weeks, the country's overall case positivity has registered a decline over the past seven days. The "pandemic curve is stabilising", and the reproduction number (R) has now fallen below 1, Dr V K Paul, head of India's Covid-19 Task Force, said. "This means the pandemic is shrinking overall," he said.
Meanwhile, even as the rest of Maharashtra is showing a downward trend, there is a rise in infections in the Amravati district. Amravati was one of the first districts in Maharashtra to report the second wave in February this year. Following a 10-day lockdown in March, it noted a dip in cases. But state data shows it has again seen a rise in average daily cases by 148 per cent from April 9-15, when 426 new cases were recorded daily, to May 8-14 when 1,060 daily new cases were reported.
On the other hand, in Kerala which is likely past the peak of the second wave, the state's local self-governing bodies have joined hands with neighbourhood groups and youth organisations, cutting across party lines to control the pandemic. They supply food, pulse oximeters, PPE kits, cots and vehicles — all free of cost — and even have volunteers to help with the final rites of those who have succumbed to the pandemic. For the hard-pressed state government, officials say, the active support of local bodies has come as a big boost.
India reported 2.63 lakh cases of the novel coronavirus on Monday. At least 4,329 deaths were reported on the same day, the highest so far in a day. Maharashtra reported more than 1,000 deaths, while Karnataka had 476. India saw its active cases drop by about 1.65 lakh on Monday, the biggest drop ever. There are now 33.52 lakh active cases in the country.
Coronavirus India Live Updates: 2.63 lakh new cases, 4,329 deaths; Covid-19 positivity declines, new cases down in 200 districts; PM Modi holds meeting with district officials; Gujarat Maharashtra, Karnataka and Goa battered by Cyclone Tauktae. Read latest news and updates below
Singapore on Tuesday dismissed media reports quoting Delhi Chief Minister Arvind Kejriwal that a "very dangerous" strain of the coronavirus was prevalent in the city state, saying there is "no truth whatsoever" in such assertions.
Taking to Twitter, Kejriwal said the new strain of coronavirus could invade India in the form of a third wave.
Responding to Kejriwal's tweet, Singapore's health ministry said: "There is no truth whatsoever in the assertions found within the reports".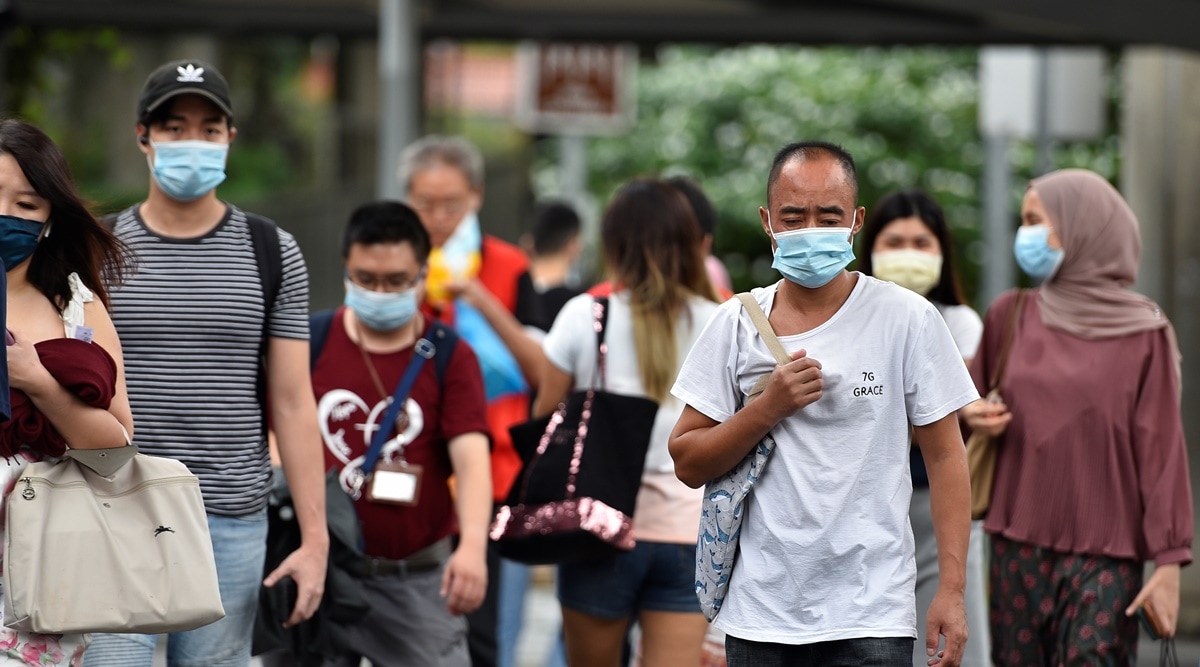 deleting_message
Former West Bengal chief minister Buddhadeb Bhattacharya has tested positive for COVID-19 and doctors have advised him to be in home isolation, health department sources confirmed. The wife of 77-year-old Bhattacharya, Mira Bhattacharya, also tested positive for the infection, following which she was admitted to a city hospital late Tuesday evening, they said. (PTI)
Volunteers of a NGO distribute ration at Budhwarpeth in Pune on Monday. (Express Photo: Pavan Khengre)
Asking field officials to be "more vigilant" amid a dip in Covid-19 cases in some states, Prime Minister Narendra Modi on Tuesday said that while the pandemic has posed a "big challenge", the country's "response should be unprecedented". Interacting with state and district officials, including District Magistrates, on Covid-19 management, the Prime Minister said, "Corona numbers are decreasing in some states; in others they are going up. There is a need to be more vigilant in the face of this drop in cases."
Meanwhile, Delhi reported 4,482 cases, the lowest since April 5, and 265 fatalities on Tuesday while the positivity rate dropped to 6.89 per cent. On the other hand, there are 953 cases in Mumbai, 8,676 cases in Bengaluru, 6,016 cases in Chennai and 3,785 cases in Kolkata.
In a recently released media statement, Serum Institute of India has stated that it has never exported vaccines at the cost of people in India and remains committed to supporting the vaccination drive in the country. "A vaccination drive for such large population can't be completed within 2-3 months, as several factors & challenges are involved. It'd take 2-3 yrs for entire world population to get fully vaccinated," SII stated.
Read | KK Aggarwal, doctor who put patients first till very end, dies of Covid
Read | In Delhi, Rs 50,000 for every family that loses a loved one to Covid
Read | BJP alleges a Congress Covid toolkit, Congress says it's fake
Read | Baghpat begins probe after list claiming 34 deaths in village goes viral on social media
Read | Medical infra will collapse if no curbs on Goa entry: High Court
The Indian Express website has been rated GREEN for its credibility and trustworthiness by Newsguard, a global service that rates news sources for their journalistic standards.
Source: Read Full Article