'The unity among Israelis is such that the killing of the many Israelis is like a personal loss.'
'They feel as if they have lost someone from their own family. The whole of Israel is sad.'
Raju Guggilla boarded a Spice Jet flight arranged by the Indian government from Israel and arrived in Delhi on Wednesday.
The cost of the ticket was borne by the Government of India. Indians returning from Tel Aviv were welcomed into the aircraft by a member of the cabin crew who was waving a paper Tricolour.
Mr Raju belongs to Telangana. He has worked as a caregiver in Akko, Israel, for 11 years.
There are approximately 5,000 people from Andhra Pradesh and Telangana in Israel.
Around 18,000 Indian citizens live in Israel. Most are employed as caregivers for the elderly, the rest are in the diamond trade, IT professionals and students.
Three of Mr Raju's brothers also work as caregivers — two in Haifa and one in Ramat Gan.
"They are all safe in Israel. I have come to India on leave for my medical checkup," Mr Raju tells Rediff.com's Archana Masih. His prior airline booking was cancelled because Air India halted operations after the Hamas attack.
"I contacted the Indian embassy through the Telangana Association and got a seat on the special flight," he says.
"There was no panic at Tel Aviv airport because people are not scared or fleeing the country. There wasn't too much rush either," adds Mr Raju.
Most of the passengers on the special flight were students, professionals who had been given permission to WFH and caregivers.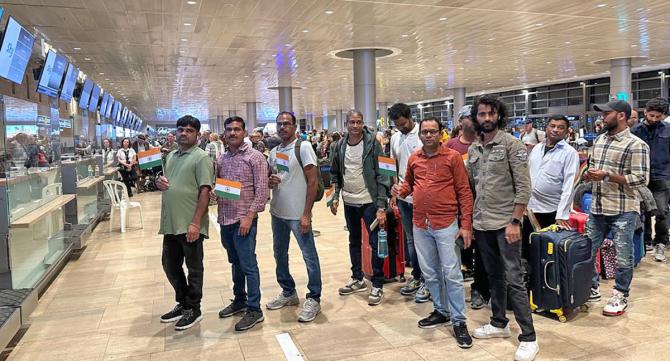 On October 7, Mr Raju had just sat down to eat when Israel came under an unprecedented Hamas rocket attack.
"Earlier when they fired rockets, we used to hear them and take shelter, but this was a barrage. We went into the bunker inside the house."
The area where he lives with his employer did not suffer any destruction and things are normal now.
Mr Raju will return to Israel in January after spending time with his wife and children in Hyderabad.
Talking about his life in Israel, he is full of praise for his employer. "I am treated as family. Israelis are good people," he says.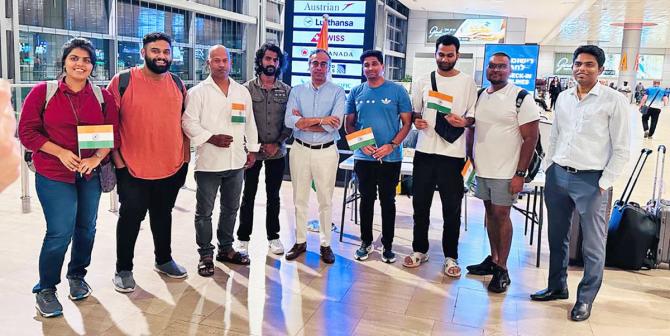 Another caregiver who returned on Thursday is Kiran Kumar Sudula.
Mr Sudula works in Thaibe and belongs to Telangana's Nizamabad district. He has worked in Israel for two-and-a-half years and got the job through an agency that recruits workers for elderly Israelis.
He earns Rs 200,000 a month.
"I live with a five-member family. I have a separate room and am well looked after. I take the elderly member for walks, give him meals, medicines and take care of his wellbeing," says Mr Raju whose wife and young children live in India.
"The main reason I am there is because it pays good money. In India, I can find the same work, but will not earn as much."
Despite the conflict, he says there is no problem in the area where he lived in Israel. The shops were open though there were fewer people outside as many had been asked to WFH.
"The family I lived with hasn't suffered personally, but the unity among Israelis is so great that the killing of the many Israelis is like a personal loss," he says.
"They feel as if they have lost someone from their own family. The whole of Israel is sad."
"I don't know how long it will take Israel to heal."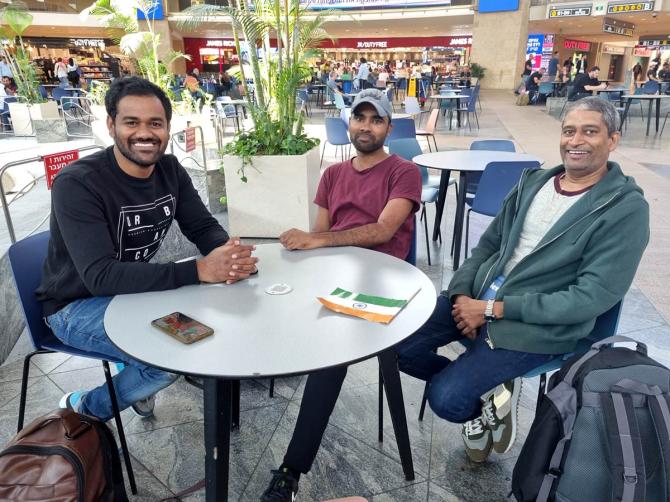 Mr Raju is confident the situation will definitely improve by January when he returns to Israel.
"Israel is a very nice country. They like Indians and treat us well," he says as you hear the chatter of children in the background.
"It reminds me of India."
Israel-Gaza: Battles For The Promised Land
Feature Presentation: Aslam Hunani/Rediff.com
Source: Read Full Article