"He is completely bed ridden and he is kept in jail hospital till date. He is using diapers and has urinary tract infection. Is this man going to flee justice?" senior counsel Indira Jaising said.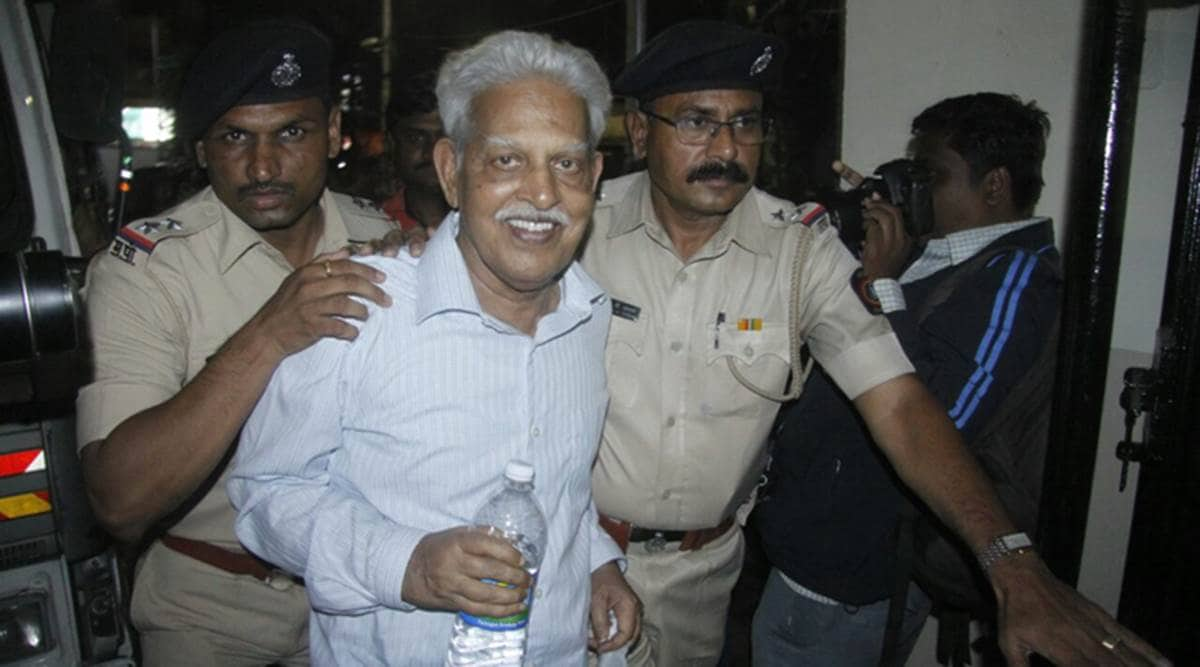 Telugu poet and writer Varavara Rao, arrested in connection with the Elgaar Parishad case, failed to get bail even as the Bombay High Court directed the National Investigation Agency (NIA) and Taloja Jail authorities to arrange medical examination of Rao by doctors of Nanavati Hospital, who had treated him earlier, through video on Thursday or early Friday.
"In the event, if doctors are of view that assessment is not possible on video call, it is open to doctors to visit the Taloja jail at their earliest convenience. The report shall be submitted by November 16," HC said and posted the matter for further hearing to November 17 at 3 pm.
A vacation bench of Justices A K Menon and S P Tavade was hearing a writ plea by Rao's wife Pendyala Hemalatha seeking his release from Taloja Jail. In the petition, Rao's wife alleged that prison authorities were not providing the Telugu poet appropriate medical attention since 2018.
Last month, the Supreme Court had asked the High Court to expeditiously consider hearing the plea of Rao's wife. Taking note of the fact that the bail application had not been heard by the High Court since September 17, the top court said Rao's medical condition demands attention of a particular character and time.
Senior counsel Indira Jaising, representing P Hemalatha, sought to shift Rao to Nanavati Hospital and appoint a medical board of experts to assess his health condition. "The medical condition of the accused is deteriorating day by day. The NIA and prison authorities are under the duty to respect and protect the life and liberty of the prisoner," Jaising added.
"He is bed ridden having dementia and has developed severe urinary conditions. If he is not removed, he will lose life in prison. It is going to be a case of custodial death," Jaising further said.
Rao was discharged from a private hospital in August after over a month of hospitalisation and sent back to Taloja Jail. The 81-year-old had tested positive for Covid-19 in July and was undergoing treatment for other ailments as well. During the treatment, doctors found his condition to be stable but observed he had neurological problems.
Perusing a report of Nanavati hospital, the court on August 21 noted that while Rao's electrolyte levels had normalised, he was still disoriented and would require close monitoring. In view of this report, the court had directed, according to Rao's medical condition and subject to protocol, the Nanavati hospital to provide necessary facilities to Rao's family to interact with him on video.
Jaising told the court there was an urgency to hear the plea as Father Stan Swamy, a co-accused of Rao, from Taloja Prison had spoken with his counsel and informed that Rao's health was deteriorating fast.
The NIA, in its affidavit, confirmed that Rao's health was not good but the doctors at Taloja prison were regularly observing and checking his condition and providing all necessary treatment.
Criticising the NIA affidavit, Jaising said, "He is using diapers and has urinary tract infection. Is this man going to flee justice? It (NIA affidavit) does not mention Rao's current health condition but only talks about his crime. It seems the affidavit is intended to prejudice the court."
Additional Solicitor General Anil Singh, representing NIA, and Chief Public Prosecutor Deepak Thakare, representing the state prison authorities, however, refuted Jaising's allegations and said doctors at Taloja jail hospital were regularly keeping a check on Rao's health condition. Thakare also submitted a medical report dated November 12, where it was stated that all health checks had been conducted in consultation with Nanavati and JJ Hospital doctors.
"We cannot underestimate our government hospitals and doctors there. Recently, even the former chief minister of Maharashtra (Devendra Fadnavis) got himself treated in St George hospital," ASG Singh said.
Source: Read Full Article