Foreign portfolio investors' (FPIs') net investment in the domestic debt market in October was the third highest during the current calendar year as foreign investors rushed to lock in higher returns amid global uncertainty and geo-political tensions, market participants said.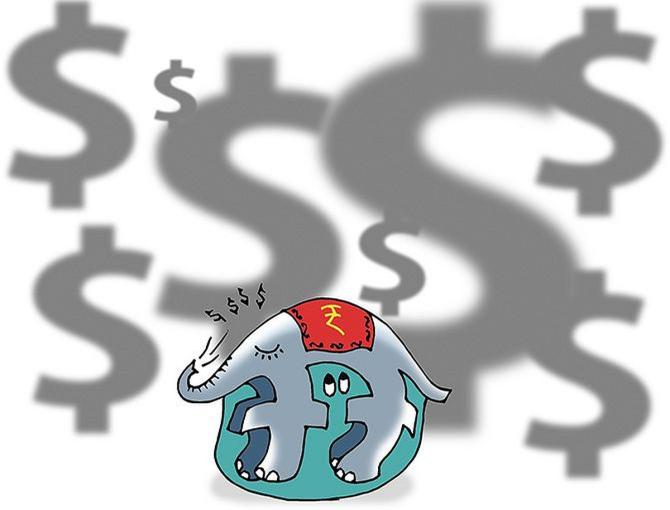 FPI inflows in debt stood at Rs 6, 322 crore in October against Rs 768 crore in September, according to data on the National Securities Depository Limited (NSDL).
Market participants said that the majority of the inflows were channelled through corporate bonds.
The government bond did not witness a significant inflow as the yield spread between US treasury bonds and government bonds continued to narrow.
"The corporate high-yield bond issuances are on the rise.
"And, the yields have also gone up.
"So, now people have started looking at the high yield space because there is no cushion between government bonds and US treasury," said Venkatakrishnan Srinivasan, founder and managing partner of Rockfort Fincap LLP.
Typically, a wider spread makes Indian bonds more attractive to foreign investors, as the potential return from these bonds is higher than that of US treasury bonds.
A narrow yield spread indicates that the potential additional return from investing in one type of bond over the other is reduced; hence foreign investors choose to invest in safe-haven assets.
The yield spread between the 10-year US treasury bond and domestic benchmark bond narrowed by 9 basis points (bps) in October.
It had narrowed by 40 bps in September.
The yield on the benchmark 10-year government bond settled at 7.31 per cent on Friday.
Meanwhile, the 10-year US treasury note was trading at 4.64 per cent at the close of Indian market hours.
During the current financial year, between April and October, net FPI inflow in debt securities was Rs 32,103 crore.
This compares to the net outflow of Rs 1,601 crore during the same period last year.
Market participants said that India's bond inclusion in the JP Morgan index further aided inflows in the domestic debt market.
"The index inclusion is one of the reasons why they may be encouraged to come to India.
"The prospects of index inclusion prompt allocations from investors falling under these indices, leading to increased interest and participation in India's financial landscape," said Naveen Singh, vice-president of ICICI Securities Primary Dealership.
JP Morgan had announced the inclusion of India in its widely-followed emerging market bond index on September 22.
It has included India in its flagship index GBI-EM Global Diversified index.
"The majority of inflows were through corporate bonds.
"On government bonds, foreign investors have started testing the waters before the real inflows start," said Ajay Manglunia, managing director at JM Financial.
Market participants expect the inflows in debt to sustain, given the high yield corporate bond issuances lined up in the coming months.
Moreover, the market expects that more indices like Bloomberg and Barclays may now include India.
Additionally, the Indian rupee has remained relatively stable.
Many overseas investors perceive that while investment into the country carries currency risk, the rupee depreciation may not be on a level that returns may turn negative over a period, market participants said.
The local currency depreciated by 0.3 per cent in October. It had depreciated by 1.2 per cent between July and September.
"The inflow should sustain as more and more high yield corporate bonds will come in.
"People are attracted to high yields.
"On government security, we have green bonds coming up, but we'll have to wait and watch how the auction goes," said Srinivasan.
Even though FPIs have been net purchasers, they have scarcely utilised the Reserve Bank of India's (RBI's) established thresholds for government and corporate bonds.
Eligible FPIs had only made use of 29.72 per cent of the specified ceiling of Rs 2.68 trillion for central government securities as of Friday.
Similarly, the utilisation of the upper limit of Rs 6.68 trillion for corporate bonds was even lower at 15.33 per cent.
The investors acquired Indian government and corporate bonds amounting to Rs 35,594 crore during the calendar year until November 1, according to the data on the NSDL.
FPI debt inflow was Rs 10,325 crore in June, the highest monthly inflow during the calendar year.
FPIs emerged net purchasers of Indian debt in 2023 for the first time in four years. The most recent instance of FPIs being net buyers was in 2019, when they invested Rs 25,882 crore in bonds.
Source: Read Full Article