Foraying into newer areas of the sustainability business is an essential part of the business development plans of large Indian conglomerates and there is no quicker way to do that than pick up stakes in companies that are into green energy.
Jyoti Mukul reports.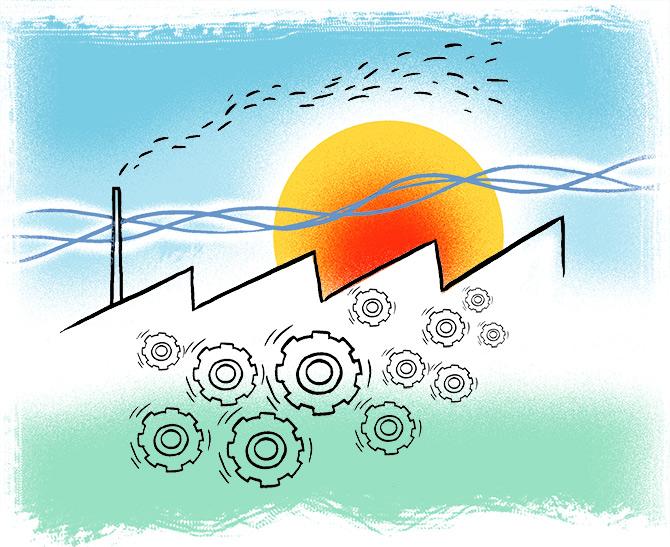 India's traditional companies are now moving full scale into the renewable and alternative energy space that had been dominated by smaller players over the past decade.
Companies such as government-owned NTPC and the Adani and the Tata groups restructured their businesses well in time to become major players in the green space.
At the same time, other conventional companies, such as Larsen & Toubro and Reliance Industries Ltd (RIL), which have a presence both in the energy sector as well as myriad other activities — construction, technology and retailing — are tying up with new-age companies to hitch a ride to a greener path.
These tie-ups in the sustainability space range from putting up green energy plants to actual generation from renewable power and then storing and transporting it.
In the same link, there is the alternative automotive fuel space where tie-ups are largely around charging facilities or developing newer technologies such as green hydrogen and electrolysers.
On December 8, Jio-bp, for instance, signed a memorandum of understanding (MoU) with the Mahindra group for electric vehicles (EVs) and low-carbon solutions.
The MoU also covers evaluating charging solutions by Jio-bp for Mahindra vehicles, including electric three- and four-wheelers, quadricycles and e-SCV (small commercial vehicles — sub 4 tonne).
This would include the RIL group's captive fleets and the Mahindra group's last-mile mobility vehicles.
Six days after the RIL-Mahindra announcement, L&T made public its partnership with Nasdaq-listed SPAC ReNew Power.
This partnership will focus on the green hydrogen business in India.
Earlier in October, RIL signed definitive agreements with Shapoorji Pallonji and Company Private Ltd (SPCPL), Khurshed Daruvala and Sterling & Wilson Solar Ltd (SWSL) to acquire a 40 per cent stake post-money in SWSL through a series of transactions.
In March, telecom major Bharti Airtel picked up an 8.53 per cent stake in a solar power company of Avaada Energy in Maharashtra.
The stake purchase helped Bharti to source 21.32 Mw of solar power from Avaada MHBuldhana under the group-captive arrangement.
The Sterling & Wilson deal brought the construction or engineering, procurement and construction (EPC) piece into the business of Reliance New Energy Solar Ltd (RNESL), a new group company, just as the L&T deal with ReNew brought an EPC player and generator together.
The two deals, however, are different in their structure and scope since RNESL will be investing Rs 2,850-crore worth of equity in the Shapoorji Pallonji group company, while L&T and ReNew will jointly develop, own, execute and operate green hydrogen projects in India.
RIL has also tied up with Gurugram-based electric mobility and e-charging company BluSmart for using green energy for electric mobility.
This tie-up has been done by Reliance BP Mobility Ltd (RBML) for Jio-bp branded outlets and fuel retailing business.
Bp later (on September 30) announced an investment of $13 million in BluSmart.
For the Shapoorji Pallonji group, the tie-up might have been more out of compulsion since there is a huge debt sitting on its balance sheets, but the other deals were neither out of compulsion for the smaller partners nor did they come cheap.
In fact, there are broadly two reasons the traditional companies are picking up smaller partners.
These tie-ups give them not only a foothold in the huge green energy and alternative fuel space but also help improve their ESG (environment, social and governance) scores without much ado, allowing them access to better financing options.
This holds true for corporations that do not really want to go headlong into the green power business, as purchasing a small stake, such as the Bharti-Avaada deal, helps them reduce their carbon footprint.
Then there are partnerships like that of MG Motor India, which announced its EV battery recycling collaboration with Rohan and Nitin Gupta-founded Attero.
The two partners announced the successful recycling of MG's first lithium-ion (Li-ion) EV battery, and the metal extracts and various other commodities from the process will be used for new batteries.
The move, MG Motor India said, will augment "its initiatives to strengthen EV ecosystem, essentially making it greener and sustainable".
According to Nitin Gupta, CEO and co-founder, Attero Recycling, their technology holds the key to help the country transition from a linear to a circular economy.
"We have the technology that enables us to extract almost 99 per cent of all metals from a Li-ion battery and we envision making India atmanirbhar (self-reliant) in precious metals such as copper, lithium and cobalt through these processes."
MG had earlier also tied up with CleanMax to supply 4.85 MW of wind-solar hybrid power to MG's manufacturing facility in Halol, Gujarat.
From simple solar and wind power generation to more advanced avenues of battery storage and cloud-based EV charging solutions and hydrogen fuel, companies find there is immense scope to choose their sustainability path.
Green hydrogen, for instance, is produced by splitting water into hydrogen and oxygen in an electrolyser.
If the process uses renewable-powered electricity, it is considered green hydrogen.
The government is targeting the use of green hydrogen as an alternative in industries such as refineries, fertilisers, steel and transport.
These sectors are considered "hard-to-abate" since bringing down their carbon footprint is tedious.
Companies, countries and communities are, in fact, increasingly finding that there is little time to waste in the sustainability business, not just because extreme climate incidents are increasing and putting lives and businesses at risk but also because conventional companies can no longer afford to ignore the green path.
Foraying into newer areas of the sustainability business is, therefore, an essential part of the business development plans of large Indian conglomerates and there is no quicker way to do that than pick up stakes or make other kinds of arrangements with companies that are into green energy, the EV value chain and other alternative fuel technologies.
Source: Read Full Article