Eminent economist Arvind Panagariya has said India is on the cusp of returning to a high growth trajectory and voiced confidence that the country will become the world's third-largest economy by 2027-28.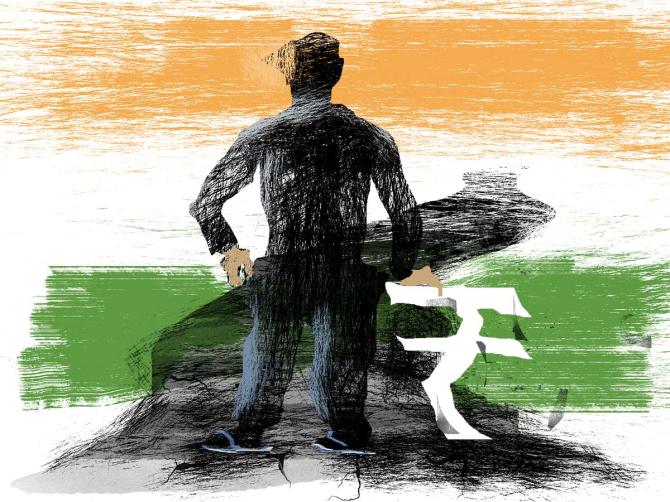 Currently, India is the fifth largest economy "so it's another five years.We are already in (the year) 2023.
"So 2027-28, India should be the third-largest economy," Panagariya, Columbia University Professor and former Vice Chairman of NITI Aayog, told PTI in an interview in New York.
A day before Finance Minister Nirmala Sitharaman presented the Union Budget on Wednesday, the Economic Survey tabled in Parliament pegged India's GDP growth at 6.5 per cent in 2023-24.
The International Monetary Fund's World Economic Outlook update Tuesday said growth in India is set to "decline from 6.8 per cent in 2022 to 6.1 per cent in 2023 before picking up to 6.8 per cent in 2024, with resilient domestic demand despite external headwinds."
Last week, the UN said in its flagship World Economic Situation and Prospects 2023 report that India is projected to grow at 6.7 per cent in 2024, the fastest-growing major economy in the world.
Panagariya said his reading of the Economic Survey is that the "narrative that comes across tells the story of a much stronger economy" than the one that is growing at 6.5 per cent.
"My sense is that given where India stands currently, it should get back to 7% plus kind of growth rate," he said.
He added India is currently in a spot that it was in 2003 when the growth rate picked up to close to about 8 per cent and the country sustained that kind of rate for a few years.
Outlining his reasons for high growth ahead, he said several reforms have been implemented and weaknesses in the economy have been cleaned up during the COVID pandemic such as non-performing assets of banks and weak balance sheets of many of the big corporates.
Noting that balance sheets of banks and corporates are now pretty sound, he said "this is reflected in the investment proposals and investment commitments that are being made by many of the large corporates."
"We're seeing this surge in both public and private investments, the fact that policy reforms have happened, lots of infrastructure has been built up.
"And the fact that there is an effective government in place, very credible (government)," Panagariya said.
"A government which realises its strengths and which is I think the reason you don't see a whole lot of populism in the Budget, even though this is the last full budget before parliamentary elections, tells you and makes me feel that India is on the cusp of returning to a high growth trajectory," he said.
India heads into general elections in 2024.
Panagariya added that India will "certainly remain" the fastest-growing major economy for several years to come.
He projected that India would maintain about a 7 per cent growth rate over these years and if the country takes measures to open up the economy further, particularly on the trade front with liberalisation requiring "a good bit of knocking down of the customs duties", then "we could get to easily 8 per cent."
He said the "rest of the strengths" for achieving this growth are present in the system. Some of the reforms that are ongoing need to be implemented, for instance, the labour law reform.
"If we can do that, I absolutely have no doubt that we would sustain 7% and could in principle, I think, touch 8 per cent."
Referring to the announcements in the budget, he said his expectations were "fully met".
On fiscal consolidation, the debt to GDP ratio had escalated to about 84 per cent as it stands currently after COVID because expenditures had to be raised at the time and revenues took a hit, which led to very large fiscal deficits, leading to the accumulation of debt, he said.
"So we needed to get back to consolidation and the finance minister has made a good effort in that direction."
The revised estimate for 2022-23 for the fiscal deficit is at 6.4 per cent and the estimate for 2023-24 is now placed at 5.9 per cent.
"It's a modest reduction in the fiscal deficit.
"But given the other features of the budget, I personally think that even that modest reduction in the deficit carries a good signal," Panagariya said.
He added that the Modi government has been very successful at implementing infrastructure projects on scale and at speed.
The government has raised capital expenditure to 3.3 per cent of GDP, as against 2.9 per cent of GDP this past year.
"This is really a major increase," he said.
Sitharaman announced hiking the capital expenditure by 33 per cent to Rs 10 lakh crore for infrastructure development for 2023-24 and will be at 3.3 per cent of the GDP.
Panagariya said he had been suggesting that it was time to get the reform of personal income taxation because the country had made reasonably good progress on corporate profit tax reform, bringing the tax rates down to over 25 per cent.
"So this (personal income tax) was a long-awaited reform and a big one so I am very pleased with that," he said.
Finance Minister Sitharaman said the government has made the new income tax regime more attractive for taxpayers and has thus brought about substantial changes in its structure for the benefit of the middle class.
The Budget 2023-24 has proposed changes in the optional tax regime, which was introduced in 2020-21.
As per the changes proposed in the Budget, no tax would be levied on people with an annual income of up to Rs 7 lakh under the new tax regime but it made no changes for those who continue in the old regime that provides for tax exemptions and deductions on investments and expenses such as HRA.
Source: Read Full Article