Ravi Sinha is described as "highly tech-savvy", and credited with infusing modern technology in the field of intelligence collection.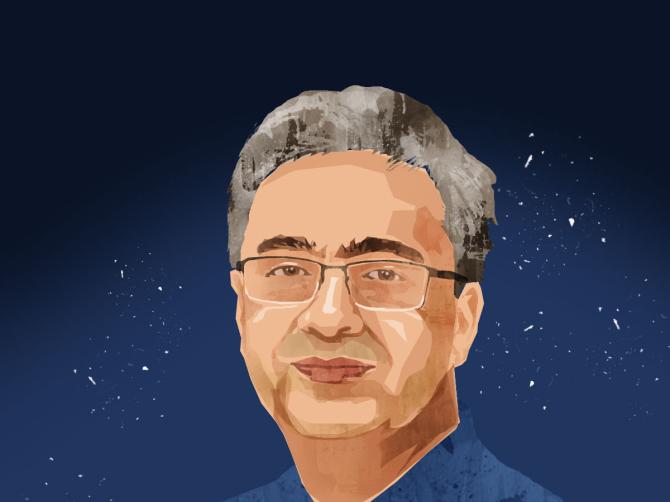 Arrah in Bihar's Bhojpur is celebrating.
'Hamaar Lal (our son)' has become the chief of the Research and Analysis Wing (R&AW), explained a local to a Hindi newspaper.
Ravi Sinha (59), who took command on June 30 as secretary of the intelligence gathering agency that monitors and controls intelligence on India from foreign sources, was born in Arrah.
Though the family visits infrequently, his ancestral home is well known, as his father was a professor in Dhanbad and moved back to Arrah subsequently.
'I used to fly kites with Ravi,' claimed a neighbour proudly as he offered sweets, the reporter said.
In R&AW, they fly kites of a different kind. But they also do a lot more.
Sinha, who was educated in Bihar and later at St Stephen's College in Delhi, is a 1988 batch officer from the Indian Police Service.
He was assigned to the Madhya Pradesh cadre and sent to Chhattisgarh in 2000 when the new state was created.
Sinha served the initial part of his career in Durg (Chief Superintendent of Police) and in the state capital, Raipur. The state had been newly formed and was facing a serious challenge from Left-Wing extremism.
As an officer in the field, Sinha could have achieved a lot in policing. But he made a career choice and opted to move to the intelligence branch of policing, shifting to R&AW on deputation, where he had been heading the operational branch for the past seven years.
He rose to become second in command at the organisation, and when Samant Goel retired on June 30, it was Sinha who took charge.
"He's a good chap. Of course, he wasn't in Chhattisgarh for very long," said a retired Indian Administrative Service officer from the Chhattisgarh cadre.
As Sinha assumes charge of an organisation that was founded and headed by the legendary R N Kao in 1968, he faces many challenges, some legacy ones.
The biggest is: what does R&AW really want to be?
The organisation's initial successes — India's victory in the 1971 war with Pakistan and the creation of Bangladesh, R&AW's covert assistance to the African National Congress in its anti-apartheid movement in South Africa — led to a unique vantage point from which it could view and protect India's interests via covert operations.
Retired Major General V K Singh, who served in the organisation for four years, writes in India's External Intelligence, Secrets of Research and Analysis Wing: 'To a large extent, it was Kao who raised R&AW to the level of India's premier intelligence agency, with agents in virtually every major embassy and high commission.'
R&AW's imprimatur was seen in the suggestion that training be given to militant Tamil groups operating in northern and eastern Sri Lanka, operations in Myanmar that led to valuable intelligence about militancy in the North East, and infiltration into the pro-Khalistan diaspora. In his book, Singh acknowledges success but also hints at corruption.
About Sinha's priorities, a former colleague says merely: "Bhaya bin hot na preeti (there can be no love without fear)."
Sinha's predecessor, Goel, has been credited with gathering intelligence that led to the precise targeting of the Balakot bombings in 2019 on camps in Pakistan from which militants were allegedly launched to attack jawans in Pulwama.
An unstable neighbourhood demands higher levels — and quality — of covert intelligence.
Veteran spymasters recall the decision by the I K Gujral government to wind up at least two divisions in R&AW tasked with gathering intelligence on some of India's neighbours, a decision that was meant to win the confidence of neighbouring countries but one that set the organisation back many years.
Sinha is described by his erstwhile colleagues as "highly tech-savvy", and credited with infusing modern technology in the field of intelligence collection.
Government sources say this will enable him to integrate the "technological and human intelligence dimensions to work together to address the challenges of our times."
Former R&AW chief Vikram Sood says, "We live in an age of multiple distractions when new ideas become instant narratives. Riots can be generated in various social media channels in a matter of minutes, shutdowns effected with similar speed, and fake news can travel around the globe at a speed faster than a rocket."
Politicians and administrators, Sood says, fearing "redundancy" tend to take action at the same speed, and this can boomerang when "ideas converted into policy pronouncements are made using the same channels."
Today, R&AW and the National Technical Research Organisation, the storehouse of data that informs intelligence gathering, work closely together.
"But until actionable human intelligence is available, it is hard to make informed administrative decisions," a former colleague points out.
In the meantime, Sinha's neighbours in Arrah say they feel proud — and a lot safer — that a boy from their neighbourhood is helping guard the country.
Feature Presentation: Rajesh Alva/Rediff.com
Source: Read Full Article