'I want to warn Ajit dada and all those who have stabbed Pawar saheb by joining hands with the BJP.'
'Don't write saheb's obituaries so soon.'
What do you do, when you are all of 82, when you are not in the pink of your health and life throws one of the most formidable political challenges at you?
Well, if you are Sharadchandra Govindrao Pawar, then you decide to go back to the people and hit the streets running. And Pawar seems to be a man in hurry.
Just a day after his nephew Ajit Anantrao Pawar — and the undeclared heir to his political legacy in Maharashtra just till the other day — engineered a takeover of sorts of the legislative wing of the Nationalist Congress Party, which the incumbent national president built, nurtured and prospered over two-and-a-half decades, the unruffled octogenarian, in his indomitable style, announced that the party is built not on the strength of representatives but on the strength of those who elect these representatives for a term of five years.
Pawar said he would rather let the people of Maharashtra decide if he still has the political heft left to take on his political adversaries, which now includes his nephew, and the BJP, which he believes is responsible for the split in his party.
'Will go to people's court'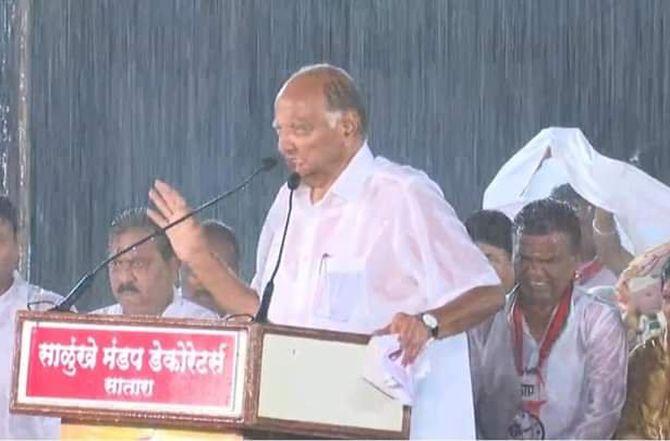 In fact, Sharad Pawar, during a brief press conference — dressed in a spotless white, half-sleeve shirt and with at least ten microphones tugged on to his shirt — from his residence in Pune on Sunday evening, soon after Ajit Pawar was sworn in as deputy chief minister, had already expressed his readiness to accept the gauntlet thrown at him by his nephew and sounded the war bugle.
'I will begin my tour of Maharashtra from tomorrow by visiting the samadhi (memorial) of Yashwantrao Chavan (one of the state's tallest leaders and Maharashtra's first chief minister Yashvantrao Balwantrao Chavan, who Pawar regards as his political mentor) and seek his blessings for my resolve to rebuild the party.
'Soon after that I will be attending a meeting of Dalit organisations in Satara; after that I will tour across the country and Maharashtra as much as I can. This is going to be my only agenda from today,' Pawar said announcing his intention to take on his political opponents, primarily the BJP and its central leadership, against whom an array of Opposition leaders are trying to cobble up a united front.
Elaborating on Pawar's plan to visit Karad on Monday, July 3, morning, a party spokesperson says, "We plan to launch our meet-the-people programme from tomorrow. Pawar saheb will be travelling by road in a huge cavalcade followed by his supporters. On the way we will be meeting a lot of people."
Interestingly, a combative Pawar narrated how 52 of the 58 MLAs that were elected in 1980 under the banner of Congress-S — the party Pawar had formed after a split in the Indian National Congress in 1978 — deserted his party and he was left with just six MLAs including himself and how he rebuilt the party from scratch.
'I am not new to such political dramas,' he said pointing to his nephew's latest rebellion, the earlier ones being in November 2019 and most recently two months ago in May when Sharad Pawar offered to resign as the party chief to quell Ajit Pawar's rebellion and save his party from a split.
'In 1980, soon after the party I was heading got 58 MLAs elected, barring six, all of them left the party. From the leader of the Opposition of a party with 58 MLAs, I was reduced to just a leader of six MLAs including myself. With just five MLAs in the party I started touring Maharashtra to rebuild my party.
'When elections were held after five years our party won 69 MLAs. Except three to four MLAs who left us in 1980, all others lost the elections held in 1985,' he said.
'I will take all the issues to the people of Maharashtra. Let them decide which is the real NCP and who does the party belong to. I don't want to fight any court cases over these issues. I have full faith in the people's court and I will go to them,' he said in response to a query if the ownership of the NCP will also take the court route to decide the ownership just like what happened after Eknath Shinde's rebellion that vertically split the Shiv Sena.
Amidst some tense moments that he and his party has been subjected to since July 2 morning, the Maratha strongman, did show his softer side during the media briefing.
When asked who could be NCP's most trusted leader in the future given the turmoil the party has found itself in recent times, the bespectacled Pawar, his mobile, a paper and handkerchief in his left hand, immediately raised his right hand to say 'Sharad Pawar' even as the media contingent, party functionaries and Pawar himself burst out in laughter.
The video has since gone viral on social media with party spokesperson Clyde Crasto calling him 'Our Rockstar' (external link).
'Pawar's political subterfuge'
This is classic Pawar-speak," says a Congress MLA from Maharashtra who has seen the veteran's political career from close quarters since 1967 when he was first elected as the member of the Maharashtra assembly from Baramati as a 27 year old.
"Whenever he faces political doldrums he tries to create confusion among his opponents' ranks or whoever crosses the line. He tries to browbeat them into submission either by hook or crook. With whatever he said in today's press conference, he has sent a message to those NCP MLAs who are currently with Ajit Pawar, but who, Pawar thinks, can be persuaded to split ways with his nephew. He already did that once in 2019," reminds this Congress MLA alluding to how Ajit Pawar's early morning swearing-in of November 2019 turned into a political fiasco both for himself and the BJP.
"This is what Sharad Pawar is best at: Political subterfuge," says a political analyst from Maharashtra commenting on how Pawar sends subtle, yet powerful messages to those who cross swords with him.
'Thank you Prime Minister Modi'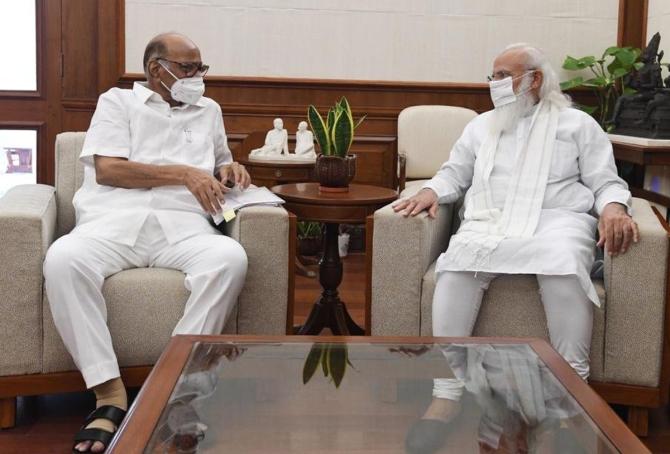 While Pawar chose to play safe with criticising his nephew — some political observers believe Pawar still has hopes to do a 2019 encore and get his nephew back from the BJP's stables — he did castigate Praful Patel and Sunil Tatkare, who were appointed as working president and national treasurer respectively by Pawar for not doing their jobs well.
Pawar threatened to take disciplinary action against Patel and Tatkare even as he named Ajit Pawar, Chhagan Bhujbal, Praful Patel and Hasan Mushrif (who was also sworn in as a minister in the Shinde-Fadnavis government and is under the radar of the Enforcement Directorate for an alleged sugar factory scam) as those against whom the ED has allegedly incriminating files.
From the word go, Pawar took on Prime Minister Narendra D Modi — who only two days ago was vocal in criticising Rs 70,000 crore (Rs 700 billion) scams in which NCP leaders were involved — for exonerating the NCP leaders by allowing their swearing in as ministers in a government that forms the backbone of the present Maharashtra government.
'I am grateful to the prime minister for giving a chance to some of my colleagues from the NCP to become ministers in his party's government. The prime minister, through his deeds, has proved that his charges of corruption against the NCP and my colleagues were false,' he said.
The NCP chief also revealed that some of the MLAs who were seen with Ajit Pawar during his swearing-in on July 2 had called him up to inform that they were unaware of Ajit Pawar's intention and when they met him as Leader of the Opposition on the morning of July 2, they were made to sign some papers.
'Some MLAs who were seen at the swearing-in called me and said that they were asked to sign certain documents and that they were still with me. But I will not disclose anything more now. Let these MLAs say what they told me over the phone before the people and only then will I trust them. If they don't say the same thing before the people then I will conclude that they have taken a different stance,' Pawar said in a bid to trap those MLAs who are still sitting on the fence.
Will 2023 be different from 2019?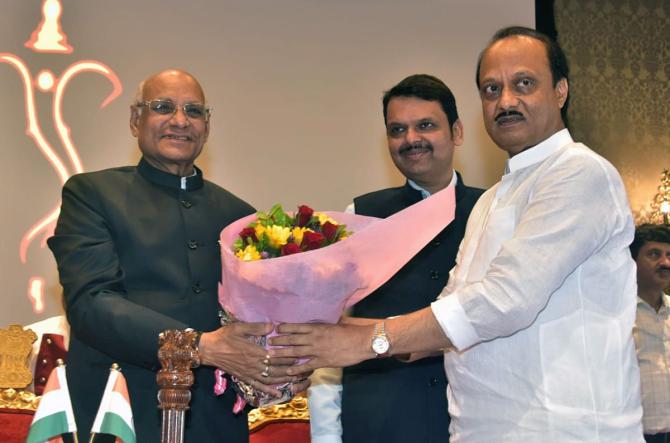 Unlike the November 2019 swearing-in fiasco, when Ajit Pawar had joined hands with Fadnavis with just a handful of NCP MLAs in tow, this time round he managed to wrest some of Pawar's most trusted lieutenants and senior party leaders like Praful Patel, Sunil Tatkare, Chhagan Bhujbal and Dilip Walse Patil, who have fought many a political fights by his side to join his bandwagon which he has on July 2 hitched along with that of the Shiv Sena-Bharatiya Janata Party government.
Along with Ajit Pawar, who took the oath of office as the deputy chief minister — Maharashtra will now have two deputy chief ministers including the BJP's Devendra Fadnavis — eight other NCP MLAs were accommodated as ministers in a government, which has been dilly-dallying over its expansion and ignoring demands — from many of the 39 Shiv Sena MLAs who had rebelled against Uddhav Thackeray under Eknath Shinde's leadership — of an expansion since it came to power last June.
"While Pawar saheb had succeeded in scotching his nephew's political ambitions three years ago when on November 23, 2019 he, along with Fadnavis were sworn in as the deputy chief minister and chief minister in an early morning political coup (the government, though, lasted only three days till November 26 as all those who had promised to bolt along with Ajit Pawar turned tail after Sharad Pawar swung into action) this time it is different," says an NCP leader who still swears by the senior Pawar and has decided to stay away from his nephew's camp.
"This time Ajit dada has not only flew out of his uncle's nest, but he has also damaged the party by taking away Pawar saheb's close confidantes like Praful Patel and Bhujbal saheb; but just like 2019 Pawar saheb will not be sitting quiet," he adds.
'Don't write saheb's obituaries so soon'
'From today my single-most important agenda will be to rebuild the NCP just like I did in 1980. I have immense faith in all sections of Maharashtra people, especially the youth. In 2019 (assembly elections when all the major political parties in the state fought elections separately) elections too I did the same thing. Went among the people and told them what we stood for, what our ideology stood for and people entrusted their faith in us. The same situation beckons today,' Pawar declared while answering to a query from the media.
'The whole country is today trying to build an opposition to the Modi government and leaders from across political parties have expressed their support for me. I am not at all worried about what happened today,' he added.
"I want to warn Ajit dada and all those who have stabbed Pawar saheb by joining hands with the BJP. Don't write saheb's obituaries so soon. There's still lot of political resolve burning within him," says an NCP MLA from the Sharad Pawar camp.
"You might think that age is catching up with him and he might retire from active politics. He surely will retire one day, but not without having a last laugh and certainly not before ensuring the defeat of the BJP's ideology of hatred and divisiveness, the NCP MLA added.
"Who knows this might be his last election where he plays an active role but he will ensure that it is forever remembered by the people of India."
"He carved his political legacy and attained his gigantic stature by winning the trust of Maharashtra's and India's youth, farmers, downtrodden, and minorities through his development programmes for all sections of the state and the country when he was a Union minister. You can't destroy that legacy by running away with some MLAs," says the NCP MLA.
"You can neither win people's hearts by such back-stabbing. Pawar saheb will show you what he is made of in the next 15-18 months."
Source: Read Full Article