Regional and local fast-moving consumer goods (FMCG) brands are gaining momentum at the cost of national brands for the second quarter in a row.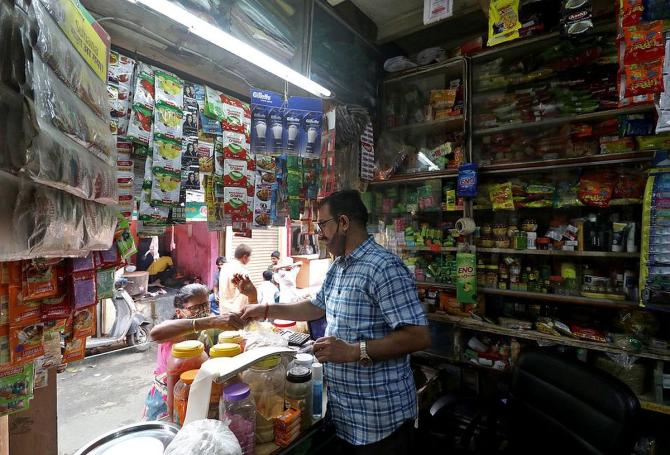 Consumer brands are now losing out on share, especially at the mass end of the market.
Local brands have been able to capture market share as prices of raw materials are lower.
This is making it easier for them to manufacture and sell FMCG products at lower prices.
Hindustan Unilever (HUL) and ITC both pointed out after announcing their September quarter results that regional brands have gained momentum.
According to HUL's investor presentation, in August, the market value growth of regional players in the last three months compared to last year in tea was 1.4 times that of large brands.
And, in detergents, regional brands gained six times faster in the same period.
It had pointed out this issue even in the quarter ended June.
It said that in tea regional players grew 1.6 times faster than national brands in the three months ended May compared to last year. In detergents, it was three times faster compared to last year.
On the market share front, HUL, the maker of Rin detergent, continues to witness pressures at the mass end.
"When we look at corporate shares on the whole, we are still holding.
"We have lost some share recently in the mass end of the segment, which is on account of the price-quality equation.
"But that's really where we have lost because the number of local players, which have come on the market have just increased," said Rohit Jawa, managing director (MD) and chief executive officer (CEO) at HUL in a post earnings' conference call.
ITC also said that local brands have been gaining traction and added that certain categories such as biscuits, snacks, noodles and popular soaps witnessed intense competition.
These are mainly from local / regional players in the backdrop of commodity price deflationary conditions.
Kantar Worldpanel, a consumer insights company, also said the same thing in its data, which it tracked till July.
"In a category like detergent bars, for example, small brands, which had a combined volume share of 40 per cent in moving annual total (MAT) in July 2022, now have a share of 45 per cent in MAT during July 2023.
"In female hygiene (sanitary napkins and tampons, among others), smaller brands have increased their volume share from 22 per cent to 26 per cent.
"Among salty snacks, it was from 37 per cent to 40 per cent; and in noodles from 16 per cent to 18 per cent in the same time period," K Ramakrishnan, MD – South Asia, Kantar Worldpanel told Business Standard.
"Smaller FMCG brands have seen good growth this year. By small brands, we refer to brands that have a penetration of under 10 per cent at the national level," Ramakrishnan added.
He said the high growth registered is also a function of the small bases they have.
But these smaller brands are also growing faster than bigger brands in these categories. So, they have been able to steal volume share, he said.
In its report on small brands, Kantar Worldpanel said regional players have innovated according to local needs.
It gave the example of Balaji Gippy noodles, which offered 70 gms of noodles at a price of Rs 10.
They also had a more "desi version" of Maggi with more masala.
After the June quarter results, Ritesh Tiwari, CFO at HUL told investors, "We are also seeing resurgence of small and regional players in select categories and price points.
"Many of them had vacated the market during peak inflation."
Disclaimer: This article is meant for information purposes only. This article and information do not constitute a distribution, an endorsement, an investment advice, an offer to buy or sell or the solicitation of an offer to buy or sell any securities/schemes or any other financial products/investment products mentioned in this article to influence the opinion or behaviour of the investors/recipients.
Any use of the information/any investment and investment related decisions of the investors/recipients are at their sole discretion and risk. Any advice herein is made on a general basis and does not take into account the specific investment objectives of the specific person or group of persons. Opinions expressed herein are subject to change without notice.
Source: Read Full Article