When Garba is played with swords…
The Top Videos of the Week, listed by Shailajanand Mishra.
Also see: The magic of the Ooty toy train.
The Tallest Tiranga.
Videos chosen by you through your likes on iShare.
Ooty's Toy Train Turns 115
Location: Ooty
Did you know the Ooty toy train first ran on June 15, 1899, between Mettupalayam and Coonoor?
And that this route has 16 caves, 216 arches and 250 bridges?
The train's service was extended to Udagai hill station from October 15, 1909. This is why October 15 is celebrated as the Nilgiri Mountain Railway Day.
On July 15, 2005, the Nilgiri Mountain Railway was declared a World Heritage Site by UNESCO.
When Garba Is Played With Swords
Location: Rajkot
Traditionally dressed women on bikes. In jeeps. Wielding swords. Doing the Garba.
This particular dance form — known as the Talwar Ras — was performed in honour of Goddess Durga at the Rajvi Palace in Rajkot.
Saving India, One Helmet At A Time
Location: Bhubneshwar
He sold the bitcoin he owned for Rs 75 lakhs.
His wife gave him her jewellery, valued at Rs 15 lakhs.
He sold his house — which he had purchased for Rs 43 lakhs in 2013 — for Rs 53 lakhs in 2018.
He quit his job as a legal advisor to numerous multinational corporations.
Raghavendra Kumar is now a full-time road safety volunteer who distributes helmets for free on the Agra-Lucknow Expressway.
A tragic incident, he says, turned the course of his life.
When A Snake Is Found In A Classroom…
Location: Nashik
…This is what happens.
The Tallest Tiranga
Location: Amritsar
Located at the Attari-Wagah border, the flagpole is 418 feet tall.
Feature Presentation: Ashish Narsale/Rediff.com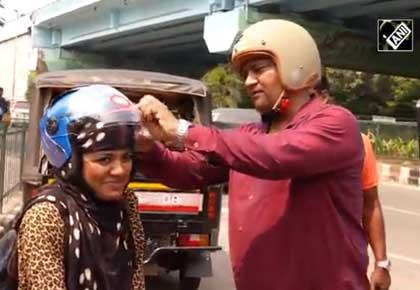 Source: Read Full Article