'We have to change the Dravidian influence on the people.'
In a clear indication that the election season is upon us, Tamil Nadu's Bharatiya Janata Party president Kuppusami Annamalai will set out on a padayatra across Tamil Nadu covering all the 234 assembly constituencies. The yatra will start from Rameshwaram on Friday, July 28, and reach Chennai on January 11, 2024, just before Pongal.
There will be two breaks in between. The yatra has been labelled, En Mannu, En Makkal, meaning my land, my people.
The BJP has set up 18 committees to look after different aspects of the yatra.
The yatra will cover two assembly constituencies every day and the participants will walk in the morning and evening, with a break in the afternoon.
Tamil Nadu's director general of police has been notified of the route and also been asked asked for protection to carry out the padayatra peacefully.
TN BJP vice president Karu Nagarajan tells Rediff.com's A Ganesh Nadar, "We will be meeting all sections of the people on the way and ask them about their problems. We will compile a report which will be available here and we will also send it to Delhi."
"The problems and solutions will be included in our election manifesto next year."
You are in charge of the padayatra across Tamil Nadu, what do you think you will achieve with this yatra?
We hope to achieve a connect with the people. We will tell them about the achievements of our central government and our goals in Tamil Nadu.
We have to change the Dravidian influence on the people. We have to tell people that they must have a national outlook and not a state one.
We will encourage Tamil. The DMK (Dravida Munnetra Kazhagam) only talks about Tamil, but they only concentrate on their Dravidian culture.
The people have to understand that they make the same promises in every election, there is no progress.
Will any of your allies be joining the yatra?
There is no such idea. They might come at the beginning to wish us well and at the end. Our state president will be accompanied by members of 18 committees who are there to oversee the yatra.
Your ally the AIADMK has said it will oppose the Uniform Civil Code, which is one of your core agendas. How will you bring them around?
We are just talking and discussing about the UCC now. We cancelled Article 370 as we promised, we are building a Ram temple as we promised. The UCC will also happen at the appropriate time.
Your TN unit president has said that the governor appointed by your party-led government should not talk about politics. How do you explain that?
You think the governor's actions were reflecting badly on your party?
What our president said was that he should not talk politics every day.
Criticising the government is his duty, but talking politics every day is not necessary for his office.
You have four MLAs, but none of them is ever in the news. It is only Annamalai who regularly makes statements. Have you told your MLAs to lie low?
Nothing like that, it is your speculation. The MLAs are working in their constituencies and talking every day to the journalists in their area.
Is it true that Annamalai is entering the Rajya Sabha from Rajasthan? If so, will you be the next TN unit president?
I too saw that in the news. We have not received any such message from our Delhi office yet. When it comes you can ask me.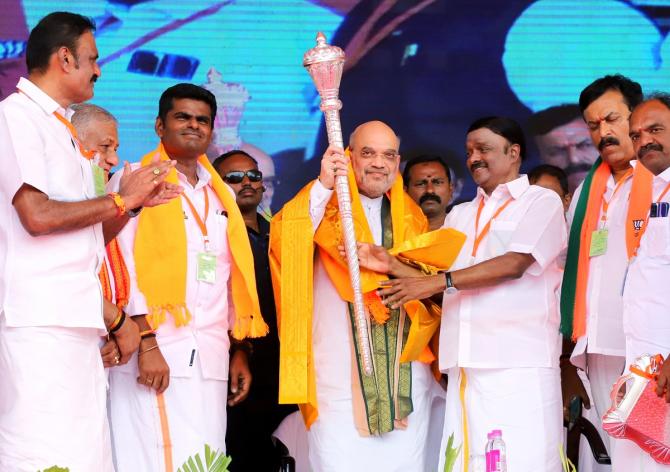 Though you are an ally of the All India Anna DMK there is constant bickering between you two parties. Because you don't seem to understand that in Tamil Nadu they lead the alliance?
All India we are heading the National Democratic Alliance, in Tamil Nadu the AIADMK heads the alliance.
It is not important who heads the alliance; it is important that we defeat the DMK.
The BJP is accused of using central agencies to intimidate political rivals and here it has already arrested one minister and is questioning another.
Do you realise that this can lose you votes?
We are improving the country by going after corrupt leaders. How will it lose us votes? Some of these cases were filed during the UPA rule.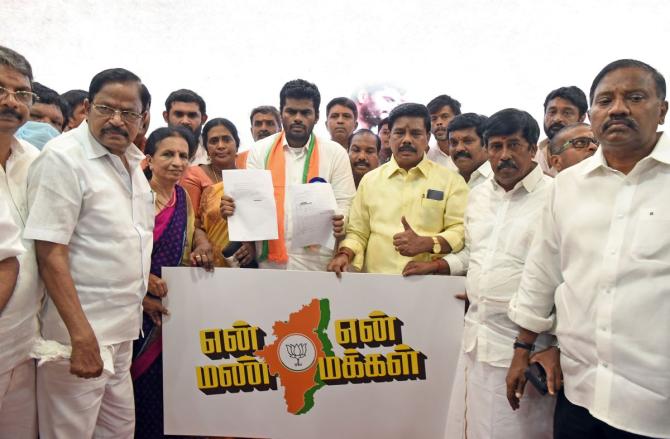 Your loss in neighbouring Karnataka was a big blow to your party. How does it affect your prospects in Tamil Nadu, particularly in the Lok Sabha elections due next year?
Karnataka is different from Tamil Nadu. We had our government there in the past and this time we lost. It has nothing to do with our prospects in Tamil Nadu.
What explains Annamalai's aggressive tactics? He also seems to have rubbed the AIADMK the wrong way?
He is young, he is enthusiastic and he talks from his heart. So sometimes he does sound aggressive, but that is because of his age.
What next after this yatra, what other campaign strategy have you planned?
After the padayatra, which includes 10 public meetings on the way, in which central leaders will attend, we will plunge straight into election mode.
We will start our Lok Sabha election work immediately.
What is the budget for this padayatra?
There is no budget, we will spend what we need. It won't be much. Delhi has not given us any money for this yatra. Our cadres will spend from their pocket.
Feature Presentation: Aslam Hunani/Rediff.com
Source: Read Full Article