K L Rahul's dual role as a middle-order stabiliser and wicket-keeper for India in World Cup 2023 has drawn parallels with the legendary Rahul Dravid.
Despite not being a regular wicket-keeper, Rahul seamlessly adapted to the role after an injury sidelined Rishabh Pant.
Head Coach Dravid, who himself kept wickets during his playing days, commended Rahul's performance, drawing connections to his own experiences, particularly in the 2003 ODI World Cup.
Dravid expressed confidence in Rahul's abilities, acknowledging the challenge of keeping after a long injury layoff. 'K L Rahul has been doing a fantastic job. Rahul has really kept superbly in this tournament and batted really well whenever he has got a chance. It is a challenge since he is not someone who keeps regularly. It's challenging considering that he came back from a long injury,' Dravid said.
'We thought we would build him up and play him in matches leading up to the World Cup but couldn't do that because of his injury. The way he came back and worked hard is great. He's kept really well and it's really good to see, which gives us a lot of confidence in his abilities,' Dravid explained.
Former pacer Zaheer Khan pointed out the similarity between Dravid and Rahul, praising the latter's talent.
'Rahul (Dravid) also held the wicket-keeping gloves for the team and this Rahul did the same as well. It could either be the Bangalore connection or the connection of their names but he's very talented too,' he said.
Former Indian skipper Saurav Ganguly's influence on Dravid to take up various roles resonates in Virat Kohli's requests to Rahul, showcasing the adaptability of both players.
When Ganguly asked 'The Wall' to bat at different positions, he did; when Ganguly asked Dravid to play the role of a wicket-keeper, he did. A similar story is now being repeated between Virat Kohli and K L Rahul.
Rahul doesn't shy away from the comparisons, giving a big shoutout for being put in the same league as the legendary Dravid. Thanks to the constant Rahul Dravid references during his growing-up years, Rahul appreciates the chance to chat cricket with the iconic figure hailing from their home state, saying, 'It's pretty cool to be compared to someone like Dravid.'
With their shared Karnataka connection, both the Rahuls have donned different hats. The comparison game between the two Rahuls is like a rollercoaster ride, showcasing their knack for switching roles and leaving a mark on the team's vibe.
1. Dual Role Excellence
Not just a run machine, Rahul Dravid wore the wicket-keeping gloves with finesse, demonstrating his versatility by handling dual responsibilities across different formats.
Taking a cue from Dravid's playbook, K L Rahul has seamlessly transitioned into a dependable batsman-wicket-keeper, making substantial contributions both with the willow and behind the stumps.
2. Namma Bengaluru Connection
Emerging from Bengaluru, Dravid stands as a cricketing legend deeply rooted in the city's vibrant cricketing legacy. Keeping the flame alive, K L Rahul, another illustrious product of Bengaluru, proudly carries the baton, upholding the city's cricketing tradition with distinction on both the national and international fronts.
3. Batting Prowess
Renowned for his rock-solid technique and classical batting style, Rahul Dravid left an indelible mark on the cricketing world, accumulating a staggering 24,000-plus international runs across various formats.
In a different but equally stylish vein, K L Rahul has proven himself as a consistent performer, showcasing elegant stroke play en route to amassing 7,545 runs in all formats.
His growing reputation as a reliable run-scorer adds a contemporary flair to the tradition set by Dravid.
4. Wicket-keeping Skills
Rahul Dravid, ever the team player, shouldered the responsibilities of wicket-keeping at different junctures in his career, exemplifying adaptability and unwavering commitment to the team's requirements.
In ODIs, as a wicket-keeper-batsman, Dravid notched up 10,768 runs while contributing with 196 dismissals (54 catches and 14 stumpings).
Following in Dravid's versatile footsteps, K L Rahul fluidly adopted the role of a wicket-keeper-batsman, elevating the team's dynamics with his proficient 'keeping skills alongside maintaining stellar standards in batting.
Displaying a safe pair of hands and razor-sharp reflexes, Rahul has accumulated 134 catches and stumpings in his cricketing journey.
5. Catching Prowess
Both Rahul Dravid and K L Rahul have earned reputations for their safe pair of hands, making substantial contributions to their teams' fielding prowess.
Dravid, celebrated for his slip catching expertise, holds the record for the highest number of catches in Test cricket, amassing 210 catches.
K L Rahul, following in Dravid's footsteps, has showcased a similar flair for slip catching. With a knack for snaring sharp catches, he emulates the catching prowess associated with the legendary Dravid, adding a contemporary touch to the art of fielding.
6. Captaincy Stints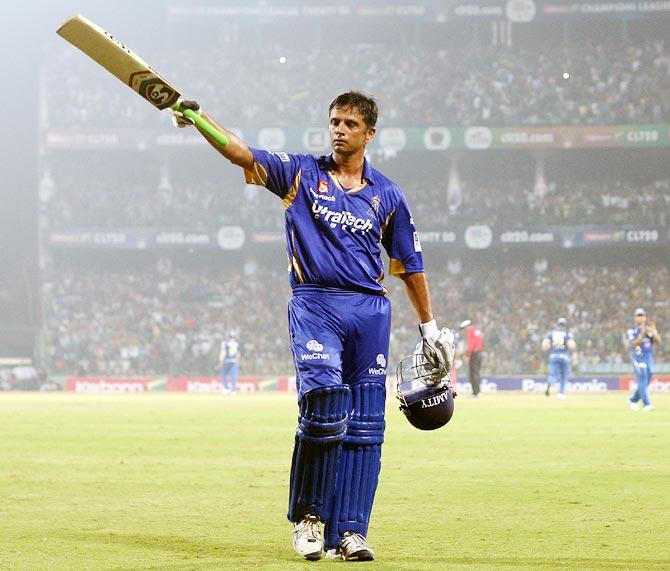 Rahul Dravid exemplified exceptional leadership as he captained the Indian cricket team with distinction, displaying remarkable qualities that guided the squad to notable victories between 2003 and 2007.
In a parallel trajectory, K L Rahul has assumed captaincy roles at IPL teams like the Punjab Kings and Lucknow Super Giants.
Widely recognised as a potential leader, Rahul draws comparisons with Dravid, with both cricketers sharing similar qualities that reflect their capacity to lead and inspire on the cricketing stage.
7. Consistency Across Formats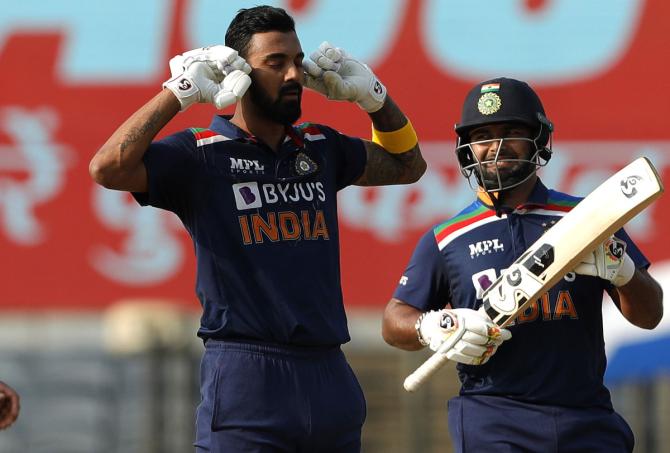 Dravid and K L Rahul have underscored their adaptability by consistently delivering standout performances across all formats of the game.
Renowned for his remarkable ability to adapt and excel in every format, Dravid maintained an elevated level of consistency throughout his illustrious career.
In a reminiscent stride, Rahul has followed a similar path, showcasing unwavering consistency across Test, ODI, and T20 formats. His ability to contribute vital runs in each format speaks to his versatility and adaptability in the dynamic landscape of contemporary cricket.
8. Stellar Records in Domestic Cricket
Before carving his niche on the international stage, Dravid had a stellar run in domestic cricket, laying the groundwork for his illustrious international career. His exceptional performances in the domestic circuit served as a crucial stepping stone to success.
Likewise, K L Rahul's noteworthy displays in domestic cricket paved the way for his international debut, emphasising the significance of a robust domestic foundation. The solid performances in domestic competitions proved instrumental in shaping Rahul's cricketing journey at the highest level.
9. Prestigious Records and Milestones
Rahul Dravid etched his name in the annals of cricket with numerous records and milestones, notably standing among the select few batsmen to amass over 10,000 runs in both Test and ODI formats.
On his journey to crafting a unique legacy, K L Rahul has also left his mark on the record books. Notably, he stands as the sole Indian player to score a century on his ODI debut.
Furthermore, Rahul holds the distinction of being the first batter to achieve a century in T20Is while batting at the 4th or lower position, solidifying his place in cricket history.
10. Terrific Test Performances
Dravid and K L Rahul have significantly influenced Test cricket through their outstanding batting performances.
Dravid boasts an impressive record, amassing over 13,000 runs in Test cricket, renowned for his unwavering technique and resilience at the crease.
Meanwhile, Rahul has emerged as a pivotal Test batsman for India, playing vital innings in Test matches. With a 47-match Test career, Rahul is earning recognition as one of the most promising and impactful batters in contemporary cricket.
Source: Read Full Article