Chants of 'Kohli, Kohli' picked up as the crowd started getting on its feet with Virat Kohli inching towards his record-breaking knock.
After matching the legendary Sachin Tendulkar's record for the most ODI centuries on his 35th birthday, Kohli – the big stage player – picked the perfect platform to break Tendulkar's record as he hammered his 50th ODI century. With Tendulkar giving him a standing ovation, Kohli took a bow as he climbed to the summit with the most centuries in ODI cricket.
Bringing up his milestone ton off 106 deliveries, Kohli's century was studded with nine boundaries and a maximum.
Undoubtedly the King of ODI cricket could not have asked for a better platform. This was the first time he's gone past fifty in a World Cup knockout game. Southee brought an end to Kohli's stellar knock as he hammered a 113-ball 117. As he walked off the field, Kohli the entire stadium was on its field as King Kohli got a standing ovation for his record-breaking knock. While a doting Anushka Sharma cheered him on, the legendary Tendulkar applauded Kohli's historic knock. A fairytale moment.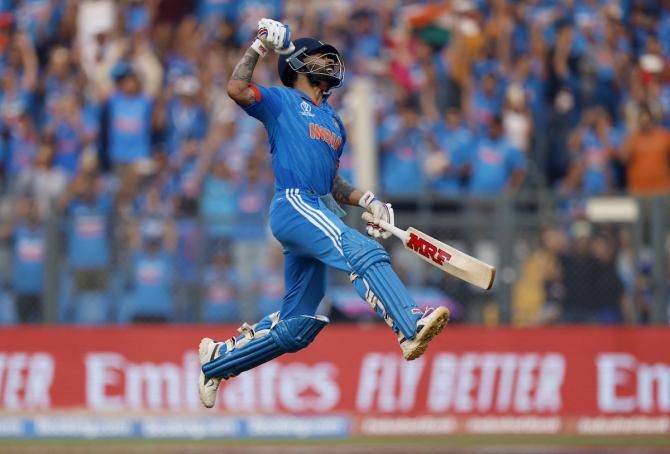 Records galore
A big match player –Kohli broke not one but two of Tendulkar's records. Before bringing up the historic century, Kohli, coming in at no. 3, added another feather to his cap as he broke the all-time record for the most runs in a single World Cup campaign.
The record was held by the legendary Tendulkar who struck 673 runs at the 2003 World Cup. In the ongoing edition, Kohli now has 674 runs and counting.
Most centuries in ODI cricket:
50: Virat Kohli in 279 innings
49: Sachin Tendulkar in 452 innings
31: Rohit Sharma in 253 innings
30: Ricky Ponting in 365 innings
28: Sanath Jayasuriya in 433 innings
Source: Read Full Article