For a post-lunchtime session the home fans rushed into Centre Court like rarely before, hurriedly sweeping scone crumbs from their shirt fronts, to settle down for what they hoped would be an epic British Wimbledon victory.
Andy Murray can pack a Wimbledon court like few others — any time of day or night — and when he strode onto that most hallowed patch of turf in tennis, two-sets-to-one up against fifth seed Stefanos Tsitsipas, the stage was set.
Pairing a steel resolve with his fabled metal hip, the 36-year-old was allowing British tennis fans to dream.
Poised to roll back the clock and take fifth seed Tsitsipas's place in the third round, Murray had a keyed up crowd ready to lift him to victory.
Middle-aged men in well-tailored suits jumped to their feet, revealing flamboyant cufflinks as they pumped their fists to celebrate winning shots.
Women clapped hands above their heads, beseeching Murray — the man who, a decade ago, had ended the 77-year wait for a British Wimbledon champion — to finish off his youthful rival and write another chapter.
But instead of a famous fairytale victory, Wimbledon's first Friday ended in Greek tragedy for the 36-year-old and his legion of patriotic fans as Murray succumbed in five sets to a physically stronger opponent who looked like he could have maintained the intensity for hour after hour.
Disappointment drenched the arena, tempered with admiration for the Scottish warrior who has done so much for British tennis. It will take some time for him to extract any solace, though from a 7-6(3), 6-7(2), 4-6, 7-6(3,) 6-4 defeat.
"I'm obviously very disappointed just now," he told reporters as he processed the loss.
"Yeah, obviously you never know how many opportunities you're going to get to play here. The defeats maybe feel a bit tougher. But, to be honest, every year that Wimbledon's not gone how I would like, it's been hard."
BRIEF HOPE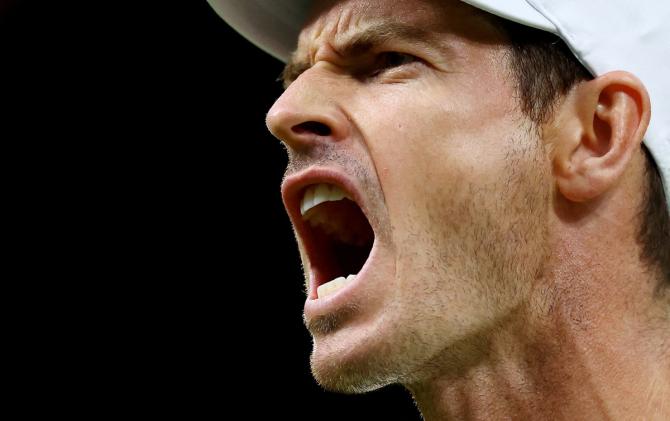 There had been a brief spell of hope in the fourth set when Murray got a good look at the Tsitsipas serve but once the Greek had firmly shut the door and eased into a break in the fifth, the puff seemed to go out of the Scot and hope from the crowd.
It had been a superb performance over two days by Murray but in the final analysis Tsitsipas, 12 years younger, was simply stronger and faster. Crucially, though, he had been equally smart.
Murray played a masterful grasscourt match, good enough to beat almost anyone but Tsitsipas matched him slice for slice, fade for fade, and serve for serve.
That Murray had even threatened to beat the ever-improving Greek should be more than might have been hoped for considering his history of injuries but Murray is hewn from granite.
Twice a champion here, with a U.S. Open and two Olympic gold medals to his name, Murray's pursuit of perfection seems undimmed by the years, but also tempered by reality. How much longer he will put himself through the grinder is unclear.
"Look, I mean, obviously it's brilliant to play in great atmospheres. It makes playing the matches more enjoyable and creates certainly better memories.
"Ultimately this was an opportunity for me. I had a good chance of having a proper run for the first time in a long time at a slam. I didn't take it.
"Regardless of the atmosphere and those things, it's still very, very disappointing to be sitting here right now."
When asked how confident he was that he would be competing at Wimbledon next year, Murray said: "I don't know."
"Yeah, motivation is obviously a big thing. Continuing having early losses in tournaments like this don't necessarily help with that. I don't plan to stop right now. But, yeah, this one will take a little while to get over."
Source: Read Full Article