The SAFF Championship clash between India and Pakistan heated up at the Sree Kanteerava Stadium as an adrenaline-fueled moment unfolded on Wednesday.
Head coach Igor Stimac was shown a red card just before the end of the first half. The Croatian coach expressed dissatisfaction with referee Prajwal Chhetri's decision to award Pakistan a throw-in, strongly believing that right back Pritam Kotal was fouled in the process.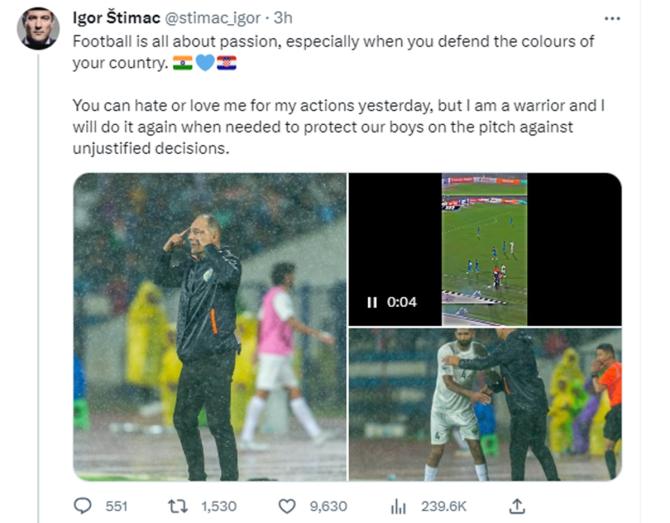 In an attempt to intervene, Stimac pulled the ball away from Pakistan player Abdullah Iqbal, triggering an intense reaction from both sides.
Visiting players and coaching staff joined the fray, resulting in the referee and other officials stepping in to separate the feuding individuals.
Ultimately, Stimac was given his marching orders, and several players from both teams received yellow cards for unnecessary involvement.
Defending his actions, Stimac stated that he would not hesitate to do it again in order to protect his players, highlighting the passion and commitment he holds for his team.
"Football is all about passion, especially when you defend the colours of your country. You can hate or love me for my actions yesterday, but I am a warrior and I will do it again when needed to protect our boys on the pitch against unjustified decisions," Stimac tweeted.
Source: Read Full Article