Being a youngster in a group of senior pros, opener Shubman Gill says batting maestro Virat Kohli's hunger and intensity on the cricket field inspires him, and he also strives to learn from captain Rohit Sharma.
Kohli's record-breaking 50th ODI century against New Zealand powered India into the World Cup final in Mumbai on Wednesday with the young Gill watching the legend achieve the historic feat from the dressing room after he had to retire hurt due of cramps at 80.
"Every time he comes on to the park, he does something special, and just how consistently he has been able to do it for the past 10-15 years is what is really inspiring," Gill said after India defeated New Zealand by 70 runs.
"For me, it is not so much about the skill that he has but it is more about the hunger when he goes there and the intensity with which he plays the game, is what inspires me. To be able to have that consistently for as long as he has been doing, it is what really inspires me," he added.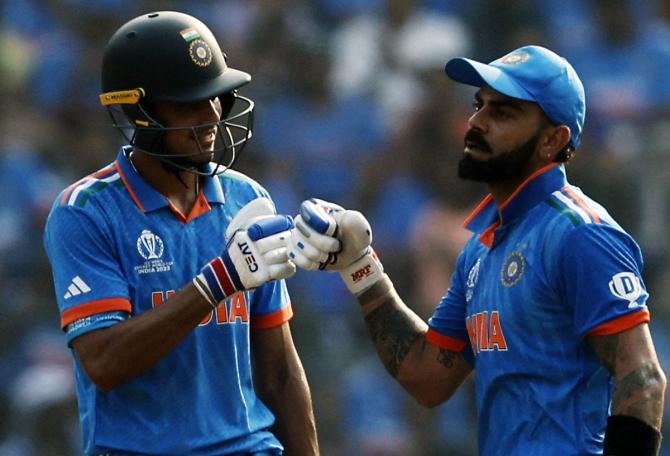 Gill, who is billed to take over the mantle from the senior pro, said he shares some of the batting traits with Kohli.
"Honestly, we just talk about the situation and how we want to play. I think our game is a little similar in style, because, he and I, we also like to keep (the scoreboard) running."
"I am also a little busy, running singles, twos and hitting boundaries in between. I think we complement each other quite well so it works quite well in the middle," he added.
The Punjab right-hander stated that he goes through a learning process every time he bats alongside Rohit, whose fearless approach at the crease has set the tone early for the team in almost every game in the World Cup.
"Everything about him really impresses me, I stand as a learner in the Powerplay. He plays 10 overs; I play 15-20 balls," Gill said.
"I rest and Rohit comes and does his thing. He scores a four here, a six there and I just watch," he added.
Gill has had a successful year in ODI cricket but a bout of dengue affected his health and performances in the early stages of the World Cup.
The 24-year-old said losing muscle mass during the phase of illness had taken away some energy reserves, which resulted in him getting cramps when he was nearing his century.
"I have honestly not really adjusted anything in terms of my batting but because I have lost a bit of muscle mass, I think the reserve that I used to have before the dengue has decreased a little bit," he said.
"Generally, I do not really get cramps when… like you do get cramps when you are playing in humid conditions. But for me (it) happens after a long period of time, not so soon. Because I have lost a bit of muscle mass, the reserve has gone down a bit."
Source: Read Full Article