India claimed a rich haul of 202 medals at the Special Olympics World Summer Games in Berlin.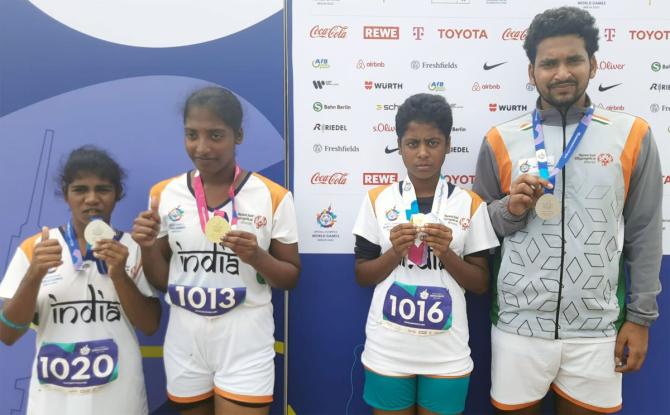 The Special Olympics World Games 2023 came to close in Berlin on Monday, after an evocative, emotional and triumphant closing my ceremony at the Brandenburg gate in the centre of the city. The gate had served as a restricted zone when the city was divided by the Wall, and has, ever since been a beacon of unity — a fitting parable for a sporting event that celebrates unity, diversity and special skills.
India finished the final day of the Games by taking their medal tally to 202 medals (76 gold, 75 silver and 51 bronze), with the last of the medals coming from the athletics track.
India's athletes notched six medals from the track events (2 gold, 3 silver and 1 bronze). The headlines would undoubtedly go to the gold medallists Aanchal Goyal (400m, Level B Female) and Ravimathi Arumugam (400m, Level C Female) who blew away their competition to take the top of the podium. And yet, it is important to note that the colour of the medal is not in itself a judge of the performance. Saket Kundu, who had earlier grabbed a silver medal in the mini javelin Level B, also won a bronze in the Level B 400m, a rare double act in the track and field.
The Games ended with an evening gathering at the Brandenburg gate, with members of every contingent invited up on a stage to represent the spirit of unity and bring to the fore the importance of the Special Olympics movement.
At the press conference to conclude the event, earlier in the day, the conversations circled around how the Berlin Games had been a groundbreaking event, with over 330,000 people attending the World Games live. Many others watched on television and through other media.
"I feel very humbled to be in this city. The city of Berlin has welcomed us," said Hanna Joy Atkinson, Sargent Shriver International Global Messenger. "This was my first World Games ever and I had the chance to do so many things as an athlete leader. I don't want it to end! The mascot was 'Unity' — uniting countries everywhere and Berlin knocked it out of the park and the next country hosting should do that too!"
Source: Read Full Article