Novak Djokovic continues his hunt for a fifth straight Wimbledon title and eighth overall to equal Roger Federer's record haul when the Serbian meets Jannik Sinner in the semi-finals on Friday knowing the threat the young Italian poses.
The in-form 36-year-old, who is also chasing a men's record-extending 24th Grand Slam trophy and the number one ranking, was a set away from being knocked out by Sinner in the quarter-finals at the grasscourt major last year before a great escape.
Djokovic has been rock-solid in London despite being extended to four sets by big-serving Pole Hubert Hurkacz and Andrey Rublev in the last two rounds, but the second seed will be aware that a vastly-improved Sinner can be a stumbling block.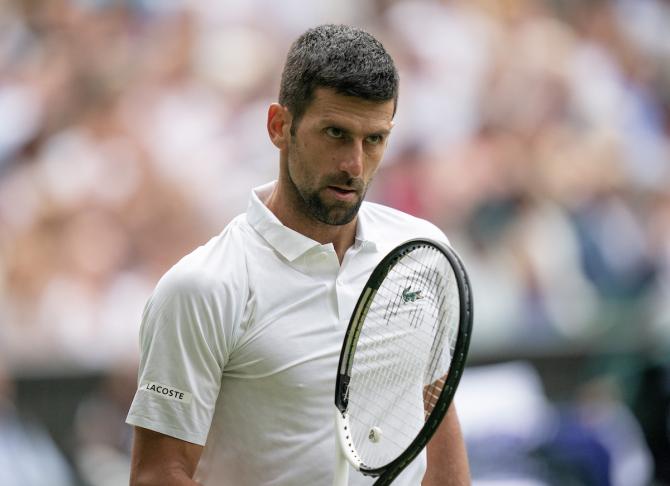 "He's playing on a high level… He likes to play on quick surfaces because he likes to be aggressive and take control of the point," said Djokovic, the Australian Open and French Open champion who is nine wins away from a calendar slam.
"From both forehand and backhand, he's smashing the ball really hard, trying to be the one that's going to dictate the point from early on. I know his game well.
"He's a complete player. Now, first time in the semis of Wimbledon. I'm looking forward to the challenge… I'm sure he's going to be motivated to win. On the other hand, I am, too."
Eighth seed Sinner will need to beat Djokovic for the first time to take a step closer to a maiden Grand Slam trophy and the 21-year-old acknowledged that facing the world number two was among the toughest challenges in tennis.
"He's won 23 Grand Slams. Won in Australia, won in Paris. He's in a huge confidence boost," said Sinner, who has enjoyed a favourable draw and has not faced a top 50 opponent so far.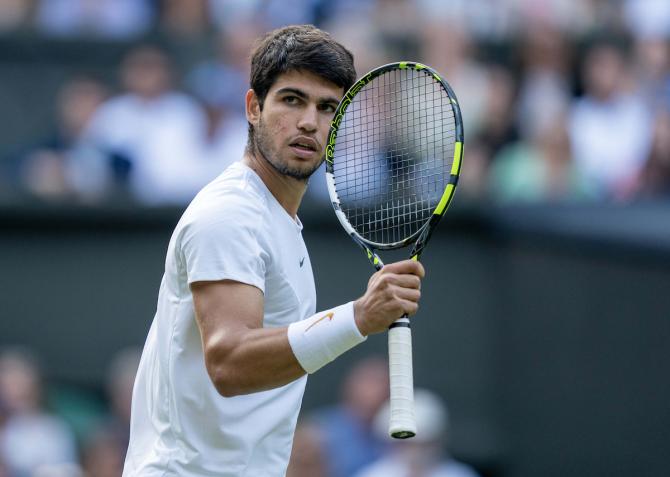 STRENGTH-TO-STRENGTH
Hoping to deny Djokovic and keep the number one ranking will be top seed Carlos Alcaraz, who has to first negotiate a tricky opponent in fellow first-time Wimbledon semi-finalist Daniil Medvedev, the Russian third seed.
Alcaraz has gone from strength-to-strength after clinching the Queen's Club crown despite a lack of experience on grass and showed his class again in a straight-sets defeat of fellow young gun Holger Rune, the Danish sixth seed, in the previous round.
The 20-year-old Spaniard will need to show his best form to overcome Medvedev, another player enjoying a superb 2023 with five titles already, although he struggled to beat American debutant Christopher Eubanks in the quarter-finals.
"He (Medvedev) is playing great here on grass. He has had a great year as well. I lost the first match we played here on grass so I have to learn about it," Alcaraz said of his straight-sets loss to the Russian in the 2021 second round.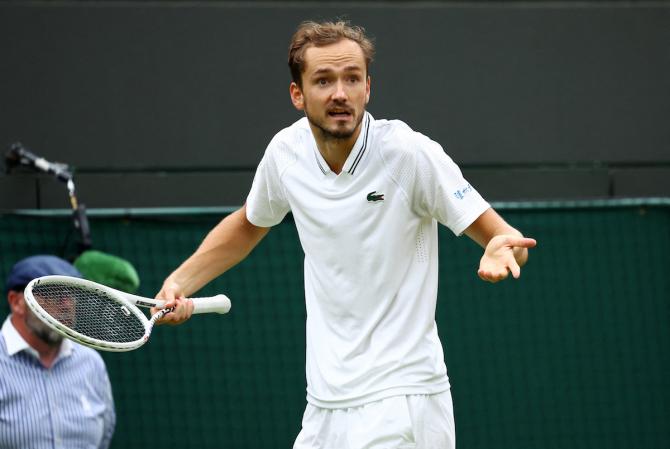 "But I'm going to enjoy the semi-final. I think I'm playing great, (with) a lot of confidence right now. So it's going to be a really good match. I'm going to enjoy it.
"He's a complete player. I think (fellow Russian Andrey) Rublev said a few times, he's an octopus … catches every ball. It's amazing. He's an amazing athlete. I think a mix of everything."
Alcaraz prevailed the last time the duo met in the Indian Wells final this year and Medvedev pinpointed one aspect of the Spaniard's game that had contributed to his recent success.
"I think the power. When he was 17, which was actually not long ago, he was much less mature, which is normal and he was missing," said Medvedev.
"Everyone saw he's amazing, but everyone was wondering: 'Is he going to find the way to miss less producing the same power?' And he did it quite fast. That's what's pretty amazing.
"If you give him one easy shot, you can be in trouble."
Source: Read Full Article