Australia won a much-needed victory in World Cup 2023 by defeating Sri Lanka in Lucknow on Monday, October 16, 2023.
Their streak of unfortunate umpiring decisions persisted, and this time, it was David Warner who found himself at the center of controversy at the Ekana stadium.
Unlike his team-mates, Warner didn't conceal his frustration. Instead, he vented his anger at Umpire Joel Wilson with a barrage of expletives as he left the field.
The incident unfolded on the first delivery of the third over during Australia's chase. Dilshan Madushanka delivered an in-dipper from over the wicket, causing Warner to feel cramped. Warner hopped on his crease, and the ball struck his front pad.
While some believed the ball might have missed the stumps due to its angle, Wilson had a different perspective and raised his finger, much to the delight of the Sri Lankans. Warner, gesticulating that the ball was heading down the leg side as soon as it hit his pads, promptly called for a review.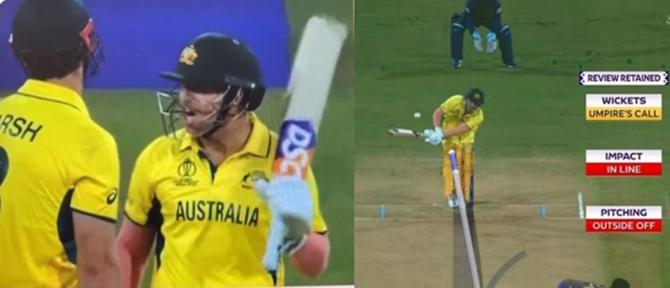 The ball-tracking technology revealed that the ball would have just clipped the leg stump, leading the third umpire to uphold Wilson's on-field decision as it fell within the 'umpire's call' category.
Warner, visibly incensed, erupted in anger as soon as the ball-tracking confirmed the decision. While making his way back to the pavilion, he didn't restrain himself, directing a series of choice words at Wilson.
Former New Zealand fast bowler Simon Doull called for the ICC to impose a penalty on Warner for his outburst. Doull emphasised that the technology had validated Wilson's original decision.
'David Warner should face a fine from the ICC for his behaviour. If he doesn't, there's a problem. His reaction, swearing at Joel Wilson, is unacceptable. Such incidents bother me a lot. It was a correct decision; the ball was just clipping the stumps,' Doull said in an interview with Cricbuzz.
'If the ball hits the stumps, it's out. There's no need to swear at the umpire. The umpire has to make a quick decision in real-time. When I saw it live, I thought it was a close call.
'The umpire made his call based on one look, and in the end, it was proven to be correct. It wasn't a bad or incorrect decision.'
Source: Read Full Article