In a dramatic conclusion to the match at Lord's, Australia secured a 2-0 lead in the fiercely contested Ashes series.
Amidst the on-field action, an unexpected and unpleasant incident off the field stole the spotlight, overshadowing Australia's 43 run victory.
During the lunch break, as the players made their way through the Lord's Long Room towards the dressing room, a regrettable exchange occurred involving two Australian players and MCC members.
These MCC members reportedly directed abusive remarks towards the players, necessitating the intervention of security personnel and an umpire. The incident prompted the Marylebone Cricket Club to release an official statement addressing the matter.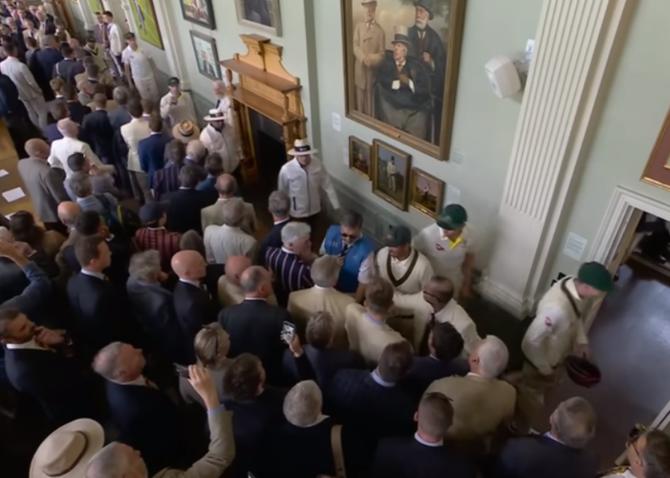 One of the players involved in the altercation, Usman Khawaja, decided to break his silence on the issue after the conclusion of the first session on Day 5 in London. He was spotted engaging in a heated discussion with a particular MCC member who had voiced his displeasure over Jonny Bairstow's dismissal.
David Warner was stopped by another MCC member, leading to security staff intervening to separate the players from the altercation.
Speaking to Channel Nine about the incident, Khawaja expressed his disappointment.
'It was really disappointing. Lord's is one of my favourite places to come. There's always respect shown at Lord's, particularly in the Members Pavilion in the Long Room, but there wasn't today. It was very disappointing,' Khawaja said.
'If anyone asked me where the best place is to play I always say Lord's. The crowd is great, particularly the members are great, and some of the stuff that was coming out of the members' mouths is really disappointing and I wasn't just going stand by and cop it.
'So I just talked to a few of them. A few of them throwing out some pretty big allegations and I just called them up on it and they kept going, and I was like, well, this is your membership here. So I'm just pointing them out. But it's pretty disrespectful, to be honest. I just expect a lot better from the members.'
Tensions escalated at Lord's when Bairstow was dismissed in an extraordinary manner. He walked out of the crease after ducking a short delivery, but Alex Carey quickly dislodged the bails, resulting in a 'stumped' dismissal.
English fans were furious, booing and accusing the Australian team of being 'cheaters'.
Source: Read Full Article